MID-MISSOURI − After recent flooding, some mid-Missourians are seeing water damage in their homes for the first time.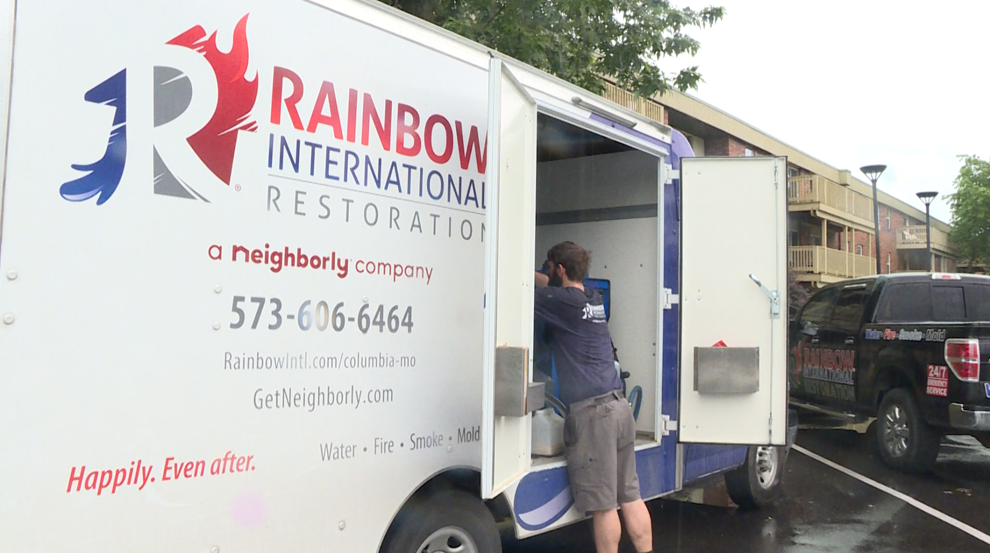 Jeremy Scheuler, owner of Rainbow International Restoration in Columbia, said most of the damage he has seen is within basements and slab homes, which is unusual.
"People who've never had water in their home before have had it over this last weekend, just because of the incredible amount of rain we had in a short period of time," Scheuler said. 
Kelley Klean Restoration in Columbia said they've received so many calls about water damage, they have a waitlist of 31 customers. Scheuler said their waitlist was 45 people at one point.
"We've been knocking it down, I'm calling people back as we get our equipment returned and making sure that they've had somebody out there to service them," Scheuler said. "We're down to about 14 people on our waiting list now."
Rob Decker, manager of MaxCare Carpet Cleaning and Repair said he got his first water damage call at 5:30 a.m. last Friday, when multiple storms brought flash flooding to Columbia. 
"The house's baseboards got so wet that we put dehumidifiers and fans in and they are still not dry, six days later," Decker said. 
Decker said this is due to reoffending.
"The flood water came in and we extracted it and started to dry it, but then more water came in, and so they reoffend," Decker said. 
Decker said typically, flood calls would end 72 hours after the rain, but not this time.
"Now, we're stretching that into five days, six days and it's just because of hydrostatic pressure," Decker said.
Decker said buildings and basements that have never been wet, are getting wet now due to hydrostatic pressure.
"That means the water around the building is so heavy that it will find it's way in, even through concrete," Decker said. 
Scheuler said he has primarily seen water damage to flooring and walls, along with carpets getting saturated and hard wood flooring being ruined.
For those worried for potential water damage, Scheuler suggests checking gutters to ensure that they are draining properly.
"We always recommend at least a 3 foot extension on the bottom of your gutters to get it at least 3 feet away from your home," Scheuler said. 
Scheuler said this weekend, his crew will be working 14 to 16 hours per day to try to accommodate the demand. He said there are so many people that need help that customers don't know where to turn. 
"It breaks your heart, people call you up, they're crying on the phone, they don't know what to do, they can't get anybody to return their phone calls," Scheuler said. "And the phone is still ringing, I took three more calls today."
Decker said for those experiencing water damage who are unable to reach professionals, it's important to keep the area dry.
"You wanna Shop-Vac the carpet, then gently pull the carpet back from the corner and Shop-Vac the cushion," Decker said. "Leave that exposed and put a fan on it to get some air moving through, and try to buy or rent a dehumidifier."