CALLAWAY COUNTY - State troopers were on the scene of a multiple vehicle crash on Interstate 70 in Callaway County Wednesday, which caused a major traffic backup near Kingdom City.
The crash occurred around 1:05 p.m. near the 153 mile marker. Both of the eastbound lanes of I-70 were blocked for three hours.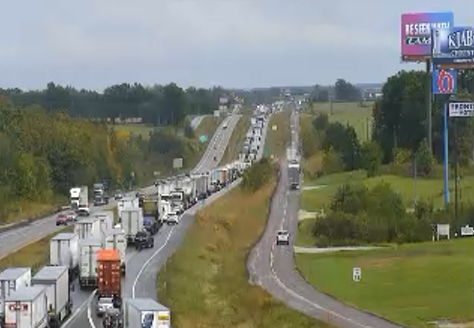 Both lanes of eastbound I-70 are back open. This incident involved 4 separate crashes involving a total of 5 tractor trailers and 3 passenger vehicles.

— MSHP Troop F (@MSHPTrooperF) October 13, 2021
A Missouri State Highway Patrol crash report states traffic was stopped in the eastbound lanes due to a previous crash. A semi then struck three other vehicles from behind before coming to a rest, while blocking both lanes. 
A 24-year-old driver from Columbia was transported via EMS to University Hospital for minor injuries. MSHP tweeted a photo of her car and emphasized the importance of wearing a seatbelt.
Not a believer in the importance of wearing a seatbelt???The person driving this vehicle not only survived, but her injuries were minor. Please make sure you ALWAYS buckle up.https://t.co/AG2zrAtaKC pic.twitter.com/vEfPDhKNUs

— MSHP Troop F (@MSHPTrooperF) October 14, 2021