COLUMBIA − Traffic might become a little busier in different parts of Columbia. 
The Missouri Department of Transportation (MoDOT) has announced it is considering the possible removal of the Interstate 70 westbound exit ramp at Business Loop 70, alongside the removal of the 64-year old bridge over eastbound I-70 in the city of Columbia, west of the I-70/U.S. Route 63 connector.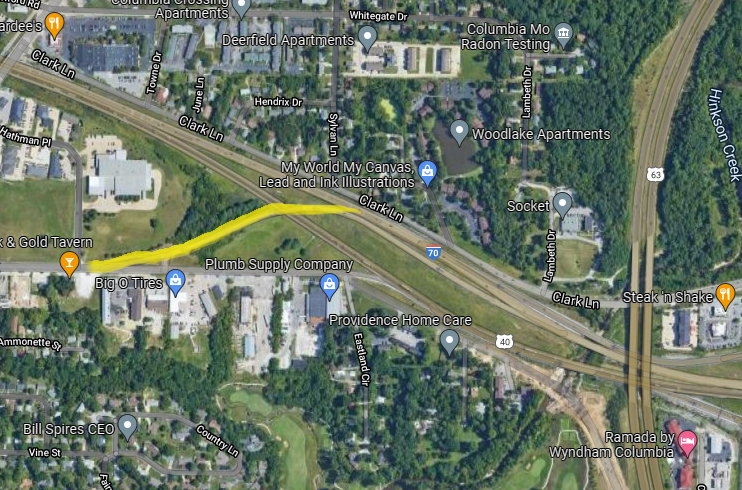 "Removal is necessary since the bridge is reaching the end of its service life," a press release said. "In addition, the left side exit ramp is contrary to driver expectations."
The removal could also help with safety, MoDOT believes.
"Studies indicate crashes may be reduced by as much 25% to 70% with the use of right-side ramps over left-side ramps," a news release said.
MoDOT says the ramp demand can instead be served by the I-70 interchanges at Missouri Route 763 (Rangeline Street) and Route 63 at Route WW (Broadway Street).
MoDOT is encouraging nearby residents and motorists to share their thoughts. But it has led to some mixed reactions from residents, like those at the Welcome Home shelter, a community for veterans that sits right next to the I-70 ramp. 
Some Welcome Home residents called the interstate dangerous and seemed happy when they heard the news that the ramp is potentially getting removed. 
One resident, Duncan Cunningham, thinks  the ramp should stay, but with improvements. 
"For me, being a former truck driver in my younger years, it's fine like it is," Cunningham said. "It needs to be updated and needs more signs."
"I don't see what they're going to accomplish with taking that one out other than making a bigger debt in another area," Cunningham said.
The exit ramp currently carries approximately 2,800 vehicles per day, according to MoDOT.
MoDOT says the project would include the construction of a parallel deceleration lane for the westbound I-70 exit ramp at Rangeline Street to help mitigate congestion. In addition, signing will be adjusted to extend the Business Loop to the I-70/Route 63 Connector by making use of the new Conley Road extension.
Once funding becomes available, official designs will be drafted, according to MoDOT. 
Residents are encouraged to give their feedback on this project. The comment period is open through Friday, Sept. 24.