JEFFERSON CITY - The Missouri Highways and Transportation Commission announced the Lunda Team as the official design-build contractor team for the Interstate 70 Missouri River Bridge near Rocheport on Thursday afternoon.
The team consists of Lunda Construction Co., Parsons Transportation Group, Inc., Dan Brown & Associates and Hugh Zeng United. Lunda's headquarters are in Wisconsin, Parsons' is in Virginia but has a St. Louis office, Dan Brown & Associates is from Tennessee and High Zeng United is headquartered in Minnesota. 
The announcement took place at noon at MoDOT Headquarters in Jefferson City.
"This is an exciting moment for this project, and we are thrilled to be working with the Lunda Team," MoDOT Rocheport Bridge Project Director Brandi Baldwin said. "The replacement of the bridge provides a long-lasting solution and the plan will have minimal impacts to traffic on I-70 during construction."
Design-build is a delivery method that includes hiring one contracting team to complete the design and construction work under one contract. 
Interstate 70 Bridge at Rocheport
In March, MoDOT announced the four teams who were competing for the contract. The design-build teams also included:
Traylor-Ames Joint Venture Team - Traylor Brothers, Inc.; Jacobs Engineering Group, Inc.; Ames Construction, Inc.
American Bridge/Garver Team - American Bridge Company; Garver, LLC; Hg Consult, Inc.; Terracon
Rocheport Bridge Constructors - Massman Construction Company; HNTB Corporation; Emery Sapp & Sons, Inc.
The Lunda Team was selected as the best-value proposal for the project. A news release says the Lunda Team showed an understanding of the engineering endeavor set out before the teams and a design that will service travelers for the next century. It also showed an understanding of the local, statewide and national importance of the work.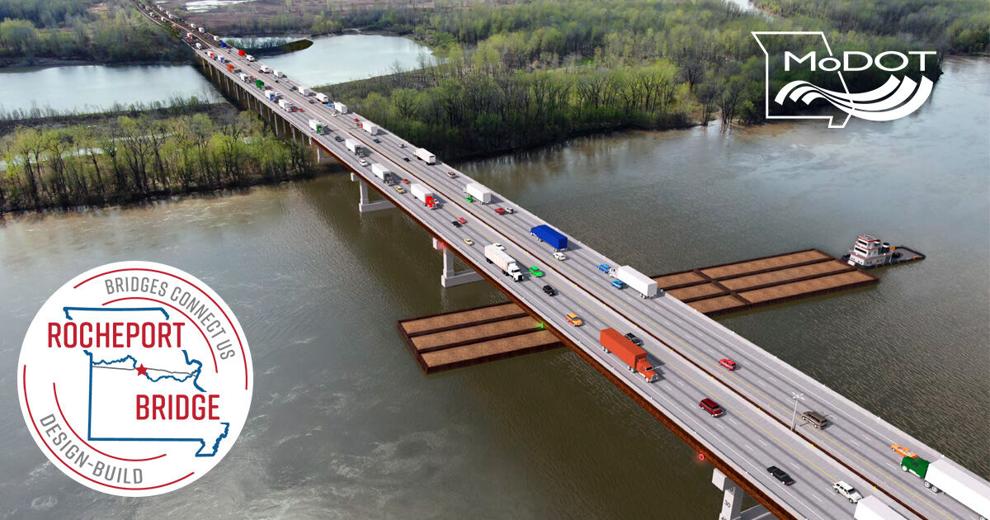 Director of Project Development for Lunda Construction said they are ecstatic to have been chosen for the project. 
"It's very rewarding to find that we're selected because we've given them more and they really appreciated the innovation that we've been able to achieve and provide to them." said Mark Olsen.
The design includes two bridges, one in each direction of travel and each with three lanes. 
The project's goals include: 
Meet the expectation of delivering the project under budget 
Provide a high quality, durable, low maintenance project that improves safety and reliability project that improves safety and reliability 
Minimize traffic impacts during and after construction while maximizing safety and capacity
Maximize safety for workers while bearing the project completion deadline of Dec. 31, 2024
Deliver the project with a diverse workforce that fosters future DBE and workforce development 
Demonstrate a commitment to quality and innovation in all phases of the project.
The original bridge was built in 1960 and is rated in poor condition. 
It connects two counties in Missouri, Boone and Copper, and Missouri's largest cities St. Louis and Kansas City. The bridge carries 12.5 million vehicles per year, including 3.6 million trucks. 
"This bridge lies at the heart of Missouri and not only connects the two sides of our state, it connects the majority of our country," Governor Parson said at the announcement. "With over 12 million vehicles using the bridge each year, it is the perfect example of why we must remain dedicated to having a world-class infrastructure in place. Keeping people moving pumps economic life and stability into our state and local communities."
The project is estimated to cost around $240 million. It was funded in part by an $81.2 million INFRA Grant, the largest competitive grant ever received by MoDOT.
Construction has a starting date of later this year and a completion date by the end of 2024, according to previous KOMU 8 reporting.