COLUMBIA - MU's social justice centers have been in the public eye for the last few months due to their response to multiple issues on campus.
In April, many employees were told their positions would no longer exist due to a "restructuring of the centers," which include the Gaines/Oldham Black Culture Center, the LGBTQ Resource Center and the Multicultural Center. The restructuring was paused in May, which meant a July 1 implementation was no longer the case.
MU spokesperson Christian Basi says the restructuring is necessary to improve academic success for marginalized students. 
Now, less than a month before the fall semester, multiple employees in these centers have stepped down from their positions due to what they say is a "lack of professionalism" in the workplace. 
Details of this lack of professionalism in the LGBTQ Center were recently put in detail by Eli Kean, a former coordinator, on Twitter.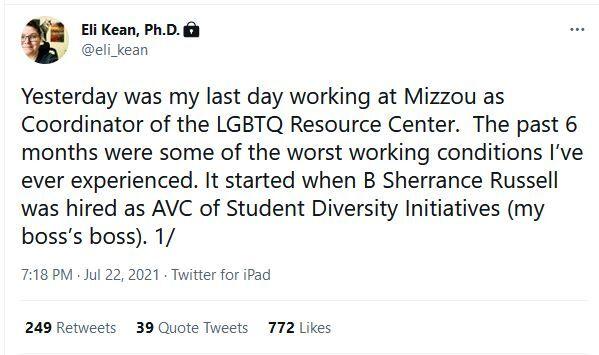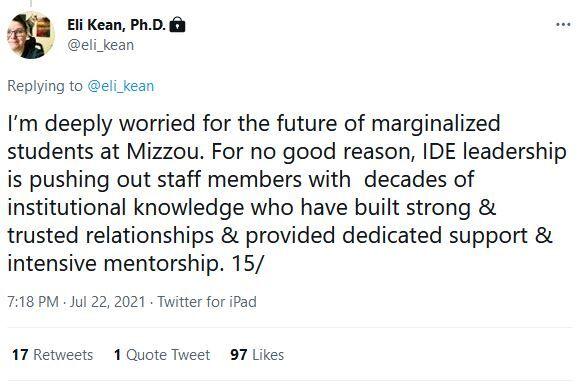 In Kean's now viral tweets, they said they were deeply worried for the future of marginalized students at Mizzou.
Two other employees, including Donald Gilliam, a student support specialist and program instructor for the Black Culture Center, chimed in on the situation and their experience.
Gilliam said the reason he was "kicked out" of that office was to make space for Dr. B. Sherrance Russell, current Assistant Vice Chancellor for Student Diversity Initiatives. 
When he was removed, communication was at "minimum to none" and Gilliam was given very short notice as he was only in that particular office for two weeks, he said.
"This is by far the worst environment that I have worked in before," Gilliam said. "And I've been with the University for 13 years, in student and staff capacities. And I've been working full time since 2013 in a few different roles, and this is by far the worst."
"This individual maintained two offices," Basi said. "One in a permanent role and the other in an interim role. We utilized the office that he was in only two days a week, made sure he did have space and he could use that area, and he kept the office that he used on a more frequent basis."
Danielle Palomo, a coordinator at the Women's Center, echoed Gilliam's statement about the difficult work environment.
"It really makes you question what the values are," Palomo said.
Basi said one of the criticisms he heard was that "coordinators didn't have any say in the restructuring."
"Vice Chancellor Gipson came in last year and went on a listening tour among his own division. He talked to every single person in the division," Basi explained.
Basi also said restructuring was happening in other departments on campus, including the merging of the President and Chancellor roles at MU.
Before the fall semester, Gilliam hopes that the department can focus on who it is there to serve: the students.
Editor's Note: This story has been edited to include another quote from spokesperson Christian Basi.