ROCHEPORT – Drivers on Interstate 70 are advised to take precautions as pre-work on the Rocheport Bridge begins Thursday. 
Crews will start to prepare the area for construction on the new bridge. For the next four to six weeks, work will take place on the shoulders and median on I-70 near the bridge. 
Some people driving at night and early in the morning could see lane closures that impact traffic flow. These closures will take place between 7 p.m. and 6 a.m. through October.
Brandi Baldwin, the MoDOT project director for the bridge, said closing some lanes on I-70 during these hours is the most convenient.
"The amount of traffic that we see during the nighttime hours is significantly less than what we see during the daytime hours," Baldwin said. "So that's why we work during the night to try and impact as few people as possible."
Baldwin said shifting traffic to the south on I-70 gives crews more room to set up work spaces to the north. 
"It's a lot safer for our folks working on site, but also for the traveling public and gives us a little separation," Baldwin said. 
People who travel overnight can expect I-70 to be restricted to one lane in each direction between the Route BB and Route 179 interchanges. The bridge currently has four lanes – two eastbound and two westbound. Once the entire construction project is completed, the new bridge will have an additional third lane in each direction to increase the flow of traffic.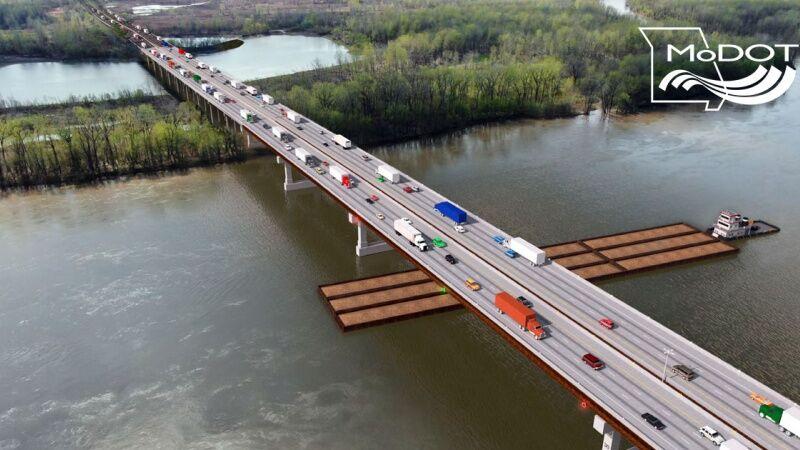 Until then, all traffic will remain on the existing bridge. Baldwin urged drivers to be extra cautious while driving on and near the bridge throughout the next few weeks. 
"We just ask motorists to abide by all the work zone signs and buckle up, phone down and be safe as they come through our work sites," Baldwin said. 
Although lane closures are planned to take place, Baldwin said there's minimal concern for implementing large detours throughout the course of the project. 
"The only time we would need to use a significant detour would be when we have an incident that blocks the bridge or things like that," Baldwin said. "So it wouldn't be related to the project."
Baldwin said MoDOT plans to use popular navigation apps to communicate with people about construction updates. 
"We're also working on incorporating some technology that'll help communicate with the traveling public a little more through apps they use now for navigation, like Waze and Google Maps to help them identify when we have incidents on the bridge and things like that," Baldwin said. 
MoDOT plans to begin construction on the new bridge this fall. Baldwin said crews will begin road work now to avoid inclement weather conditions, but acknowledged that building the new bridge will be dependent on nature's unpredictability. 
"Mother Nature is going to do what Mother Nature's going to do, so that would make it a little more tricky than any normal road construction," Baldwin said. "If the river is too high where we can't work, that could delay some things, but we're doing the best we can to prepare for those instances."
According to MoDOT's website, the construction project is set to be completed by December of 2024.