COLUMBIA − Over the past month, Reborn Blessing Pantries has faced vandalization of their blessing boxes. 
"We've had some issues since the conception of this with a couple of the pantries stolen initially, but lately we've been seeing a little bit more vandalism," Renee Taylor, co-founder of Reborn Blessing Pantries, said. 
Taylor said the boxes have been stolen, defaced and destroyed, but the pantry located at St. Luke's United Methodist Church on Ash Street has seen the worst.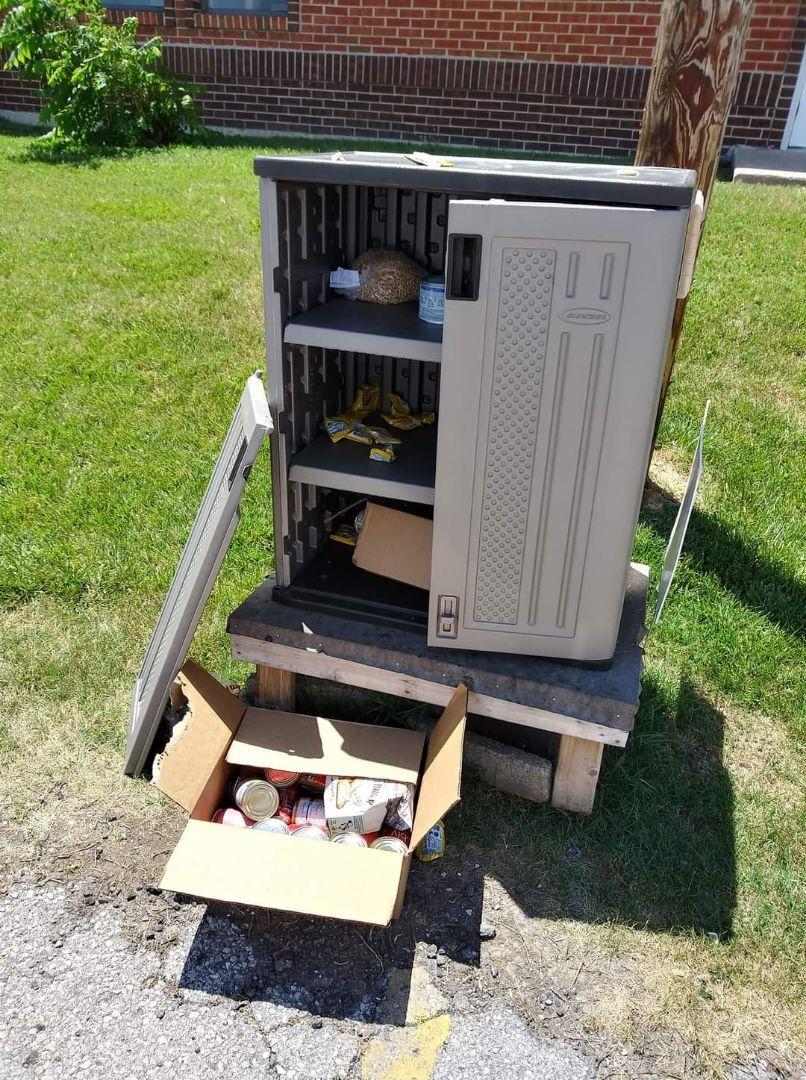 "This one has been kicked over, the base has been broken, the doors been taken off, our information sheets and dedication plaques have been removed, as well as some of our signs," Taylor said.
Co-founder Wayland Taylor builds and creates bases for the pantries and has learned through trial and error how to anchor the pantries in place. 
"We have some that are very grateful, but we also have some that whatever they are going through take their frustrations out on this," Wayland said. 
Despite the setbacks caused by the vandalism, the couple is not giving up.
"We're not going to allow this to discourage us from doing good in the community," Renee said.
Reborn Blessing Pantries provides 24-hour access to food and essentials for families during adversities.
"It was never meant to be you know like a convenience store to sustain 24 hour non-stop use," Wayland said. "It's an emergent use so that if it's empty then we just ask, it may be the next day, but if they come at 10 or 11 at night, then just give community members time the next morning to put some stuff in there."
Reborn has 11 pantries located throughout the Boone County community and has plans for a twelfth in the works.
"These are so valuable to so many people, not just the unsheltered population, but families like yours and mine that come and just need a little bit extra," Renee said. 
The Taylor's established the pantries in September of last year in an effort to help people who were struggling with COVID-19. 
"Everywhere we went we saw people in need and so we decided to start this ministry so that we can provide 24 hours access to free food and essentials," Renee said. 
The pantries only accept non-perishable items.
"If it says on the container, keep refrigerated only, then it can't go in this box because this is not a refrigerator," Wayland said. 
The founders said dairy products and frozen foods cannot go in the pantries, but they are highly encouraging bottled water donations for the summer time. 
"Canned food, dried pastas, anything that you can put in your pantry at home that's not going to spoil is the things that we ask for here," Renee said. 
For more information on how to get involved with the pantry, you can find them on Facebook at Reborn Blessing Pantries.
"This is a way to serve people that you may not know how many people you reach but making an effort whether its being a neighborhood watch just keeping an eye or if your able to put something in there to contribute either way all of us working together serves our community," Wayland said.