MISSOURI – Over the past year, influenza and other respiratory virus rates have decreased significantly during the time of pandemic protocols.
Experts are attributing this to the mitigation strategies that have come along with the pandemic.
Dr. Rachel Orscheln, Associate Professor of Pediatrics at Washington University, said there are multiple reasons why this is the case.
"There are probably a number of factors that impacted respiratory viruses this year. Including mask wearing, but also, you know, screening for symptoms and having people avoid coming to work or school when they're symptomatic," she said.
Last March, as widespread shutdowns were taking place, there were a total of 95,608 positive influenza cases during that flu season. This March, there were only 1,459 positive cases. That is more than a 98% decrease in just one year.
Not only have influenza rates been affected, but numbers of other respiratory viruses have decreased as well.
According to the Boston Medical Center, from March 11 to Nov. 25, 2020, new respiratory viruses were 80% lower compared to the same time frame from previous years. 
Now that COVID-19 restrictions are easing up due to low positivity rates, these respiratory illnesses are starting to creep back up.
"We have seen recently a slight uptick in some respiratory viruses that may be related to relaxing of mitigation strategies," Orscheln said.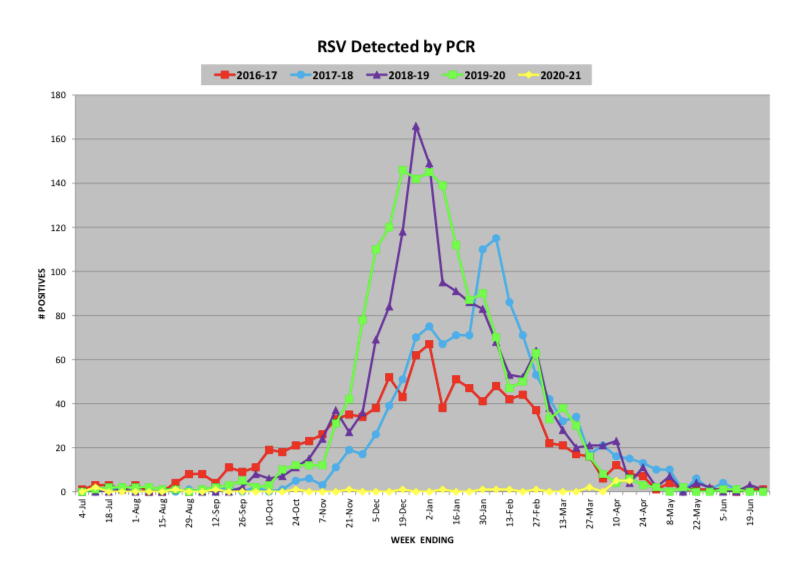 As far as mask-wearing after the pandemic and during flu seasons, it depends on what people are most comfortable doing.
Elaine Sello, an MU sophomore, said she has learned a lot about how to keep herself safe so she can keep others safe during this pandemic.
"I think it's [the pandemic] just made us more aware of our hygiene. Mask wearing has really made us distance from other people and when we are sick, really being aware that we shouldn't spread it to other people," she said.