COLUMBIA − This weekend's Roots N Blues Festival will have multiple COVID-19 protocols and some changes to the event.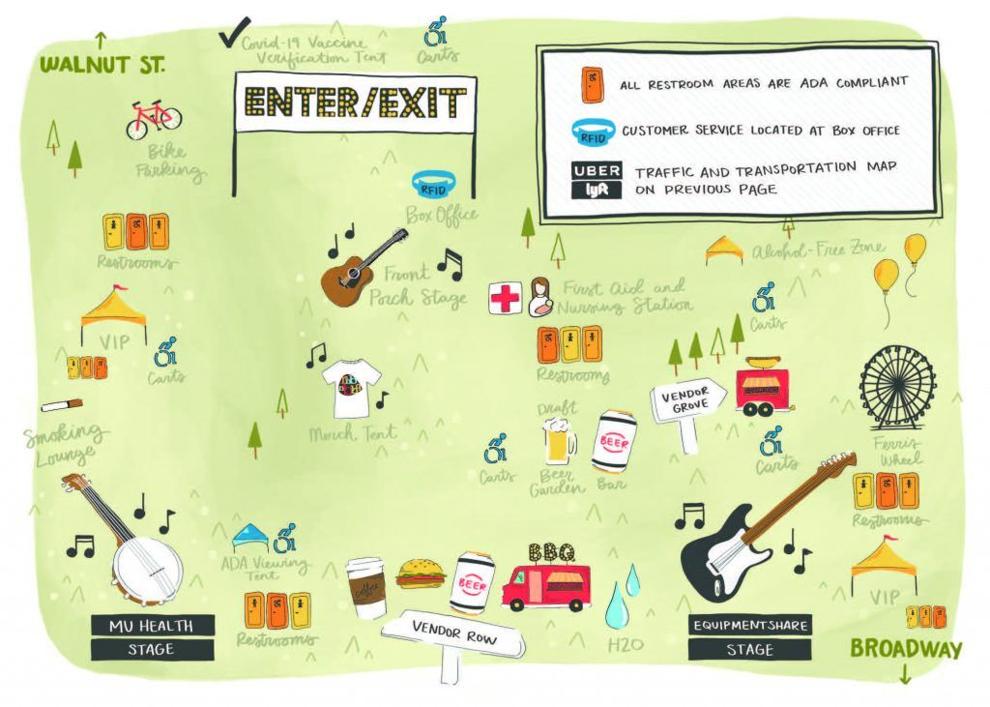 Preparations for this year's festival have already begun, and those attending should prepare themselves for the changes taking place.
Gates will open at 4 p.m. Friday, Sept. 24 with the first performance sounding off at 5 p.m. The festival's music hours have also adjusted in respect to Stephen Lake Park's residential neighbors. 
Friday: 5 to 10 p.m.
Saturday: 1 to 10 p.m.
Sunday: 12:45 to 9 p.m.
Here are some things to take into account before attending this weekend's festival: 
COVID-19 Protocols:
Roots N Blues organizer, Tracy Lane, said the motivation behind these protocols was protection and support for those in the industry.
"The list goes on and on of those people who want to do their work, but they need to do it in a safe environment. So we wanted to be a part of that movement as well, to say, 'Let's get back to work, but let's do it the right way, let's do it safely'."
Crowd Pass
As reported by KOMU 8, a new feature the festival will utilize is an app called Crowd Pass that screens individuals before entry.
Attendees will have to have their full vaccination card uploaded to the app or a negative test taken within 72 hours of the day attended.
Crowd Pass pre-screens the documents for validity so that entrance into the festival will be more efficient.
COVID Safety
Bar areas and vendors will be spread out to allow social distancing,
Mask are encouraged throughout festival grounds and required on shuttle buses to and from festival,
Surfaces will be sanitized, and sanitation stations will be provided and refilled by volunteers.
More on COVID protocols can be found here.
Admission Wristbands:
Festival wristbands will function as your ticket to get into Roots N Blues faster and act as a digital wallet to make purchases at the event.
Once your ticket is purchased, you will follow the wristband activation email to connect your wristband to a credit or debit card.
For those who prefer cash, there will be a location site where you can load cash onto your wristband. This will help attendees make quicker transactions and decrease the handling of cash by customers.
Parking and Transportation:
Traffic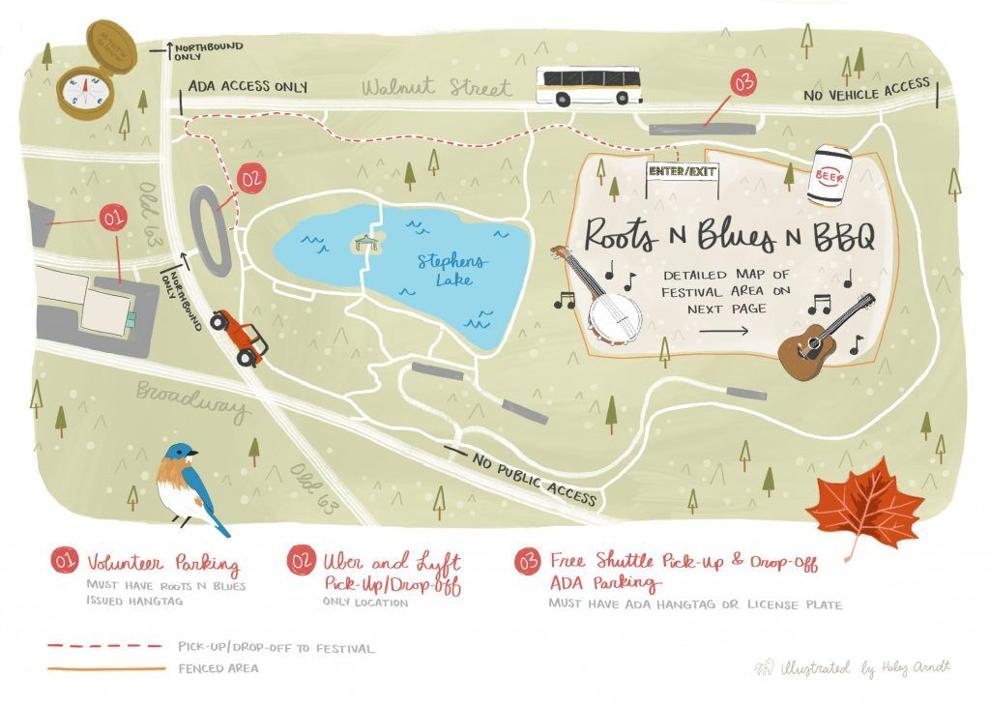 Traffic flow and parking will be restricted in the area of Broadway, Old Highway 63 and East Walnut. Parking restrictions begin at 3 p.m. Friday, Sept. 24 and continue until the end of the festival on Sunday, Sept. 26. 
East Walnut Street from Old Highway 63 to the dead end will be closed through traffic. Parking in the East Walnut Neighborhood will also be restricted to those with neighborhood passes only. 
Old Highway 63 will be northbound only from Jack Estes to Hinkson, and Walnut will be westbound only from Old 63 S to William Street. Traffic going south on Old Highway 63 must turn west on Hinkson. 
Parking
Attendees may park in any of the parking garages downtown.
Parking garages are free after 6 p.m. on Friday and all day Saturday and Sunday.
Eighth & Walnut
Eighth & Cherry
Sixth & Cherry
Tenth & Cherry
Fifth and Walnut
Short Street
All parking will be prohibited near East Walnut Street except for authorized shuttle buses and personal vehicles with an ADA tag.
The Reichmann Pavilion parking lot is reserved for festival guests that meet these requirements.
Shuttles
Free shuttles will be provided that run from downtown Columbia parking garages to the festival gates.
Shuttles will start one hour before gates open each day. 
Due to a nationwide driver shortage, shuttle services will be limited from 3 p.m. to 4:30 p.m. on Friday, Sept. 24.
Biking
Free and secure bike parking will be located at the festival entrance. Download a copy of the city of Columbia's bike map here.
Buses
Go COMO, the City's public transit system, will not offer special services for the festival. Go COMO will run on its regular schedule and routes Friday and Saturday, but it does not run on Sunday.
Go COMO Transit service hours are the following:
Friday, Sept. 24: 6:25 a.m. - 7 p.m.
Saturday, Sept. 25: 9:30 a.m. - 7 p.m.
---
For further questions or concerns, reach out to info@rootsnbluesbbq.com or visit the festival's website.