COLUMBIA - Missouri State Treasurer Scott Fitzpatrick has been traveling around Missouri, talking with small business owners about the benefits of MOBUCK$. He visited Tiger Towing in Columbia on Thursday morning to speak with owner Tyler Doyle and employees of Hawthorn Bank.
Fitzpatrick wants to increase awareness of the program due to rising interest rates. 
"The Federal Reserve has started to raise interest rates to combat inflation, and when that happens, banks have to raise they charge on loans," he said.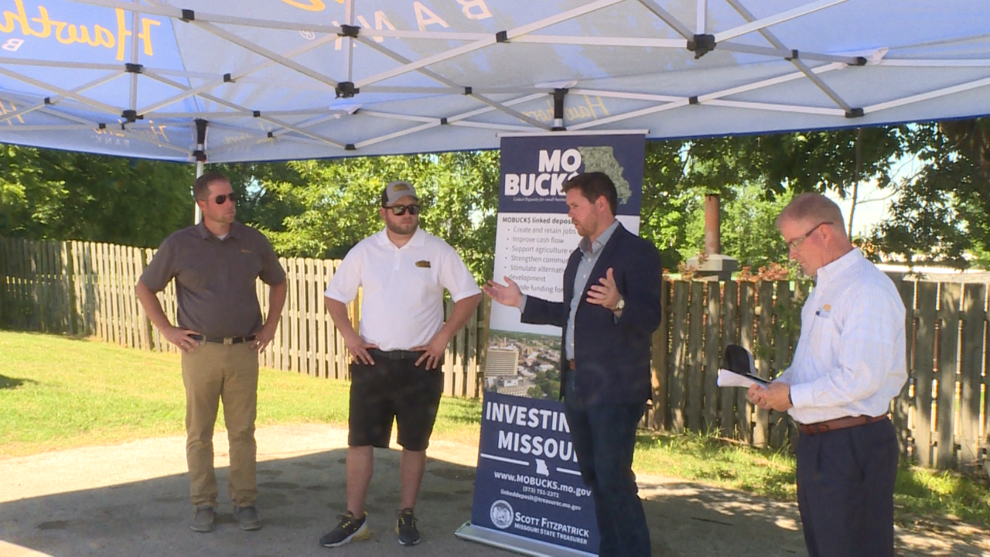 MOBUCK$ partners the State Treasurer's Office with Missouri banks to lower the interest rate on loans to business owners, farmers and municipal governments. It allows for recipients of the loans to pay 30% less interest than they would on a standard loan. 
"MOBUCK$ is a program that allows a business owner to benefit from a lower interest rate, whether they are looking to buy a business or expand a business, building onto a business, buying equipment," Fitzpatrick said. "It can be really important, especially in times of economic uncertainty for a business to have access to avoidable capital."
Fitzpatrick said the program helps to stimulate Missouri's economy. 
"It is good to be able to put some of the resources that the state is investing into Missouri banks, and those banks are using that to help enhance the economy in Missouri," he said.
Doyle is currently in the process of receiving a loan through MOBUCK$ and Hawthorn Bank. He said the money he is saving on interest will allow him to purchase new equipment to expand his business. 
"I'm excited for it, just for the fact that I can save some money," Doyle said. "I can take that money that I am not paying in interest and reinvest it back into the business, whether I want to add on to the building or get another truck or two."
Business owners who are interested in receiving a linked deposit loan through MOBUCK$ should reach out to a participating bank. A full list can be found on the Missouri State Treasurer's website.