CALIFORNIA − California brings on the festivities for the season, but it isn't Santa Claus that's been coming to this town. It's a different holiday character, one that's green and hairy, the Grinch.
The character out of Dr. Seuss' story, which has many film adaptations, was spotted wreaking havoc in the city at its different businesses. He stirred up trouble all week, while his shenanigans were documented by Durham School Services Central Missouri on its Facebook page. 
Durham is a school bus operator business that transports student to small, rural communities in mid-Missouri. Durham's lead technician, Justin Gieck, helped track the Grinch down this week, as he "attacked" 15 local businesses.
"Well, I've become quite the Grinch expert, I must say," Gieck said. "Man the Grinch has been terrorizing the town. He has been all over the place."
The Grinch was spotted on security cameras around town, turned candles green at Ida Mae's Candles, stole presents at Spieler Insurance Group, baked some green cookies at the Grind, and used the California Fire Department's fire truck to take down decorations at City Hall.
Kelsay Graham, a hairdresser at Beards and Shears Barbershop, was a victim. The Grinch snuck into her salon to get a shave, but he left behind tufts of green hair. She said even though the Grinch causes trouble, his presence brings the city closer.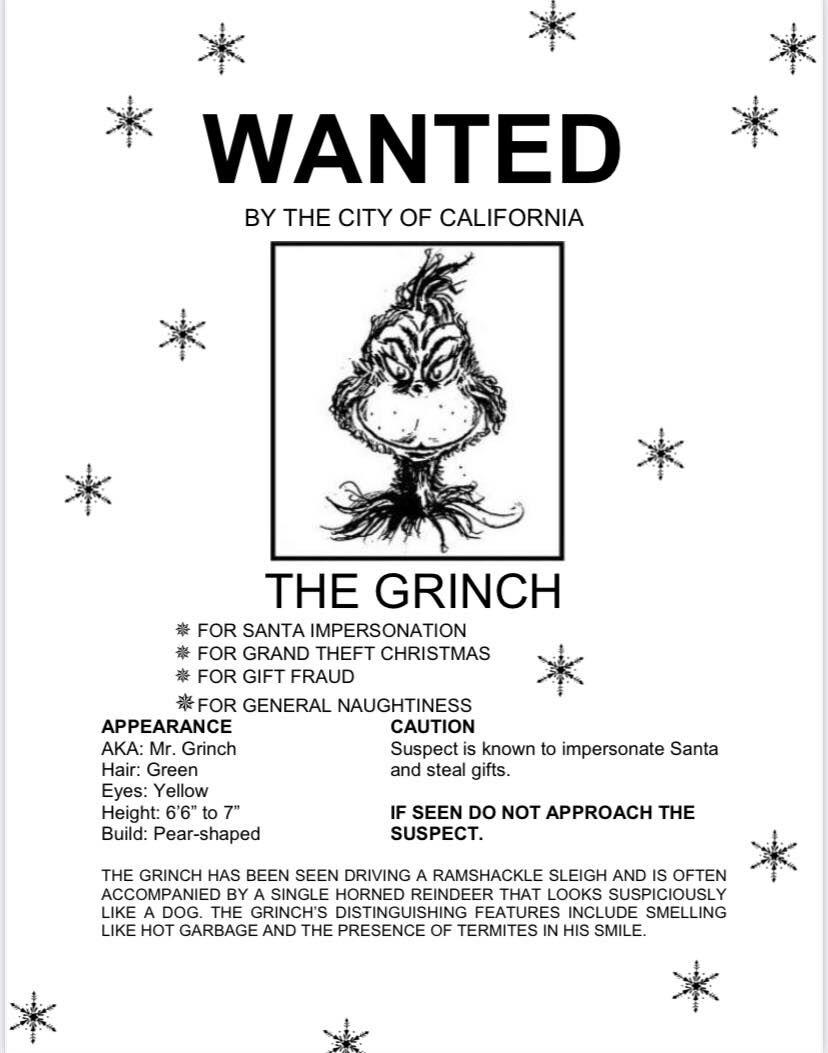 "I just think it's really good for the community, for the kids, brings all us businesses together," Graham said.
California Police Chief Daniel Hurt made an announcement to the city to be on the lookout, and even sent out a wanted poster.
"We recently had issues going around town with the Grinch. He's stealing Christmas, stealing happy cheers and joy from the citizens of California, Missouri," Hurt said.
Hurt vowed to apprehend the Grinch before Christmas.
"Well celebrating Christmas, having the Christmas cheer, brings morale up. And I want the kids to know that they're safe in the city," Hurt said.
On Friday morning, the Grinch was arrested by the California Police Department and the Moniteau County Sheriff's Office when he was spotted trying to nab a bag of money and a Christmas tree from the Peoples Bank of Moniteau County.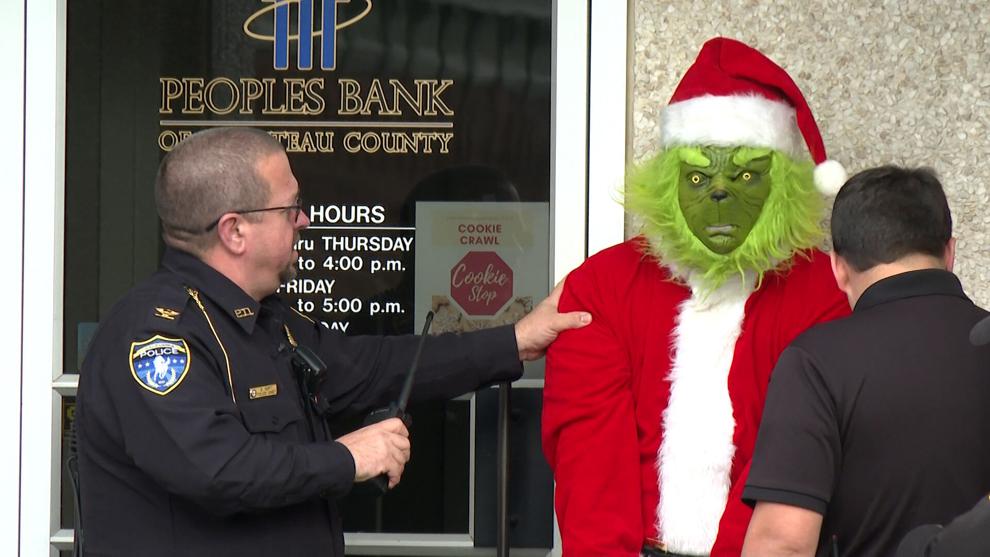 Authorities at the county jail placed him in handcuffs, took his mugshot and fingerprints, and put him in a holding cell to think about what he'd done.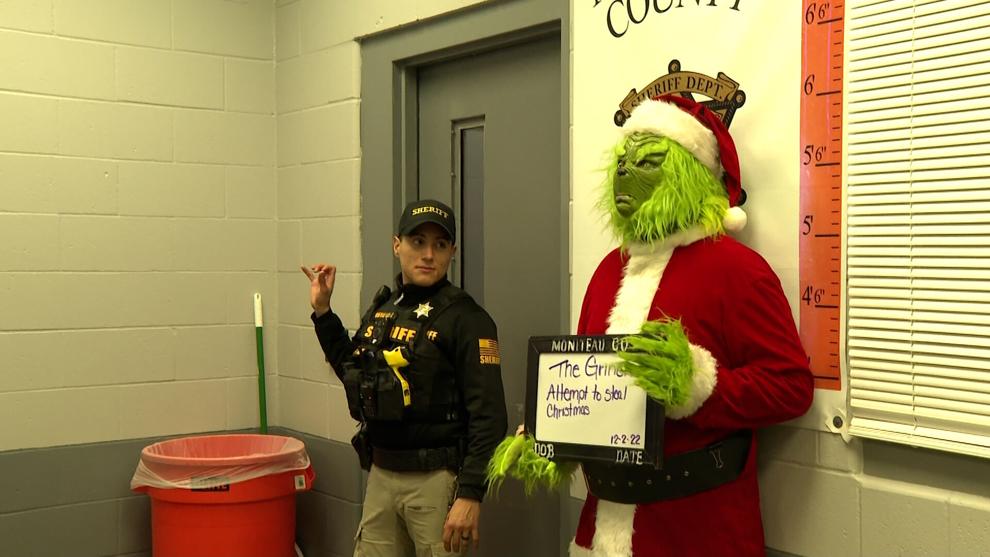 This wasn't the first time the Grinch was up to no good in California. Giecks said it's happened before.
"Last year was the first year we've seen him, but this year he's really been around a lot more, it seems to be a growing trend," he said.
Durham's general manager, Mike Rennell, decided the Grinch had learned his lesson and bailed him out of jail.
"The good news is he's been captured, he's had a change of heart, his heart's gotten bigger," he said. "I'm pleased to say not only will he be meeting kids, but he's also going to be on the Durham School Services bus at the California parade on Saturday."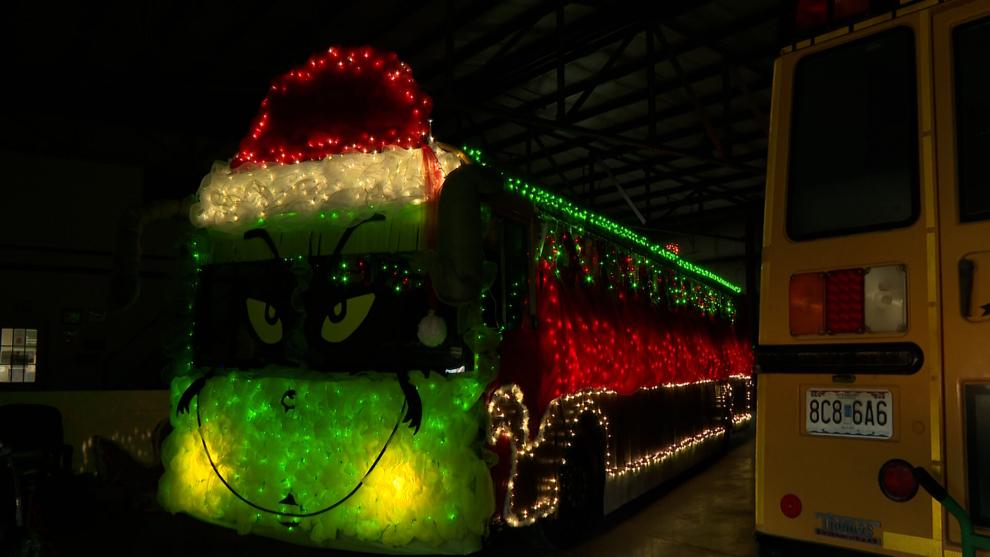 Durham's team has worked hard on their Grinch-themed bus and its colored lights are set to glow up the streets of California at its Christmas parade on Saturday at 4:30 p.m.