MISSOURI - A new ride share program took off this week in Missouri.
"Get a Ride" was launched by the Department of Health and Senior Services to make vaccines more accessible for Missourians who struggle to get access themselves.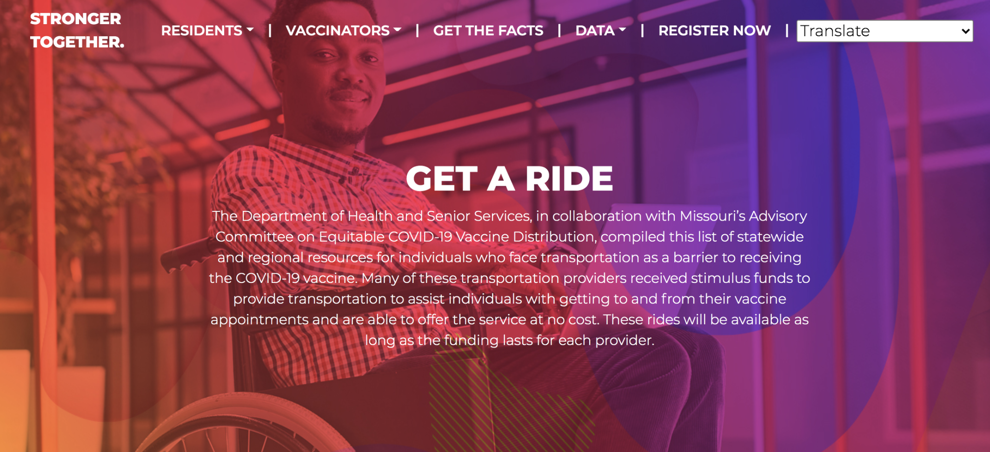 Those in need of a ride to their vaccination appointment can do so at the state's vaccine portal under the "residents" tab, Cole County Health Director Kristi Campbell said during the department's weekly COVID briefing Thursday.
West Central Missouri Community Action Agency Service Director Kelly Ast is very grateful for the new tool.
"We're so appreciative of the state and putting together this database, because it is different from county to county. It can be different with communities inside a county, as to the resources available in their availability for rides," she said. 
Ast's agency has been working to break down community transportation barriers and said the response has been tremendous thus far.
"The responses that we've heard... that 'If you didn't help me coordinate this service, if you didn't help pay for this ride, I would not have gone to the doctor's appointment, I would not have gone received my vaccine,'" she said. 
Sara Hart, a COVID-19 special advisor for DHSS, said the department has also been working to break down these equity barriers.
"This is really an outgrowth of those conversations, and we understand first hand that one of the barriers to accessing the COVID-19 vaccine is transportation," she said.
This new feature comes after concerns arose for residents unable to secure transportation for their vaccine appointment.
Residents will need to choose their correct region to be connected with a ride. 
Providers in Region F include:
Golden Valley Memorial Hospital
Katy Trails Community Health Center
OATS Transit
West Central Community Action Agency
Providers in Region I include:
OATS Transit
Southeast Missouri Transportation Service
Providers in Region B include:
Katy Trails Community Health Center
OATS Transit
Find ride providers in your area here.