COLUMBIA - In August 2020, Missouri passed a law that allows motorcycle riders over the age of 26 to not wear a helmet.  
"I think the biggest reaction for us was really just disappointment that the state would take a step backwards in regards to public policy regarding motorcycle safety," Missouri Department of Transportation Traffic Safety Engineer Jon Nelson said. 
The state did take a step backward, as motorcycle fatalities have taken a step forward. 
According to MoDOT, there were 94 motorcycle fatalities across all public roads in Missouri in 2020. 
As of Sept. 26, there have been 122 in 2021. 
"I think we knew once that law passed we were going to see an increase in the motorcyclist fatalities," Nelson said. "Unfortunately, that's what we're seeing."
In 2020, 11 of the motorcycle fatalities involved a rider with no helmet.  
Riders without a helmet who were killed increased by 518% from 2020 to 2021. 
So far in 2021, there have been 68 deaths without a helmet.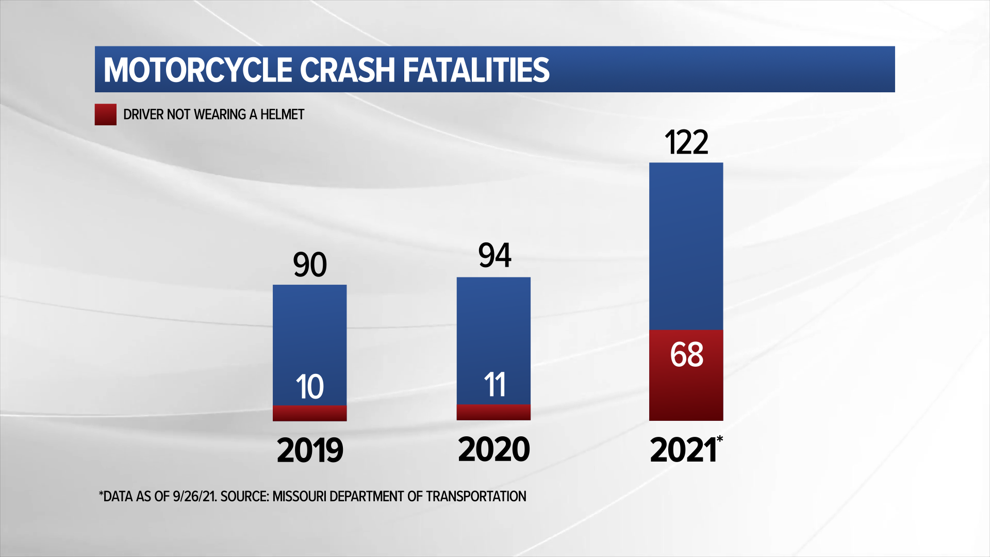 "I think the helmet is there to protect our most vulnerable body part, and that's our head or brain," Nelson said. 
On Sept. 13, Columbia resident Christian Bullard almost became one of the fatalities. 
At around 7:30 p.m. that night, Bullard was riding his motorcycle when he swerved to avoid a deer and overturned his motorcycle, throwing him into a tree. 
"I remember all of it. I mean, I didn't black out, I didn't have a helmet," Bullard said. "I did not want to be one of those statistics."
The 30-year-old says he has been riding motorcycles since before he could walk. 
"It's something that I love more than anything," Bullard said. 
Bullard said he was excited about the law change. 
"I agree with there being a no helmet law," Bullard said. "I want to take my helmet off and just get that feeling of getting away."
Bullard hit his head twice in the accident and had to get staples in the back of his head. He also broke six vertebrae in his spine and is now in a back brace.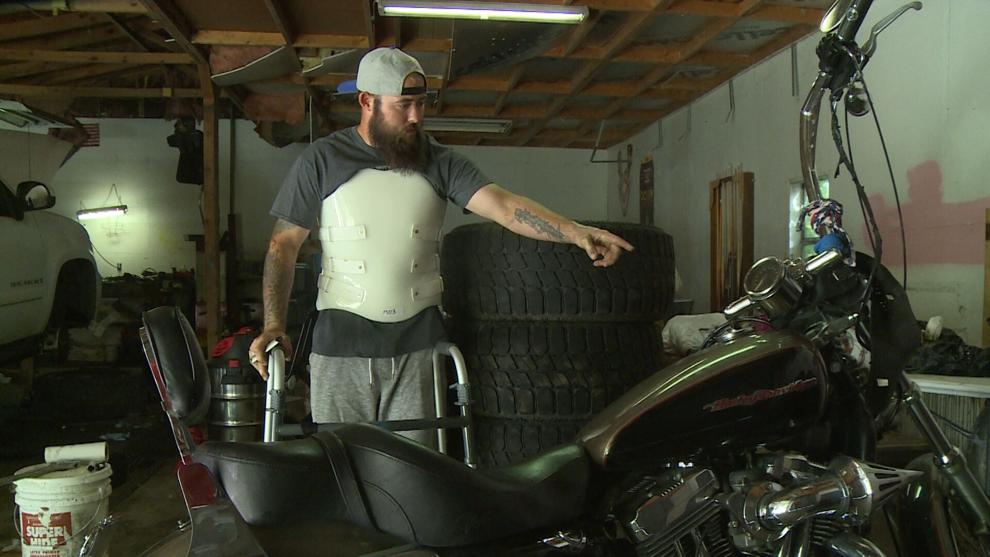 "I got lucky," Bullard said. "I believe there is some sort of skill that went into it."
Bullard says a helmet wouldn't have made a difference in his accident. 
"I don't want to be that statistic, especially when it is true in my specific case that the helmet wouldn't have made a difference," Bullard said. 
"We want all motorcyclists to wear their helmets and give themselves the best protection that they can have while they're out there riding," Nelson said. 
Bullard said the accident was nobody's fault and said sometimes he might wear a helmet when there is high traffic or he is going on a long ride. 
"Sometimes I just want to take my helmet off and feel that wind and just ride," Bullard said. "I don't want to take that away from somebody."
As motorcycle fatalities continue to rise, MoDOT is making efforts to counter them. 
"We're trying to do more to encourage riders to make the smart choice to still wear a helmet when they're riding," Nelson said.