COLUMBIA - Medicaid expansion was added to Missouri's constitution in 2020, with nearly 54% of Missourians voting to expand the program. 
The expansion was put on hold by COVID-19. On Thursday, lawmakers in the Missouri Budget Committee had a chance to pass House Bill 20 and fund the program. On a party line vote, 20 'no' to 9 'yes', the bill failed to pass through committee. 
Because it was passed as a constitutional amendment, Medicaid expansion will go into effect regardless July 1. If the legislature fails to fund the program, eligibility will open to Missourians below 138% of the federal poverty level without the addition of federal funding.
The sponsor of the bill, Rep. Cody Smith (R-Carthage) voted against his own bill. 
"We must take the opportunity to to bring some common sense for like a program, and that is being overlooked in this conversation," Smith said. "If we expand Medicaid without doing that, we are simply pouring gasoline on to the fire of problems that could come along due to increased spending, and I would be remiss if we don't take the opportunity to do that."
The expansion would cover over 200,000 Missourians not currently eligible for Medicaid. 
Republican lawmakers allege Medicaid expansion is fiscally irresponsible. With federal supplements, democrats and advocates in the healthcare field said expanding Medicare will increase federal spending in Missouri long-term.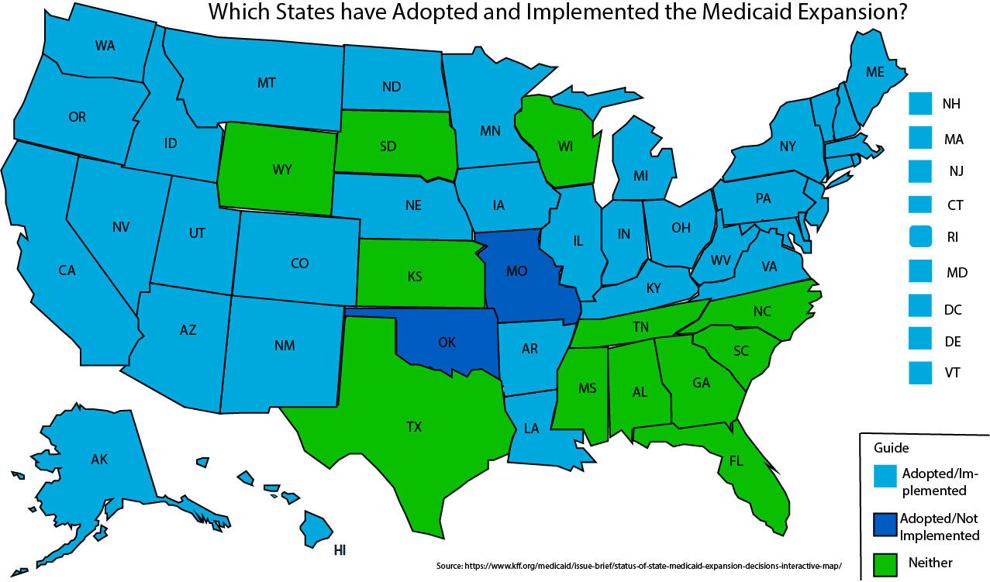 Dave Dillon with the Missouri Hospital Association said hospitals have offset the costs of Medicaid for years. Expanding Medicaid would benefit hospitals but also shift costs away from insured people who absorb the costs of uninsured Missourians who use emergency services in the form of higher co-pays.
"There is a public good in maintaining the health of a population, because the fewer people that are outside of the workforce that aren't able to contribute because they're not healthy enough," Dillon said.
Missouri would not be footing the majority of the bill. Missouri would contribute $105 million in tax-payer funds, while the federal government will contribute $1 billion to fund expansion. 
"Overall the federal funds coming into Missouri will benefit the economy, period," Dillon said. "We literally have a decade worth of research that points to that if, if you bring in federal dollars - people spend those federal dollars and there's an economic benefit from it."
At the hearing, Republicans who voted no argued they were looking at long term fiscal concerns.
"I also think it is a mistake to say that because we have short term dollars that we're able to point to right now, that we should act as though we are in a healthy fiscal position," Rep. Doug Richey (R-Excelsior Springs) said.
Next, the budget will move to the house where Medicaid expansion will no doubt be a topic of discussion. If it fails to pass there, next is the senate appropriations process where it has a shot to be passed. However, regardless of the legislature expansion is included in Governor Parson's executive budget and can be implemented through existing departments and services.
Traci Gleason, Vice President of the  Missouri Budget Project, advocated for Amendment 2 in August.
"The bottom line is it was passed by voters and it's the will of the people... It's time to abide by them and funded so that we can be ready to go," Gleason said.