JEFFERSON CITY - Missouri House Bill 738 is causing two separate reactions among Missouri voters. Both supporters and opponents of the bill took to the Missouri State Capitol on Wednesday to make their voices heard. 
The house bill proposes to make photo identification a requirement for Missouri voters. It's co-sponsored by Republican representatives Peggy McGaugh, Sara Walsh and Chuck Bayse. 
It also seeks to eliminate mail-in ballots and electronic voting machines after Jan. 1, 2022. Voting machines are only allowed for disabled voters as long as they are functional. The bill does not call for the replacement or upkeep of broken voting machines.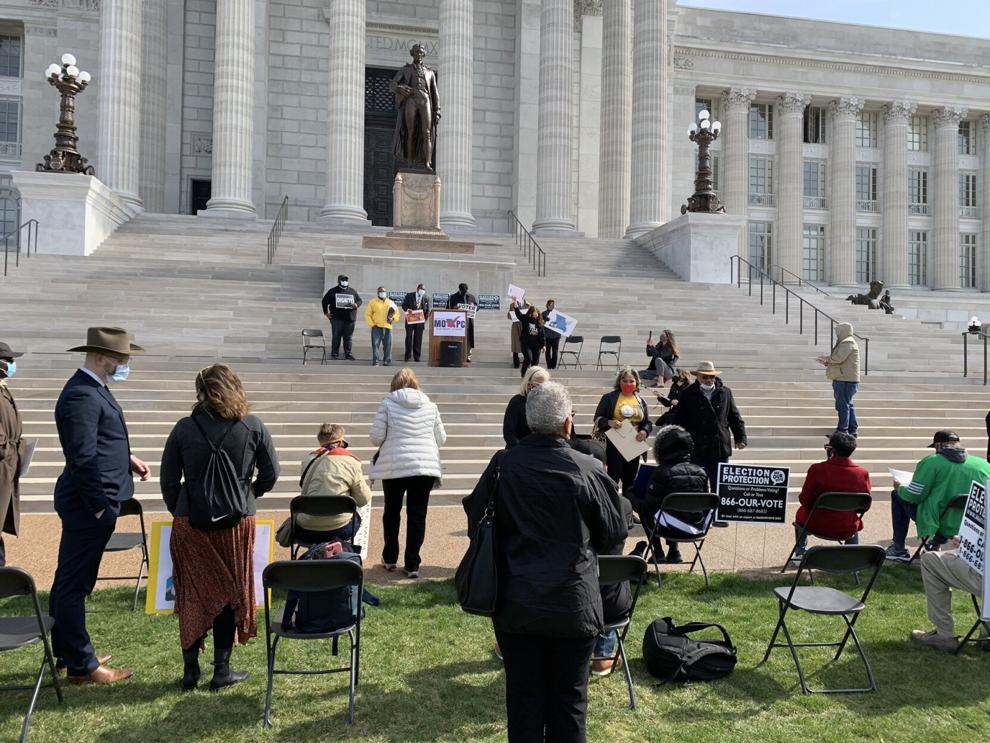 The Missouri Voter Protection Coalition gathered on the Capitol steps Wednesday morning to lobby against the legislation. House Bill 738 passed in the Missouri House of Representatives and is currently in the Missouri Senate. It was first read in the Senate on Monday. 
Kevin Prang is a voter from the St. Louis area and attended the event Wednesday. He explained the proposed legislation is a restriction on voter rights. 
"We feel that the actions the bills that are in front of the legislature right now are going to prevent people from voting," Prang said. "Any attempt to actually suppress more voters is going in the wrong direction, we need to have a more participatory democracy."
The lobby speakers explained the proposed legislation is especially discriminatory toward minority communities. Rev. Daryl Gray, Social Justice Commission Chair for the Missouri Baptist State Convention of Missouri, compared the house bill to Jim Crow laws. 
"We are concerned that Missouri will follow suit with other GOP led legislatures to enact the most harmful and egregious voter suppression bills since Jim Crow," Gray said. "We must expose these bills for what they are, acts of racism and violence." 
Another Missouri voter from Jefferson City explained some elderly and vulnerable communities need the mail-in voting that House Bill 738 seeks to eliminate. 
"There are elderly, older individuals who can't get out of their home to go vote and it's still their right to do so," Julie Allen said.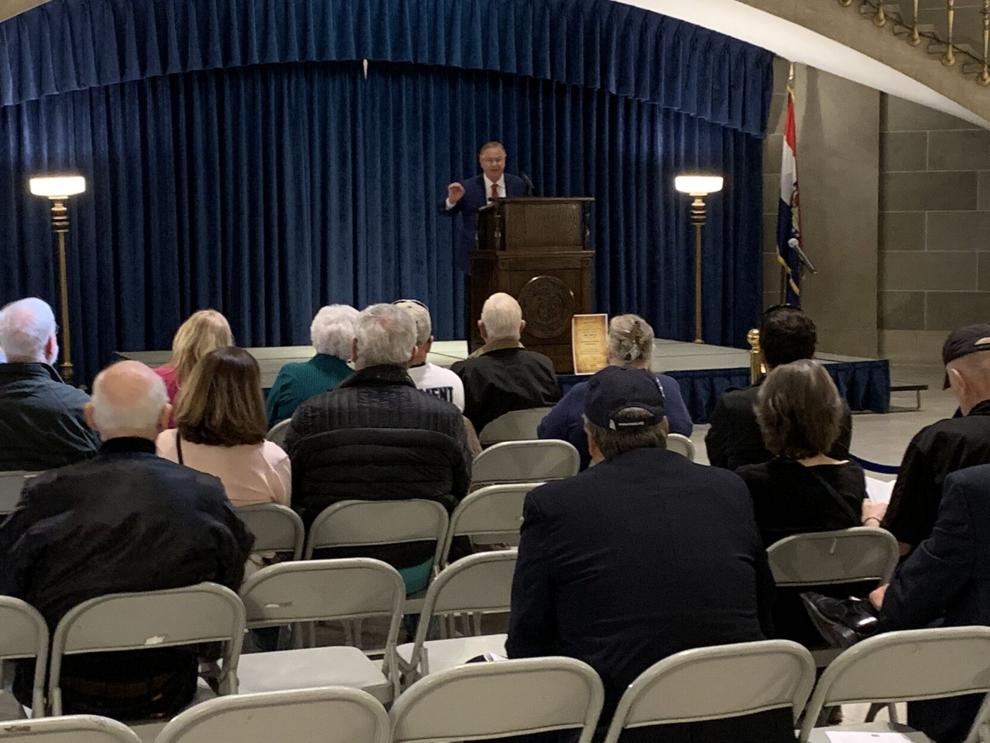 A few steps inside the Capitol building led away from the Missouri Voter Protection Coalition and toward the Concerned Citizens of Missouri. The group was joined by Mark and Patricia McCloskey, Secretary of State Jay Ashcroft and other Republican legislators. 
The rally inside was supportive of House Bill 738. Speakers emphasized their views on importance of the Second Amendment. 
"The First Amendment, coupled with the Second Amendment, is what keeps us free," Mark McCloskey said. "The federal government would like to enforce unconstitutional second amendment restrictions in Missouri, Missouri is not going to participate." 
President Biden announced Tuesday he seeks to ban assault weapons and impose stricter background checks for gun owners following another mass shooting in the United States. On the topic of personal liberties, Mark McCloskey spoke to the crowd inside the Capitol Rotunda about infringement upon rights.
"What the government has told us for a long time now about safety, is that safety is more important than freedom," he said. "Well ladies and gentlemen, solitary confinement in federal prison is pretty safe, but it's not very free." 
Mark and Patricia McCloskey were charged with unlawful use of a weapon in July of 2020, after waving guns at protesters outside their home during the Black Lives Matter protests. Mark McCloskey explained his thoughts on the lobbyists' opposing argument on House Bill 738 outside the Capitol building. 
"I cannot imagine how anybody could legitimately say that requiring voters to prove who they are in order to vote is discriminatory," Mark McCloskey said. "All Americans if they want to drive a car, book a hotel or go on an airplane have to show a photo ID. If that's discriminatory, then it's discriminatory in the sense that everybody is created equal." 
The Missouri Voter Protection Coalition also lobbied against House Bill 334 which imposes similar voting requirements as House Bill 738. Concerned Citizens of Missouri shared their supporting views on Senate Bill 588 and House Bill 85, which prohibits the enforcement of federal law on infringement of the right to bear arms. 
House Bill 738 is passed through the Missouri House of Representatives and is currently in the Missouri Senate.