COLUMBIA - A report from the Missouri Attorney General's Office shows that Columbia Police Department (CPD) officers pulled over Black drivers at a much higher rate than the rest of the state. 
The report includes data called a disparity index - a measure of a population's stop rates compared to a particular demographics number of drivers. 
A value of 1 indicates no difference between the share of stops and share of local population for a given group. Values greater than one indicate over-representation in the share of stops relative to local population, while a value less than 1 indicates under-representation
According the disparity index in Columbia, Black drivers were stopped in 2020 at a disparity rate of 3.41. The number declined from a rate of 3.51 in 2019. But while the number declined, the disparity in 2019 was the highest number CPD has recorded since the data started being tracked in 2000. 
Columbia Chief of Police Geoff Jones spoke to KOMU 8 about the high numbers. 
"When you see a number it causes you some pause," Jones said. "You want to look into why that number is high, but it doesn't tell the story as to why it's high. There are a lot of factors that go into that and we want to do our part to make sure we're policing more fairly. Recognizing that we have a part in this community to try and lower that number."
In comparison, Jefferson City's stop rate of Black drivers was at 2.86 and .95 with white drivers.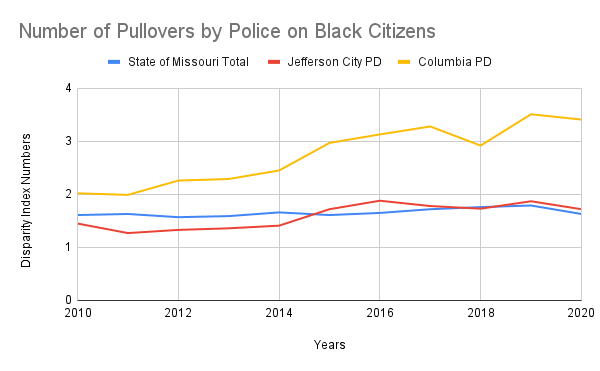 The rates are also higher in comparison to the state as a whole. Stops with Black drivers had a disparity rate of 1.627 in 2020; white drivers had a rate of 0.95. 
When looking at the higher numbers in Columbia, Chief Jones said CPD is working on lowering that number through their training. 
"The real meat of this is trying to police more fairly," Jones said. "Changing policy, changing practice, changing training so that we recognize our own biases. So that we're doing things based on articulable facts and investigations that require us to follow up. That is the only way for me to police fairly." 
Cities like Columbia and Jefferson City will have to continue to adjust their training in order to lower disparity rates.