COLUMBIA -  A survey coordinated by the Missouri State Teachers Association shows 80% of the nearly 2,900 Missouri teachers surveyed have thought about leaving the profession. 
An MSTA spokesperson said the findings are concerning.
"What we're finding is the stress level was much higher than it's ever been before," MSTA Director of Communication Todd Fuller said.
According to the survey, 26% of the respondents said they contemplate leaving the profession very often, 25% said often and 29% said they think about quitting sometimes.
The survey found 62% of teachers said this school year (2021-22) is more stressful than last year.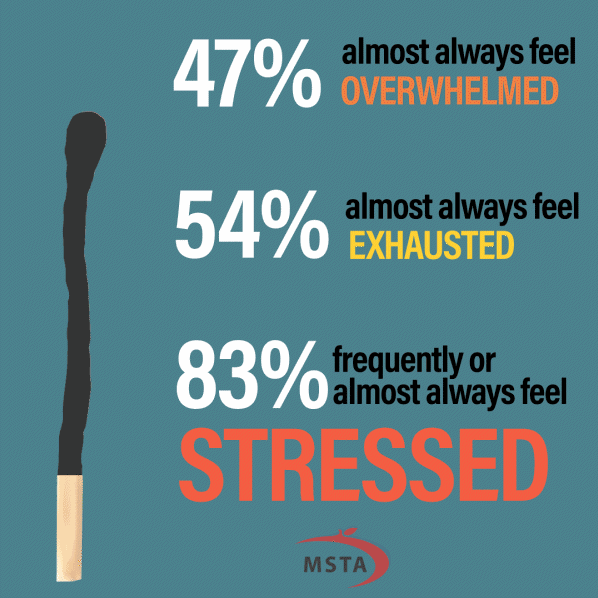 "I think it's important for us to realize that we're not talking about individuals that are disillusioned with what they do," Fuller explained. "They want to teach. They want to be in the classroom, but what they're struggling with are issues that are sometimes out of their hands."
Fuller said teachers are just deciding to leave the profession entirely. Fuller said service coordinators that are located all over the state have "dealt with more separation agreements than they've ever dealt with before this early in the semester."
The number one reason teachers are frustrated this year is classroom management, according to Fuller. He said the impacts of not being in a classroom for a year has affected how students are functioning with one another.
Another common frustration MSTA has learned from open ended questions included on the survey is dealing with the substitute teacher shortage.
"During their preparation time, or during their lunchtime, they're substituting in classrooms that don't have teachers in the room," Fuller said.
The MSTA is trying to increase awareness of these findings.
There will be a school wellness symposium on Monday, Dec. 6 and Tuesday, Dec. 7 in Columbia. There will be a workshop that focuses on the survey's findings and how to find solutions to the problems that educators are experiencing. More information on the conference can be found here.