Don Faurot, 80-year-old menus and the passenger era of the Santa Fe railroad system. The connection isn't obvious, unless you're MU alum Sarah Pope.
"I come from this very long line of railroaders, like three generations back," Pope said.
It led her to a piece of MU history nearly as old as her railway heritage.
"We have a family member who had access to some archives of just old things related to trains," Pope said. "She found some menus that were related to train travel that had to do with a Mizzou game."
Her menus are proof copies that were used for printing for one away game during the 1923 and 1937 seasons where the team traveled along the Santa Fe, the same track her parents had worked.
The train in the '23 season took MU fans to Lawrence, Kansas for a Thanksgiving Big 6 conference showdown with KU. They got to see a 3-3 tie on Turkey day.
"It was a whole thing, it was a week long event," Pope said. "They're going to see this game, and they're going to do it in style."
1937 was a bit more of a haul.
"They had gone to Los Angeles from Columbia, Missouri, so that's a long train ride," Pope said.
The train car meant for this menu held the football team, along with its followers.
"They started their lunch with chilled tomato juice," Pope said while looking at the 1937 menu.
After scarfing down some tomato juice and the main course of old fashioned Navy bean soup, the Tigers got dropped off in California for a road game with UCLA. MU lost 13-0. The juice didn't seem to do the Tiger offense any favors. Pope said she doesn't think that was the point.
"The menus sort of take you back in time to where there would be a football game, and people wanted to travel, but they didn't just hop in their cars. They had a train that was specially commissioned to take them to these games," Pope said. "I like to imagine that people didn't really care that much because they were just having a great time and watching the game."
That's where the trail could have ended. Not for Pope.
Find out how Don Faurot, some 80+ year-old menus and the decommissioned Santa Fe railroad line took one alum down the extensive path of Mizzou homecoming history, tonight on Sports Xtra. @KOMUsports pic.twitter.com/PKpnLZKadw

— Bradley Davis (@DdavisBradley) October 10, 2021
"My husband and I took a trek to Mizzou to go to the library and try to find out more about these games," Pope said.
It makes sense she would take it the extra step. Pope procrastinated like any other student while attending MU. Then again, not really.
"We went down and dug around the archives, which I used to go explore when I was a college student when I was supposed to be studying. I would go down there instead and just look at the old pictures," Pope said. 
Pope and her husband were busy going through MU yearbooks, which the University calls Savitars, when she saw a familiar face.
"And I was like, 'Hey! That's Don Faurot!'" Pope said.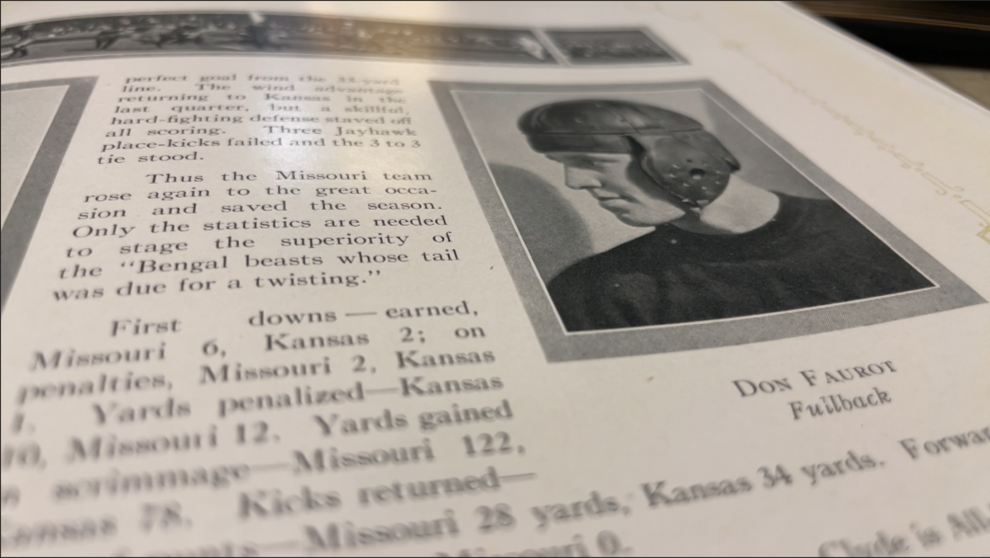 The legendary MU football coach and Athletic Director who now bears his name and statue on the school's football stadium. Before all that, he was a student athlete at MU, lettering in football, basketball and baseball. 
Pope found out her menus captured both snapshots of Faurot's life.
"It wasn't until we did that extra bit of exploring through the history that we realized there was that Don Faurot tie to both menus," Pope said.
Faurot is in the 1924 Savitar as a fullback, and would have boarded the train as a player for team's trip to Lawrence in 1923. In 1937, he led the Tigers to UCLA as their coach.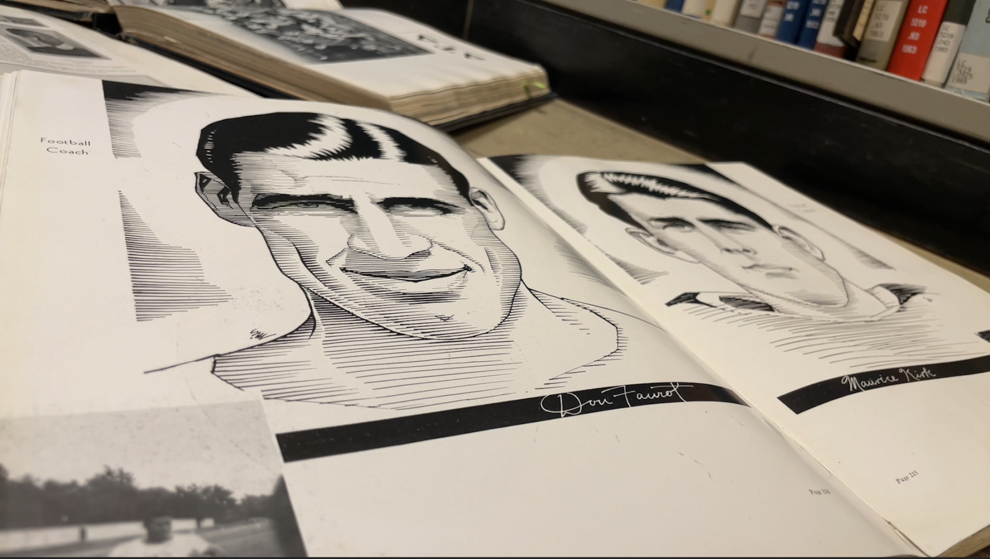 There was much more for her to find.
"We're pretty fortunate that we had a good 100 year run," University archivist Gary Cox said.
Over 100 years of Savitars from 1895 through the last edition in 2006. Nearly every one of them available to the public on the Second Floor of Ellis Library.
"It does show us everything from the years, the classes, the students, the images of students, inside jokes within the classes," University archivist Anselm Huelsbergen said. "Things that are really lost to us, except for still being evident in the Savitar."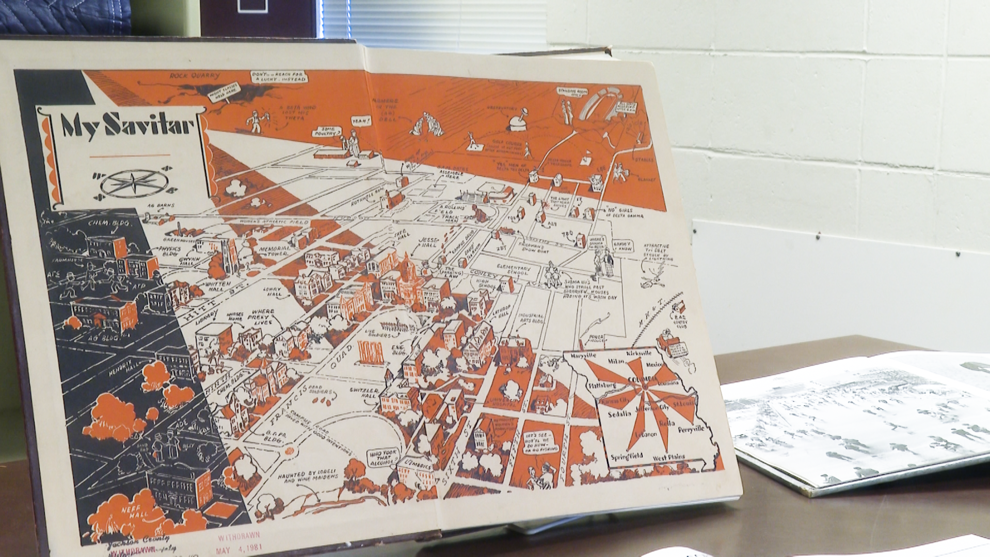 Homecoming weekend brings Alumni and their families young and old back to MU. The Savitars give each a chance to relive MU's rich history, while celebrating their own. 
"I love history, and I love old stories," Pope said.
"It's a very valuable document from us, both from an historical and nostalgic perspective," Huelsbergen said. 
Over a century of history can be a bit daunting to dig into. In the spirit of Homecoming, one possible starting point is the 1912 Savitar.
Here, you will find descriptions in the athletic section of Chester Brewer's first attempt at a Homecoming before anyone knew the tradition it would become.
"There's this whole web of history that you entangle with when you just start looking into, like, 'oh, here's a proof copy of a menu.' Like who would have thought?" Pope said.
"When they want to know something about a decade in the University, this would be a starting point. If they want to know something specifically about a football team, this would be a starting point," Huelsbergen said.
The Savitars are found in the East wing Ellis on the second floor in section LH1. They will be in the first row (labeled LD to LT) on the right when coming up the stairs.
You can also access the online versions of every Savitar on the Ellis Library website. If you would rather go through the Savitars with an archivist like Cox or Huelsbergen, you can schedule an appointment with University Archives in Lewis Hall, though they are in the process of also moving to Ellis.