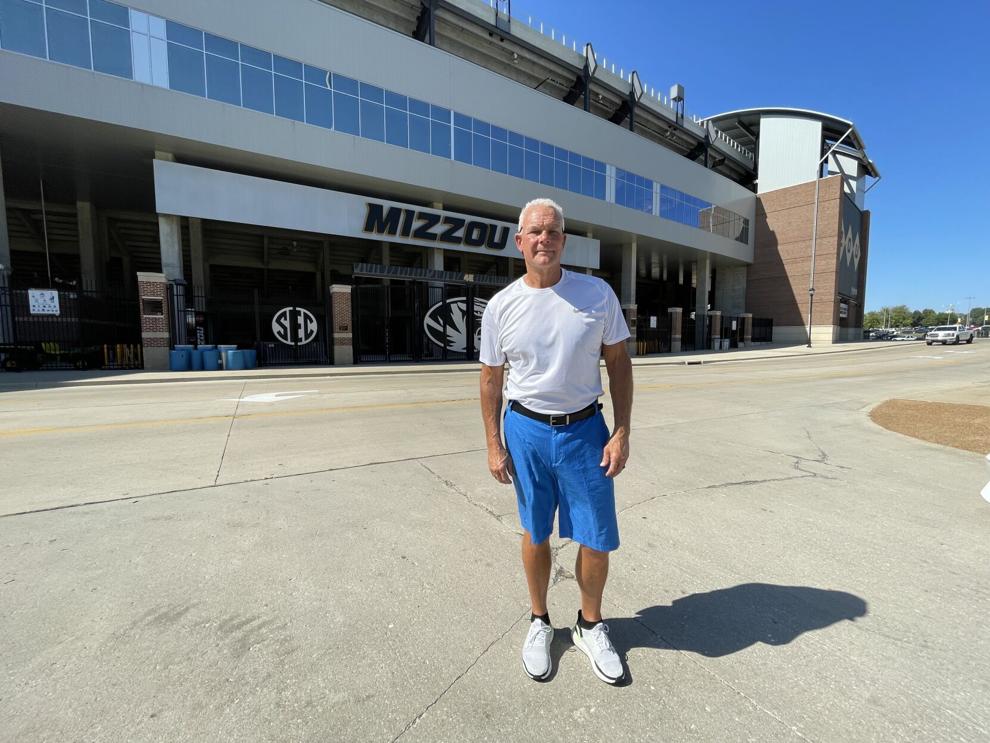 COLUMBIA- Dave Steckel's last game as an assistant coach at Missouri on Faurot Field was unforgettable.  His defense forced a game-clinching fumble in the final minutes against Arkansas on November 28, 2014.  The play secured Mizzou's second straight SEC East Championship.  Months later "Stec", as many called him during his 14 years at Mizzou, would head to Missouri State to be the head coach of the Bears for five seasons.
Now retired, Steckel returns to Faurot Field on Saturday in a new role:  TV analyst.  Stec will make his television debut on the SEC Network when Missouri hosts Southeast Missouri State.
"I'm really excited to do it here," said Steckel during an interview just a few feet away from where he used to coach.  "This place was so special to us.  We were so blessed to win a lot of football games and have a lot of success."
"Driving in, the flashbacks of all the coaches and players that we got to work with and be a part of and people always say that it's a cliche but we were a huge family."  
A Marine who applied a no-nonsense style as a linebackers coach and later as Gary Pinkel's Defensive Coordinator, Steckel was known among media members for his "3 Questions Rule".  He never sought out interviews and often kidded reporters that they might only get 3 questions when he agreed to talk.  But Steckel long-wondered if he might enjoy broadcasting or "going to the dark side" as he joked on Thursday.  So he reached out to a pair of friends:  Former NFL player and executive turned broadcaster Matt Millen and Charles Davis, a former player and current NFL analyst for Fox Sports.  
"I thought, let me give it a whirl and try some announcing," said Steckel.  "I had some really great leads in 2020 and thought I had some opportunities.  But then when COVID hit, not only did ESPN back off some people they had to furlough some people."
Steckel, who splits his time between Florida and Myrtle Beach, began to find his voice on Coastal Carolina's radio broadcasts in 2020.  When he reached back out to ESPN for the 2021 season things fell into place.  And his first assignment between the Tigers and SEMO was a perfect fit.
"It was a total surprise," said Steckel.  "I was working out and Ed Placey who's with ESPN texted me and said, 'I think I have your first shot. Are you free September 18th?'"
"It was like, are you kidding me?  We get to kinda go home and be a part of this and come back to this stadium.  I thought it was just an amazing, crazy plan by God to not only get the first one but come back here because this place is so special to us."
It's a way for Steckel to remain connected to the game he dedicated the majority of his life to.
"It still keeps me a part of the game.  It still lets me talk to coaches.  It still lets me talk to players," said Steckel.  "And when the game's over I can go home and have my 'Jack' and not be stressed out about preparing for the next week and how do we get the team up and ready to go."
A more relaxed postgame experience aside, Steckel is adjusting to the new world of broadcasting.  The perspective may be different but the game is the same.
"My little badge is gonna say 'media' but I just look at is as an old ball coach talking football," said Steckel.
"I did study the heck out of them," Steckel said, referring to his preparation on both teams leading into Saturday's game.  "And I think Coach Drink(witz) is really doing a good job.  I think his offense is very versatile."
"I think Coach Drinkwitz is a really good offensive coach, a really good offensive mind and a good little quarterback whisperer."
"Defensively I think they've got a lot of talent out there and I think people have to be patient with (Missouri defensive coordinator) Coach Wilks.  He's a great football coach.  He's got a great mind."
When the pregame meetings are done and they go on the air, Steckel will be back in his element working in football.  The job may be different but as he broadcasts the game, he'll surely remember the good times that happened on the field that sits just below the Memorial Stadium press box.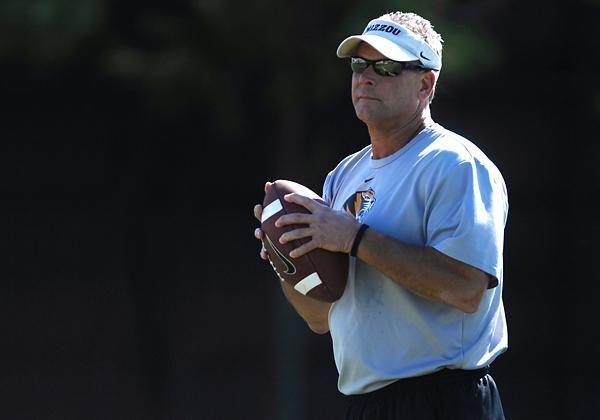 "Coach Pinkel gave me the career here and that gave me and the coaches that we spent it with and the players that came through here.  This place is always going to be special to me."
"I'm Mizzou Made."