COLUMBIA - The Mizzou women's basketball team grabbed a huge win over Florida on senior day, Sunday at home.
The team tied a program record of 18 three-pointers on the day to help push their 96-80 win over Florida.
Redshirt senior guard Shug Dickson and redshirt senior forward Shannon Dufficy were honored prior to the start of the game.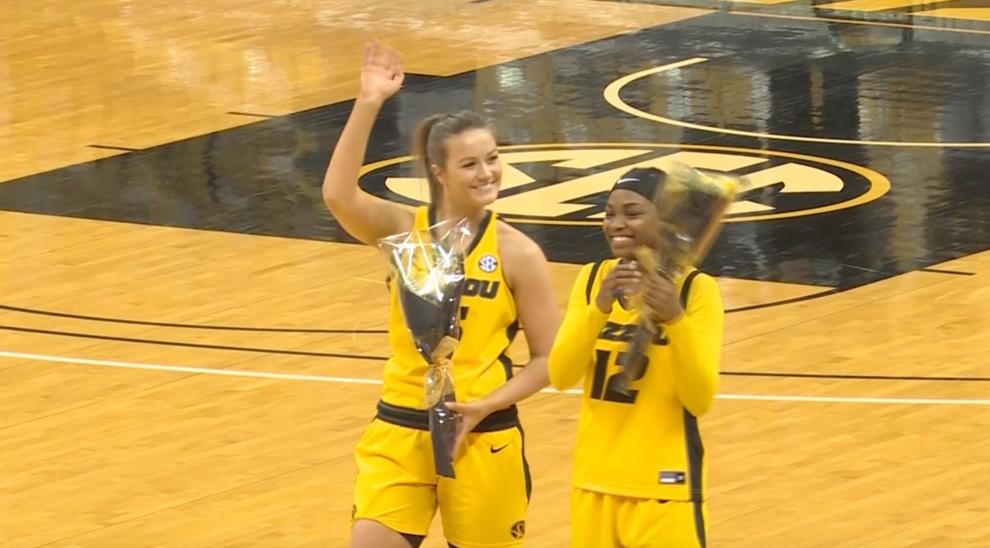 Dufficy started in place of LaDazhia Williams, who hurt her ankle in practice earlier in the week.
The duo watched personalized videos and Dufficy, the Australian native, had a special message from her family who couldn't be there on the big screen.
Dufficy was told there was going to be a video but relied on her fellow senior to push her through the emotions before a big game.
"If I was standing by myself, I know I would have lost it," Dufficy said. "But having Shug there, as I said, by my side definitely helped. She was talking to me the whole time. And I mean, it means a lot. I love that they were a part of my day."
The two seniors had a stand-out day, Dickson scored a season-high 20 points, and Dufficy scored 19.
"You want your seniors to have a good experience with that especially and you know it feels good to see the smiles and the laughter in the locker room," said Mizzou head coach Robin Pingeton.  "Senior day, like I said is always special, there's always a lot of emotions involved and as a coach you just love to see your team be able to get a win for them."
Three Tigers scored more than 20 points for the first time since Jan. 16, 2013, against Auburn and Dec. 8, 2013, against Bradley. Hayley Frank had 26, Aijha Blackwell had 21 and Dickson 20.
But it was Florida's Kiara Smith who led the scorers with 34 points on the day.
It was a day full of three's and that was the turning point for the Tigers. Mizzou scored 10 three-pointers in the first half, coming out on top at the half 45-30.
"What stood out tonight is our ability to find the open man, make the extra pass, and then obviously knock down open shots," said Pingeton. "But I think the difference between this year and last year is the ability to create off the bounce a little bit in one on one situations."
The Tigers improve 8-9 overall and 4-8 in the conference. Mizzou has two games left in their regular-season schedule before the start of the SEC tournament.
Next up the Tigers take on Tennessee on Thursday and then hit the road Sunday to play Mississippi State.