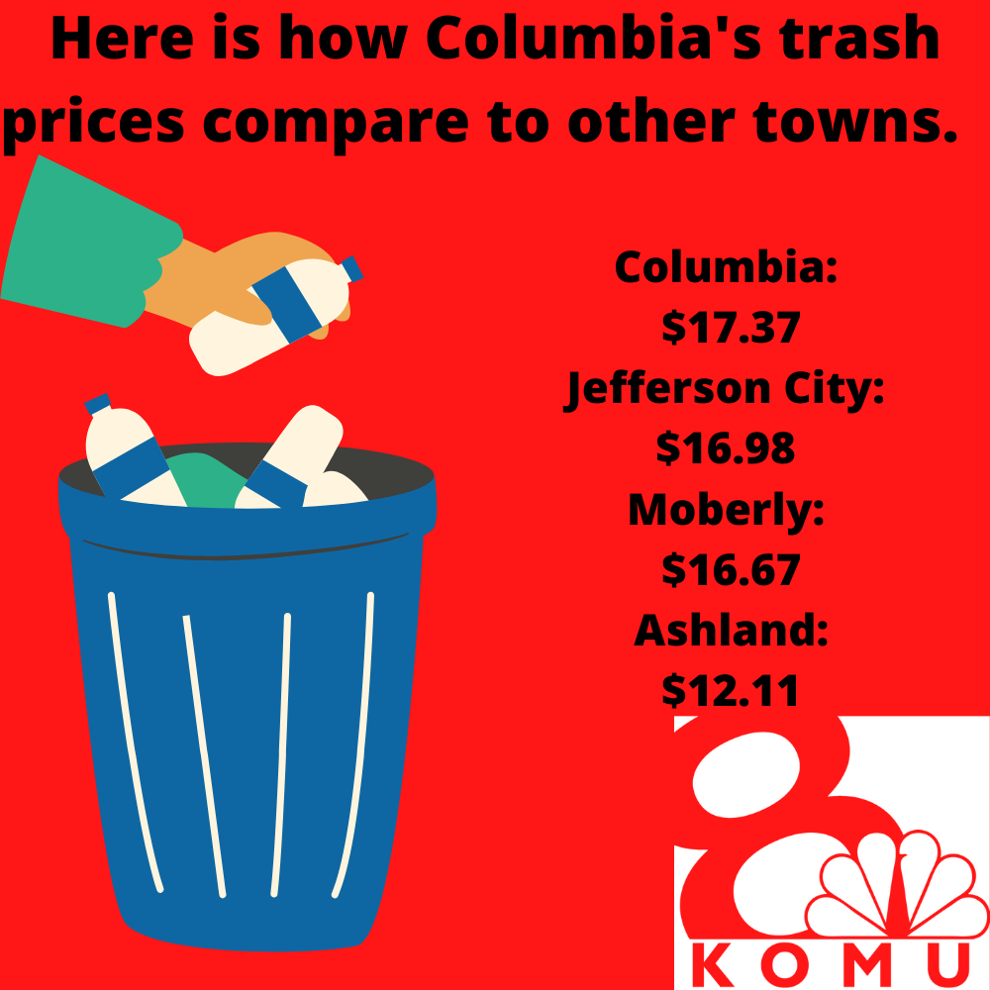 COLUMBIA - In February, Columbia changed its trash services to a "Pay as You Throw" program, and now residents are required to use city issued trash bags.
City-issued bags are not new to Columbia. For years, the city issued 50 bags per year, but they were not mandatory to use. Now, they are required.
Each resident is issued 104 33-gallon bags, which averages out to two bags a week for the year.
Some residents are left frustrated. Columbia resident Ednita Brown told KOMU 8 News she wishes the city would listen to her concerns.
"I really feel like it's a pay for our mismanagement program," Brown said.
Brown lives with her husband, parents and two children, so they have a lot of waste.
"I really feel disappointed, because I feel like Columbia is trying to sell it as a 'Pay as You Throw' program. But if that were the case, then the people that only have one trash would have a lower utility bill," Brown said.
Steve Hunt, the City Solid Waste Unit Manager, told KOMU 8 News that the city is not making any real revenue with the new program.
"I know people can be unhappy, or there's people that are unhappy at times with the service that we're getting, or that we as a city are providing. But we do it at cost," Hunt said.
Residents have expressed concerns on Facebook and other social media platforms regarding more people illegal dumping, stores running out of the required trash bags, and bags ripping.
Columbia's trash service stands out amongst surrounding cities because it is funded publicly.
"Columbia's philosophy is to be a full service city," Hunt said.
Surrounding cities like Ashland, Moberly and Jefferson City use private contract services.
Target 8 compared numbers for both trash and recycling for single/ residential household monthly rates.
Columbia charges $17.37 monthly for 66 gallon bags a week
Jefferson City charges $16.98 monthly for 65 gallon roll carts
Moberly charges $16.67 monthly for 65 gallon roll carts
Ashland charges $12.11 monthly and uses a set amount of 95 gallon roll carts, but residents must drop off recycling
Most mid-Missouri cities' carts range from 35-95 gallons.
Jefferson City and Ashland both have contracts with Republic Waste Services. Moberly has a contract with Waste Management.
KOMU 8 reached out to Republic Waste Services and asked what kind of cities it usually provides services to.
"Republic Services provides recycling and waste disposal services to more than 2,400 cities and communities across the country. Republic partners with communities of any size, and has partnerships with many major metropolitan cities," Republic stated in a release.
"We have a great partnership with Ashland and a successful service delivery plan that was custom designed for their community. It's important to realize that every city is different, with a variety of service needs. The current Ashland contract is structured to provide solid waste collection at $12.11 per residential household per month," Republic said.
The contracts the cities have with Republic Waste Services and Waste Management have price increases for each year. Most are by 3%.
"If you have a private company, they're not going to do it for costs. They're going to do it to make money," Hunt said.
Brown says she hopes that the city will take into account what citizens are saying.
"I just hope they listened to their citizens more than anything, you know, really take their citizens into account and look at the demographics of the city and realize that this is not working," Brown said.