MISSOURI - The Missouri Department of Corrections (DOC) is receiving backlash as the number of COVID-19 deaths in prisons continue to rise in the state.
Missouri currently has 39 offender deaths and five staff deaths. Across the state, there are 179 active offender COVID-19 cases and 96 active staff cases. The DOC completed a total of 75,212 tests. The first positive case was recorded on March 23.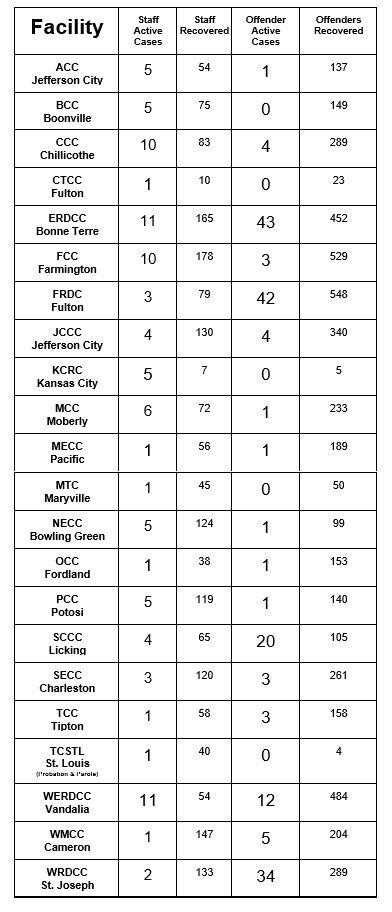 Nationwide, there have been over 1,700 deaths according to the Associated Press.
Any of these numbers have loved ones of prisoners feeling scared and hopeless. Michelle Smith is an advocate for prisoners. Her partner, Maurice Davis has been incarcerated for 16 years. He's currently in the Jefferson City Correctional Center (JCCC).
"The way that the institution is being ran, especially with this pandemic situation is definitely not conducive to anyone having any type of good mental health, or being safe," Smith said.
When KOMU 8 spoke to Smith on Dec. 15, she said she hadn't spoken to Davis in three days. She said JCCC has experienced several lock downs due to staff shortages - and these lock downs aren't helping the situation.
"People are very frustrated and stressed out," Smith said. "They're scared to get this virus, and they're being treated with just apathy and disrespect."
DOC said offenders and staff are required to wear masks at all times. Additionally, regular offender transfers are no longer prohibited. It said regular offender transfers took place for safety and security reasons, custody battles or for access to educational resources. Before offenders are transferred, they are tested for the virus.
Yet, Smith said mask wearing isn't the case.
"A lot of people in our rural communities don't want to wear masks," Smith said. "These people are people who work in prisons, these people who are anti maskers are infringing on our rights,"
KOMU 8 obtained an email regarding offender transfers from Dec. 8 to Dec. 10. There were a total of 208 transfers. 108 of those transfers were not listed at treatment transfers.
KOMU 8 asked DOC to comment on these numbers.
"The department never claimed that all transfers had stopped (the site clarifies suspension of regular transfers) and never attempted to stop all transfers; it is not logistically feasible," DOC Communications Director Karen Pojmann said in an email. "If we did not transfer anyone, all of the state's four intake centers would be filled far beyond capacity."
Pojmann said offenders are only transferred under special circumstances, like receiving medical care, overcrowding, and returning to the general population from restrictive housing.
Pojmann said officers are subject to a conduct violation if they are not wearing a mask. But, Pojmann said she hasn't heard reports of any staff members refusing to wear their masks.
"Criminals are the ones who are looked at as the bad and who's going to have any type of illness or bring it to other people," Smith said. "That's not true. The staff and the officers are the ones that's bringing it in."
Mass testing in prisons ended in August. To replace it, DOC started sample testing and wastewater testing. Sample testing is when 10% of people, selected at random, are tested for COVID-19. This helps locate asymptomatic people. Additionally, DOC is testing wastewater to detect a potential outbreak.
"The Missouri Department of Corrections has the most aggressive and comprehensive COVID-19 testing strategy of any department of corrections in the United States," Pojmann said.
Missouri Corrections Officer Association's (MOCOA) Executive Director Tim Cutt has been involved with corrections since 1998. He started at MOCOA in 2009. He said an underlying problem is DOC is severely understaffed.
"It's not fair for the frontline. These guys need help," Cutt said. "They're working 18 to 20 hours a day. You can only do that for so long. When these officers get so exhausted, they can't do it anymore."
For more rural facilities, Cutt said they're left behind.
"[People] don't think about these prisons sitting in the outskirts of town," Cutt said. "People are actually working there and sacrificing their lives and their health to make sure the community is safe. I think these guys need to be accredited for that."
Another concern Smith has, is what she's not being told.
"A lot of stuff I'm sure he doesn't tell me because I will be more upset about it," Smith said. "I'm very stressed and very afraid for all of them."
In November, the Missouri NAACP and other activist groups shared their concerns about DOC's COVID-19 action plan. Missouri NAACP President Nimrod Chapel Jr. said what they're doing right now, isn't working.
"There's no plan," Chapel Jr. said. "If someone is to say that this thing that's happening now is the plan, that's a bad plan. People are going to get sick and die as a result of it. That's not right. It's not right morally."
The DOC is working on implementing air purifying devices, which are expected to kill COVID-19 particles in 30 minutes.
Pojmann said corrections officers are in Phase 1B of Missouri's COVID-19 vaccine distribution. Offenders are in Phase 2.