AUDRAIN COUNTY − Thirty seven-year-old William Dahl, of Rush Hill, Missouri, faces 14 child sex felonies in Audrain County and additional federal charges after at least three children have come forward to authorities with their stories of abuse within the last year. 
Some of Dahl's charges include second degree statutory sodomy, sexual exploitation of a minor, sexually trafficking a child under 12 years old, child kidnapping and child molestation.
Three state records from over a decade earlier also accuse him of assaulting minors. Those children never had their day in criminal court.
"We were scared, you know, someone older like that, making threats," victim Tiffany Nicole-Ellis said.
Dahl lived a seemingly normal life, while the stories of his past accusers went unnoticed in the Missouri justice system. Ellis' story and the old court records show the system failed long before his arrest on Feb. 7, 2021.
Accusation 1: Tiffany Nicole-Ellis, summer 2004, Mexico
A Mexico Missouri native, Ellis met Dahl when she was 17 and in high school. Dahl was 19, a recent high school graduate from the Community R-IV School District and son of reserve Audrain County Sheriff's Deputy Randal Dahl. Probable cause statements show Dahl's family also had significant financial assets.
Ellis said she was having problems with her mom at the time, and Dahl took advantage of that to get close to her.
"I took it that he was trying to help me out. You know, that he was being nice. But really, that's not what it was," Ellis said.
Ellis said things took a dark turn when she, her friend and Dahl were hanging out together at her friend's house. Ellis said her friend was 15 years old and dating Dahl at the time.
"He was trying to get my friend to have sex with him, and she didn't want to, and he kept bugging her and bugging her and bugging her," Ellis said. "He asked if I would, and I did so he would shut up."
She said after they started, she didn't feel right and asked him to stop.
"He wouldn't take no for an answer, and I told him I was going to scream if he didn't let go. So he covered my face and continued to rape me," Ellis said.
That was not the end. She said Dahl stalked her and her friend everywhere, even chasing them in his car from the homecoming football game.
"We were running around the lake trying to hide from him, and he had this spotlight like on police cars, and he kept shining it trying to find us," Ellis said. "Honestly, I think that was one of the worst things because it's like you couldn't get over anything. You just had to keep relieving everything because he was always there, and you never knew what he was going to do."
Ellis said she was able to work things out with her mom, and together they filed a police report and petitioned for a child order of protection.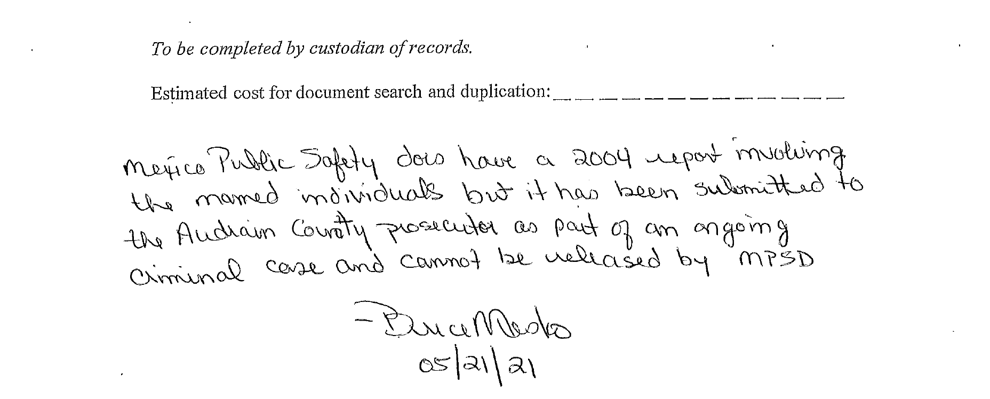 That's when she says Dahl's attorney, Jason Shackelford, reached out to her for the first time. 
Shackelford asked Ellis to meet him in his office in Centralia. She agreed.
"He wanted us to drop the protection order [and not go to court]," Ellis said.
She said Shackelford made it clear how uncomfortable it would be for her if she didn't take his deal.
"It made it sound like I didn't have a chance in court, no one was going to believe me," Ellis said. "I made it clear I was scared of him, and he used that, you know. It's like, 'You will have to face him, you will have to see him, you will have to talk about everything in front of everyone, in front of him.'"
On top of everything, Ellis said the people in Dahl's corner made it even tougher to move forward.
"You had people who flat out didn't believe you," Ellis said. "They would talk bad about you, and said, 'Well you wanted to, you told him you would.' You know, make you feel really bad."
Ellis said, at the time, she thought Shackelford was trying to help her.  
"We came to the agreement that I would drop that, and he would make it where William could never come near me and could never come near my family," Ellis said.
Ellis signed a deposition agreeing to Shackelford's terms. She still has most of the pages from the original document, along with a copy of the signature page. 
"I look back, and I really regret that and wish that I did something about it," Ellis said. "We had to agree not to go further with anything. We just drop it altogether. So we did, but I really wish I didn't."
That was the end of Ellis' case, but one law expert says it shouldn't have been.
"In this case, there was a minor child and her parents who were unrepresented, and the respondent, who had been accused of raping this child, was represented. That's unequal bargaining power," University of Missouri emerita law professor Mary Beck said.
She said Dahl and his attorney weren't playing a fair game. Shackelford allowed Ellis, 17 at the time, to sign a deposition outside of court determining the direction of the case with just her mother as counsel, who was not an attorney. 
"There should have been a guardian ad litem appointed the minute that order of protection was filed. It's standard; it has to be," Beck said. "The case should not have been dismissed until a guardian ad litem said, 'Okay, I agree to dismiss it.'"
A guardian ad litem in the Missouri justice system is an attorney assigned by the state to represent the best interests of a child − children like Ellis, who are up against well-represented abusers. 
A Missouri state statute requires the court to assign a guardian ad litem in any proceedings where child abuse is alleged. However, the statute didn't go into effect until 2009. Ellis said she didn't know what a guardian ad litem was, and no one from the state reached out to help. 
Ellis said, in hindsight, the meeting with Shackelford feels like a setup to her now. 
"In a way, I look back, and it almost seems like it was coached," Ellis said.
It would take less than a year for Dahl to need Shackelford's help again for dodging abuse allegations. 
Shackelford denied to comment on this case.
Accusation 2: Child protective order, July 2005, Audrain County
Missouri's online record system, Casenet, shows an individual filed a civil child order of protection against Dahl on July 29, 2005. Shackelford is listed as his attorney. Through an open records request, Target 8 obtained the original documents. The judge redacted the names but left the affidavits.
The unnamed petitioner said Dahl, then 20, raped an underage child. The judge also redacted the relationship between the petitioner and the child.
Records show the court did nothing further to bring criminal charges.
"The court knew of this. It was in the allegations, and the state didn't take any role in protecting the child in holding the rapist accountable, and in doing so, allowed that rapist to victimize other children," Beck said.
State statute 455.513 says the court "may" turn over petitions for protective orders to Children's Division for investigation into the abuse "if" it meets a certain criteria. Today, this means the court is not required to turn over allegations of child abuse in protective orders for investigation. Before August of 2011, the statute did not exist.
"This case by itself suggests to me that there is a hole in our communication and in our protection of children," Beck said. "It needs to be fixed."
This protective order became the first blemish on Dahl's record related to child sex abuse and a relatively minor one in the eyes of employers and background checks. 
Accusation 3: Child protective order, 2008-2009, Moberly
A third accusation comes from another child protective order listed in Casenet, as well as a 2008 police report filed with the Moberly Police Department. 
In the police report, a mother said she was told by officers her 14-year-old middle school daughter was dating a 23-year-old man, William Dahl. She said she told Dahl to stop contacting her child, but he didn't listen. She said Dahl would try to pick her daughter up from school and sent the 14-year-old a dildo for her birthday. 
The mother finished the report by saying Dahl has threatened her and fears he will cause physical, mental and sexual harm to her daughter.
Dahl and his attorney, still Shackelford, responded the same way they did with Ellis' accusation. An agreement included in the protection order shows the petitioner agreed to drop her case as long as Dahl stayed away from her daughter and other redacted names. Both signed the agreement. 
That would have been the end of it, but Dahl again contacted the 14-year-old girl, and the petitioner brought her receipts. She provided the court with six screenshots of Dahl messaging her daughter on social media, all included in the old record.
The petitioner refiled her order of protection in Callaway County on Oct. 1, 2009, becoming Dahl's second recorded hiccup. Beck said neither do enough justice.
"A civil protective order isn't a prosecution, that's a different matter, and it doesn't protect other children," Beck said. A prosecution can incarcerate someone, can get them on the sex offenders list."
Beck says if Dahl had initiated restraint, the allegation would have been buried just like Ellis,' never to be found in the court's records. She says it is impossible to know how many more of these deals Dahl made before being arrested this year.
Shackelford, again, denied to comment on this case.
Life as a free man
You won't find Dahl on the sex offender list. Before his arrest in February, the only criminal charges employers would find are a few traffic tickets. The two protective orders against him were on file but did not carry much weight.
According to his Facebook, Dahl held jobs with multiple employers since the child protective orders hit his record. 
He was also allowed to hold leadership volunteer roles, working primarily with children.
Dahl held positions in both the South Fork Composite Squadron of the Civil Air Patrol and the local Chapter 1225 of the EEA Eagle Flights program. 
Dahl was a deputy commander with the Mexico squadron of the Civil Air Patrol. Photos can still be found on the squadron's Facebook page, which show Dahl actively engaging with children, just as his volunteer role would suggest.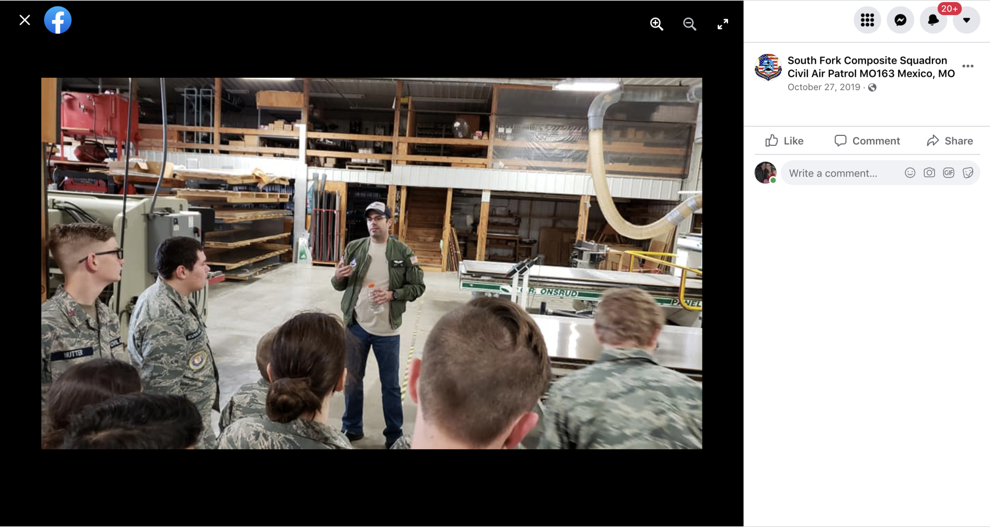 Dahl's Facebook indicates he didn't start this role until 2018. At the time, Dahl was accused on record of raping and stalking children in the Missouri court system. Target 8 was able to find these affidavits because they are open to the public. They would have been open for the Civil Air Patrol to access. 
Civil Air Patrol Chief Marketing Director Randy Bolinger said the organization runs every volunteer through an FBI background check before allowing them to join. After that, leaders get re-checked every five years. 
"A civil protective order would not protect the other children. A prosecution would protect the other children," Beck said.
Beck's assessment rang true with the Civil Air Patrol. Bolinger said civil cases do not show up in FBI background checks, only criminal cases. 
Bolinger confirmed someone requested the Civil Air Patrol run another background check on Dahl just six months after he joined. He said the reason and name of the requestor was not on file.
It didn't reveal the child protective order affidavits. Beck said no amount of background checks would have been sufficient as long as the records remained civil rather than criminal.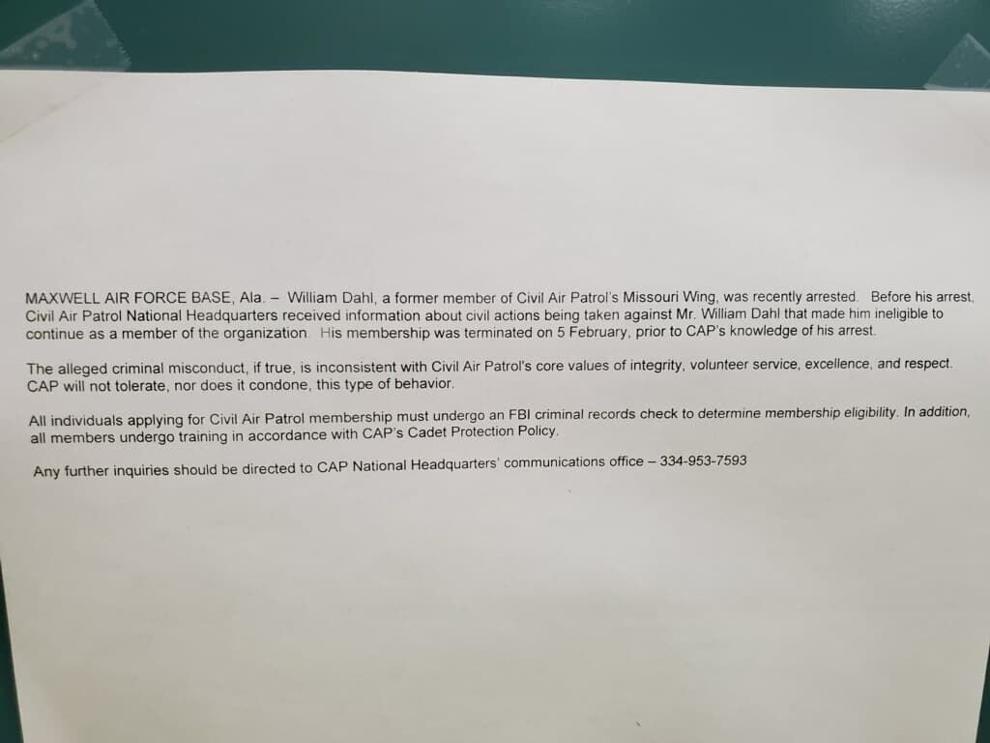 In a statement, Dahl's former squadron of the Civil Air patrol said they terminated Dahl two days before his arrest after they were made aware of pending civil charges.
However, it does not say how they were made aware of the civil charges, as the background checks would not have caught it. The court filed a third child protective order against Dahl in January 2021 before his arrest, but it carries no more weight on a background check than the two previously filed against him.
Chapter 1225 of EEA said Dahl was not involved in the Young Eagles program centered around child mentorship. However, Dahl's name and contact information were still listed on the main "Contact Us" section of the website months after his arrest. The Young Eagles program updated the page after Target 8 asked them about it. Dahl is still the listed contact for the chapter's adult flight mentoring program.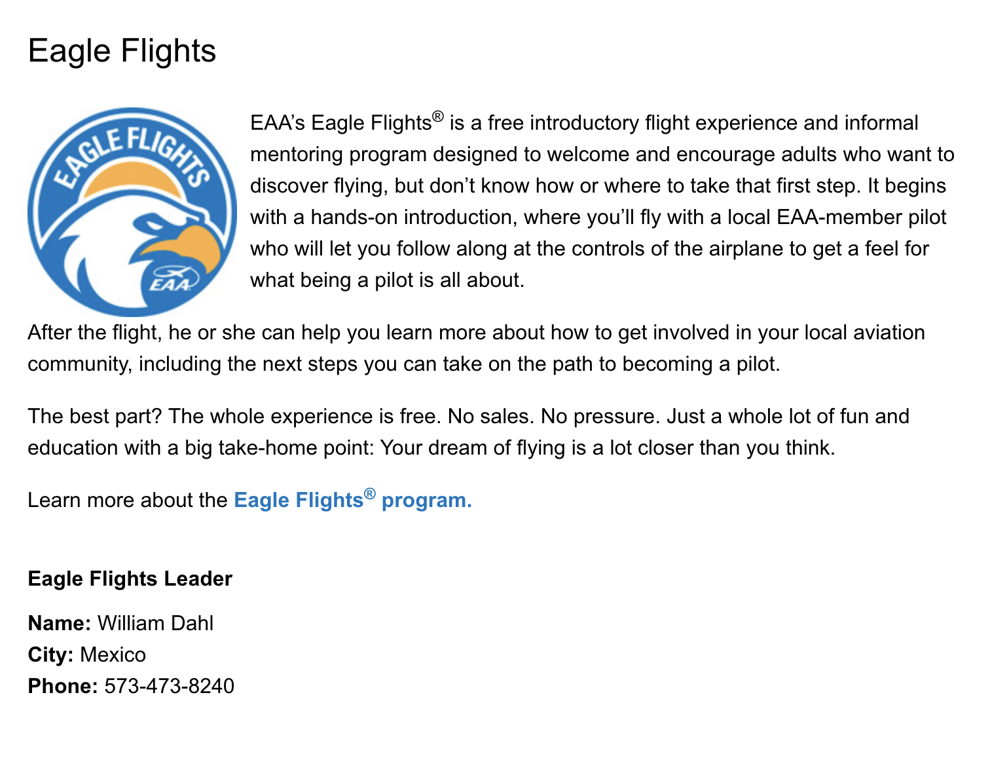 Current charges
The prosecutor's office has brought charges on behalf of three confidential child victims (CCV), labeled CCV 1, CCV 3 and CCV 9. Audrain County Prosecuting Attorney Jacob Shellabarger confirmed this means there are at least nine total victims who have come forward. 
State Technical Assistant Team (STAT) Senior Commissioned Investigator Jeff Glandon said Dahl engaged in a relationship with the then 16-year-old CCV 1 between November 2020 and January 2021. In a forensic interview, CCV 1 said Dahl sent them pictures of his genitals and sexually touched them on multiple occasions.
Glandon said Dahl kidnapped and had sexual contact with then 12-year-old CCV 3 on New Years Eve of 2020. CCV 3 said in a forensic interview that Dahl picked them up in his truck, bought them alcohol, asked them to have sex with him and told them they had to leave with him, even though they didn't want to.
Glandon said Dahl admitted in an interview to taking CCV 3 to a Best Western in Mexico and sleeping in the same bed with them. CCV 3 said said Dahl "verbally forced" them into the same bed. Glandon said he found records showing Dahl checked into the motel after 1 a.m. on Jan. 1, with one adult and one child assigned to his room. 
While reviewing Dahl's Facebook records during the investigation of CCV 1, Glandon said he found 9-year-old CCV 9. Glandon said messages show Dahl asking for and receiving sexual images of CCV 9 from a woman between March 2018 and January 2021.
Glandon said Dahl asked to have sex with CCV 9 on numerous messages. In July 2020, Dahl and the woman made plans for him to come see her and CCV 9 at her home. On July 17, 2020, the woman told Dahl he drove past her home. 
All the information about the three CCVs come from probable cause statements written by Glandon. Target 8 chose to leave some details out due to their disturbing nature. In the probable cause statement of CCV 9, Glandon said they've identified multiple underage victims of Dahl from 2018 to 2021.
According to Casenet, Dahl has a preliminary hearing set for Dec. 9.
Court breakdown
Shellabarger is the Audrain County attorney involved in the Dahl case. He told Target 8 victims have a better chance now to have their voices heard. 
State entities today (but not during the time Ellis' complaint) form multidisciplinary teams across different departments. Shellabarger said this cooperation helps stop abuse allegations from slipping through the cracks. In Audrain County, it's still not enough to catch allegations in child protective orders.
Audrain County Chief Juvenile Officer Bruce McKinnon said victims have a better chance in Audrain County and across the state because of the mandate requiring the assignment of guardian ad litems. He said it gives the juvenile court checks and balances for catching child abuse.
Target 8 called the offices of prosecutors, juvenile courts, sheriff's departments and police departments from multiple counties to find out how abuse allegations from child protective orders are handled today. 
The clerk for the 12th Circuit Court representing Audrain County said all child protective orders are sent to the juvenile court. If the system works properly, juvenile officers would see the child abuse accusations in protective orders and inform Children's Division or the sheriff's department.
McKinnon said it doesn't happen that way.
He said he highly doubts every child protective order makes it to his office based on the number they receive. He said the ones that do are typically just the final approval order, without the affidavit explaining why the order was filed.
Since McKinnon said his office rarely sees the allegations in protective orders, he rarely contacts law enforcement. This means child abuse alleged in child protective orders are still at risk of going unnoticed by investigators.
"Where there's a child's safety involved, we need to have checks and balances. So that communication doesn't break down because it broke down here," Beck said.
McKinnon said his office files away the final orders of protection and doesn't bring them back out for review unless the child's name comes up in an active juvenile office case.
In most cases, the juvenile office loses jurisdiction after a child turns 18. At that point, McKinnon said his office normally shreds the child protective orders.
Instead of falling into the hands of investigators, this is how McKinnon said protective orders typically go through the 12th Circuit: 
Some, but not all, of the orders come to his office from the circuit clerk after being finalized
The orders rarely include the affidavit (where allegations would be)
Juvenile officers file the documents in storage without involving investigators since they can't see the allegations
Juvenile officers shred the documents after the child turns 18 without taking any further action to involve investigators
McKinnon said he doesn't have the manpower available to be more thorough. He said he has just two juvenile officer on his staff for all of Audrain County, which has a population of over 25,000 people.
McKinnon said it's more than just an Audrain County issue. He said juvenile officers outside of municipal areas, like those in Audrain County, haven't seen bumps in numbers or pay since they were moved from county employees to state employees in 1999, even though the workload has increased.
He said other juveniles offices in Missouri also use protective orders to cross reference its current cases, rather than finding allegations to give to investigators.
Missouri still does not require abuse allegations from protective orders to be turned over. The system allows Audrain County and all others in the state to overlook protective order affidavits without punishment. 
"If [the counties] have to make choices amongst various discretionary tasks that the legislature gives them, they're going to have to choose. But if it's mandatory, they're going to have to find the money. So yeah, I think it should be mandatory. And the only way to do that that I know of, is a state statute," Beck said.
Takeaway
Sixteen years after Ellis' 2004 accusation, Dahl finally sits before a prosecutor to answer for his actions. But it isn't for what he's accused of doing to Ellis, or either of the children from the protective orders, or anyone else Dahl may have settled out of court with. It's for a litany of charges for things he's accused of doing to children in the last three years, children who weren't even born during Ellis' initial allegation. 
Target 8 sent in records requests to the Audrain County Sheriff's Department, Missouri State Highway Patrol and the Randolph County Sheriff's Department. None had any records indicating the two protective orders against Dahl had been turned over to them to investigate. Target 8 also sent requests to Children's Division of the Department of Social Services, but it is not allowed to disclose victim information.
Ellis never saw her day in court against Dahl. She says it doesn't change her relief that something is finally being done, even if it's without her on the stand.
"I've gotten over what people say. It doesn't matter to me anymore because I know what happened, and he definitely knows what happened," Ellis said. "I know there's not anything I can do to change how people feel. Maybe now with everything going on, people will start to believe it." 
Target 8 reached out to Dahl's current lawyer, Jeffrey Hilbrenner, to offer Dahl a chance to comment for this story. Target 8 was never able to get ahold of him and was told by someone at the office that "they were ignoring my calls and to stop calling." 
Target 8 also reached out to the Audrain County Sheriff's Department to offer Randal Dahl, William Dahl's father, a chance to comment. Sheriff Matt Oller said he called Randal Dahl to let him know he had an offer to comment on the story, but he did not hear back. Randal Dahl officially retired from his position as a reserve sheriff's deputy after his son's arrest in April 2021.