Last year was rather warm during our winter season, besides that extremely cold February system.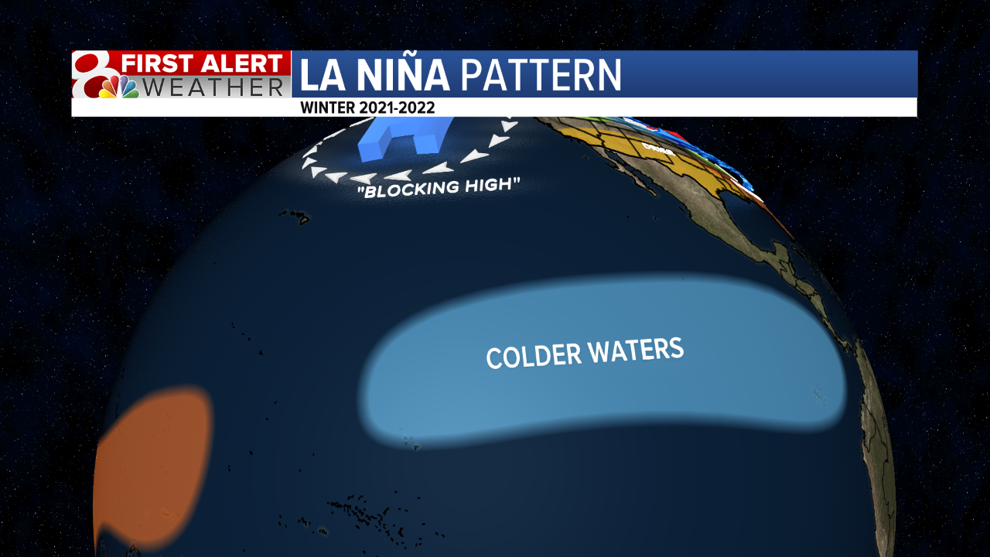 A second year with a La Niña winter is expected for the 2021-2022 winter season. As a reminder, La Niña is a type of climate pattern due to sea surface anomalies in the equatorial Pacific. A repeat season, or second season, with such conditions can offer clues to what is in store for us this winter season.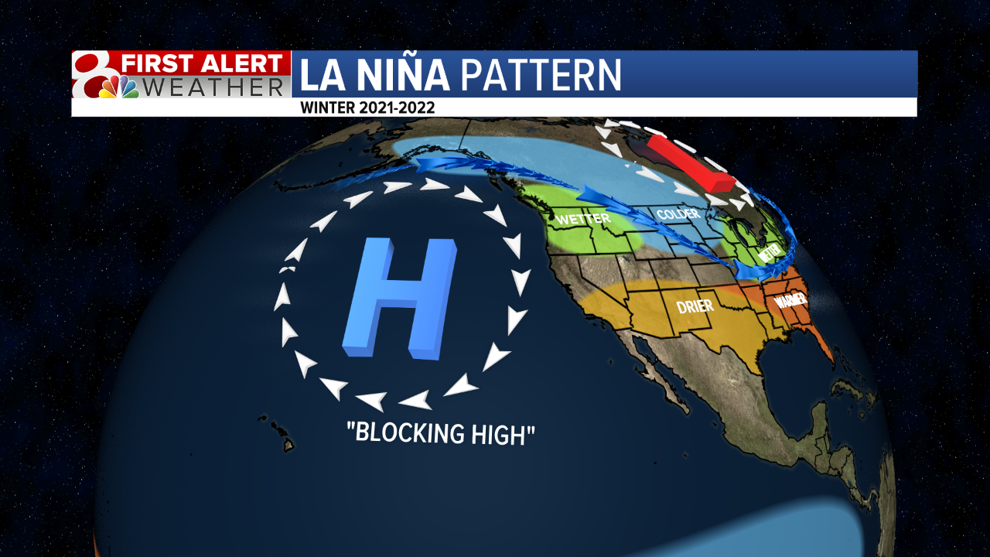 Typically, though not always, a second season will encounter a stronger blocking pattern. This is when a strong upper-level high pressure system pushes north near Alaska and persists, creating a wavy jet stream. The jet stream is the driver of weather systems and is also often a temperature barrier between hotter and colder air. 
When the jet stream is forced into such a strong curve it pushes weather systems our way, often in the form of low pressure storm systems and quick "clipper" cold front systems. These can rush by with a burst of cold air and snowfall, though not all clipper systems include precipitation. 
So, big questions are always: how much of a curve will the jet stream have, how persistent will it be, and how far north or south will the jet stream generally be set up?
The answers to all of these questions give us our weather for the season.
When there is a steep curve, we'll likely get more weathermakers. How long it persists will determine how often we get such systems, or if we have breaks between. And if the jet stream, no matter its curve, is set up to our south we'll likely get colder temps. If it is set up directly overhead we'll get a bit of everything. And if it is set up to our north we'll have warmer weather with a better chance for ice and even thunderstorms. 
The jet stream can fluctuate throughout winter, giving us different patterns depending on the week or month. It keeps our job as meteorologists interesting!
So, what do we anticipate for the 2021-2022 winter season?
THE TEMPERATURE OUTLOOK
We anticipate the jet stream to be somewhat persistent this season and either directly overhead or to our north for much of the season. This will lead to temperatures that are, overall, above average. 
Of course, we do expect multiple system to bring cold burst of air, so don't expect it to be all sunny and warm all winter, either. We'll still have bitter cold air... it'll just be encompassed in an otherwise mild winter.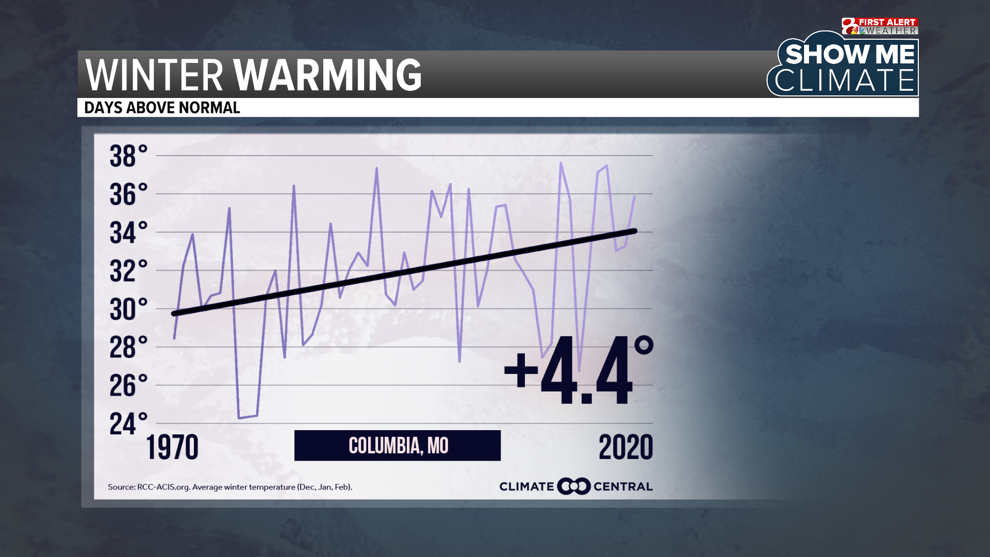 We can also look at the trends over the past 50 years which show winters in central Missouri are warming rapidly; 4.4º over the past five decades. 
More food-for-thought, the coldest part of our year, typically January 11-15, has warmed by nearly 9º over the past 50 years.
THE PRECIPIATION OUTLOOK
Just because we expect a warmer winter overall, doesn't necessarily mean we expect less snow. Warmer winters can still garner plenty of snowfall.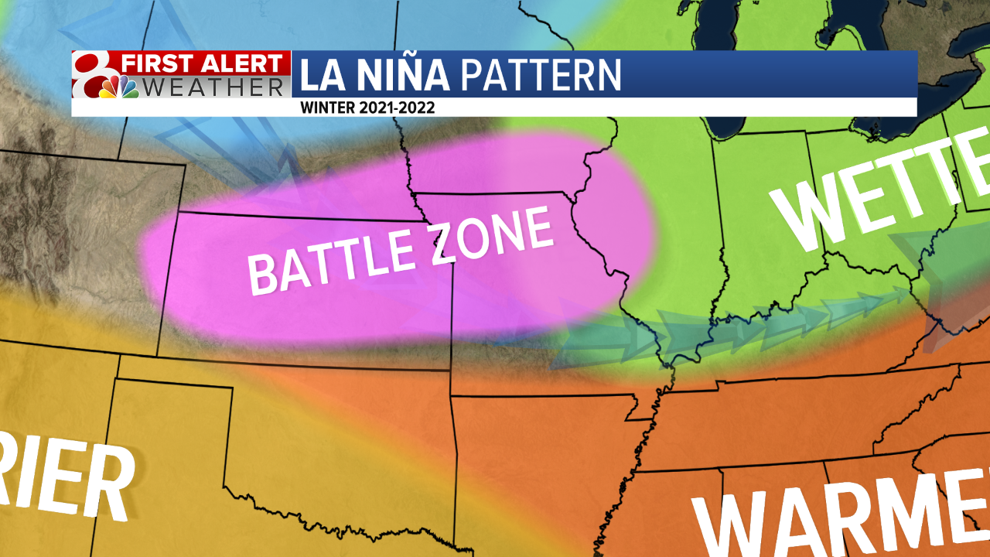 The 30-year average for snowfall in central Missouri is around 16.5". 
This season we expect near-average to above-average snowfall with 16-21" of snowfall accumulation. 
We also forecast above average chances for ice.
Winter isn't without its severe weather chances, either. In fact, Boone County has recorded five tornadoes in the winter season (compared to six in summer). We anticipate average to above-average chances for thunderstorms and severe weather.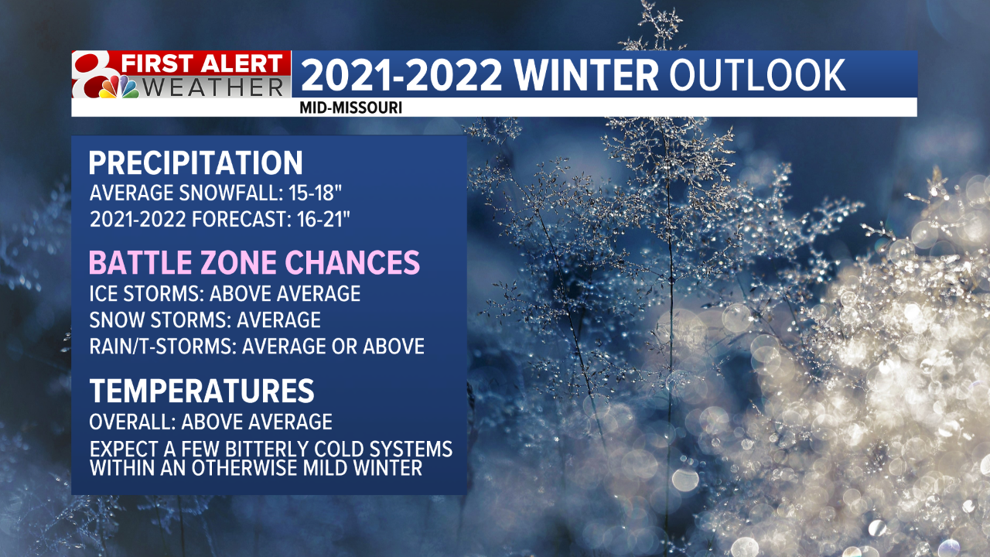 WE HAVE YOU COVERED
Don't be caught off guard this winter season. And don't believe all the hype you'll inevitably see on social media. The KOMU 8 First Alert Weather Team is honest and straight-forward about all our forecasts and give you the ethical First Alert well ahead of storms. 
At KOMU 8, we have a Storm Mode Promise. This means we will be with you before, during and after the storm. We'll bring you live updates on air throughout each winter weather event. We'll send update notifications to your phone and tablet through the KOMU 8 First Alert Weather App for Apple and Android devices - make sure your notifications and location is turned on to receive updates when the forecast changes.
Stay connected with us on social media, on KOMU 8 streaming platforms, through morning text messages and emails, even on Alexa-enabled devices. 
You are our priority, and we don't take your trust lightly. We know an accurate forecast is important to you and to local businesses - they matter to us, too! We show up and do our best every day, as a team, for you.