If you're a fan of the warm weather, the past couple weeks probably haven't quite been your cup of tea. But we're going to see a fairly large warming trend beginning today. 
SUNDAY & MONDAY: THE WARM-UP BEGINS
After morning lows in the lower to middle 40s, sunshine and a south breeze will help things to warm nicely into the upper 60s and lower 70s. Sunday looks like an all-around pleasant day, with comfortable temperatures and a mixture of sun and clouds. The average high for this time of year is 69°, and we'll be right around that this afternoon.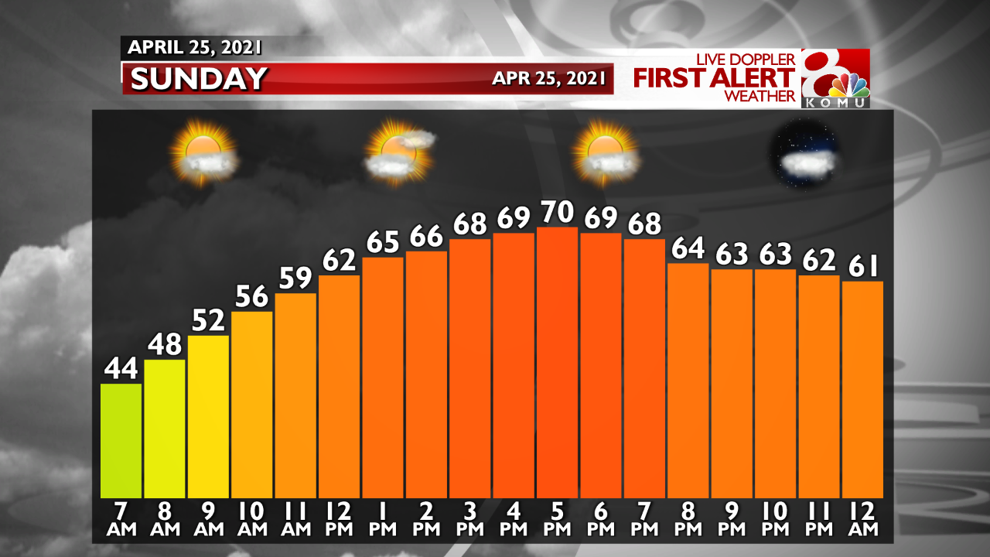 Monday is when we will really start to notice things warming up. Afternoon highs should hit the middle 80s throughout mid-MO. A few of us could even reach the middle 80s. All that warmth will be brought to us courtesy of a very stiff south wind, with gusts as high as 35-40mph. These stronger winds are out ahead of a mid-week rain system.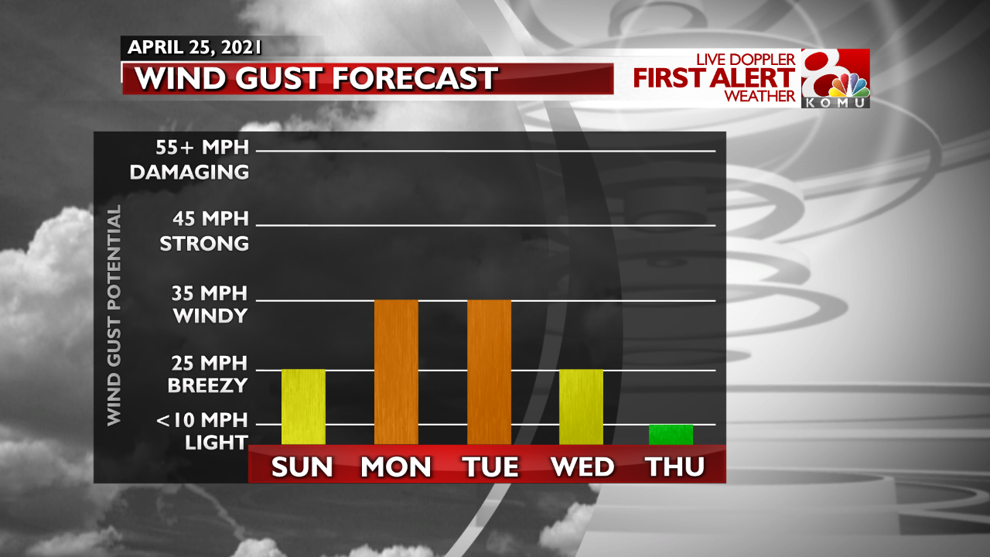 TUESDAY-THURSDAY: SHOWERS & STORMS
Tuesday will be yet another warm and windy day, with highs reaching the 80s again. We will, however, notice more clouds, especially by afternoon. 
As it stands right now, shower and storm chances will increase Tuesday evening into the overnight hours. Some of the storms may produce brief heavy rainfall & strong winds, though we don't see a significant severe threat. Still, we are several days away, and much could change between now and then.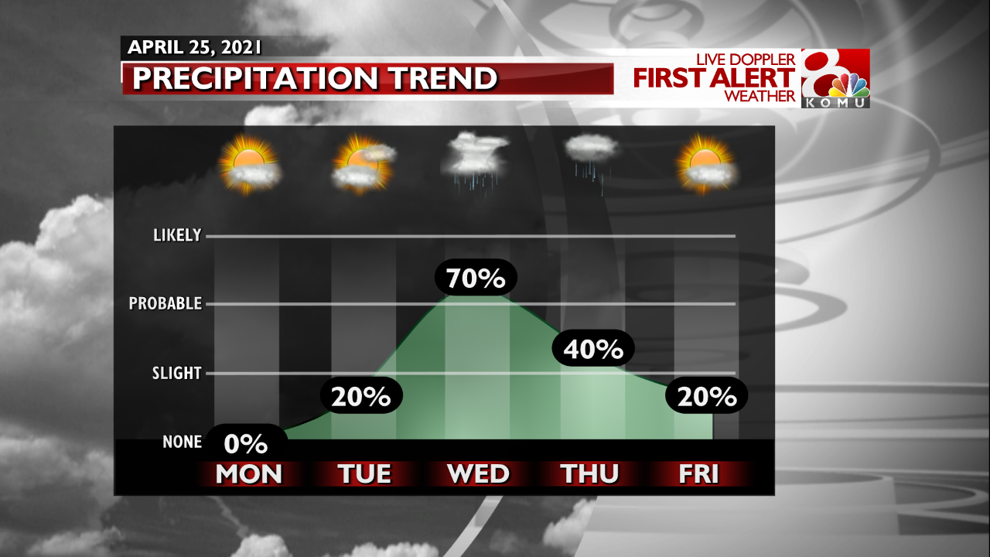 Wednesday will likely be the rainiest day of the forecast, with widespread showers and storms building in by the afternoon and evening hours. Some of these storms could produce heavy rain as well.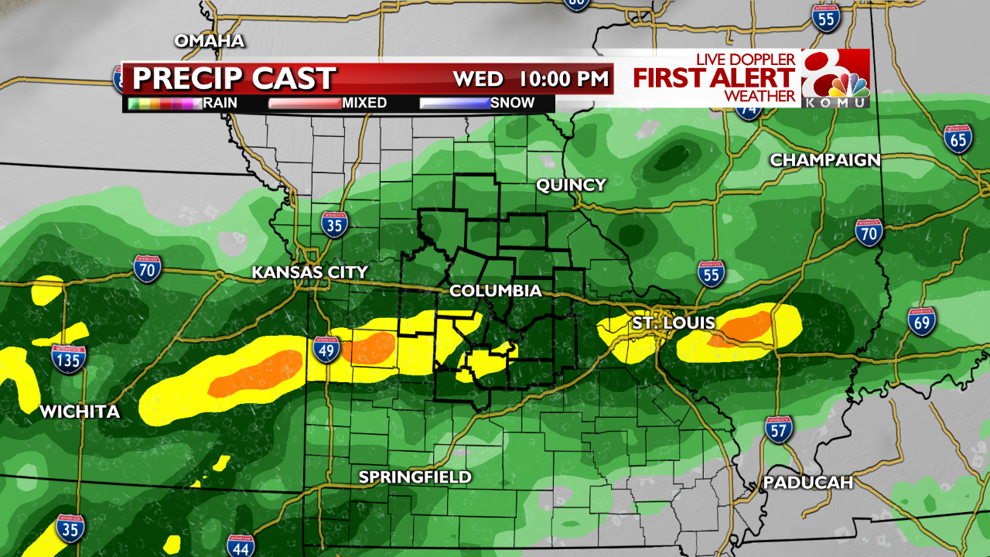 Right now, the best chance for severe storms is over parts of Kansas, Oklahoma & Texas, but there is a chance that some stronger storms could reach us in Mid-MO by Wednesday morning. Please remain with us these next few days as we get a better idea of the timing and impacts of these storms. Right now, heavy rain through the mid-week looks to be the biggest threat.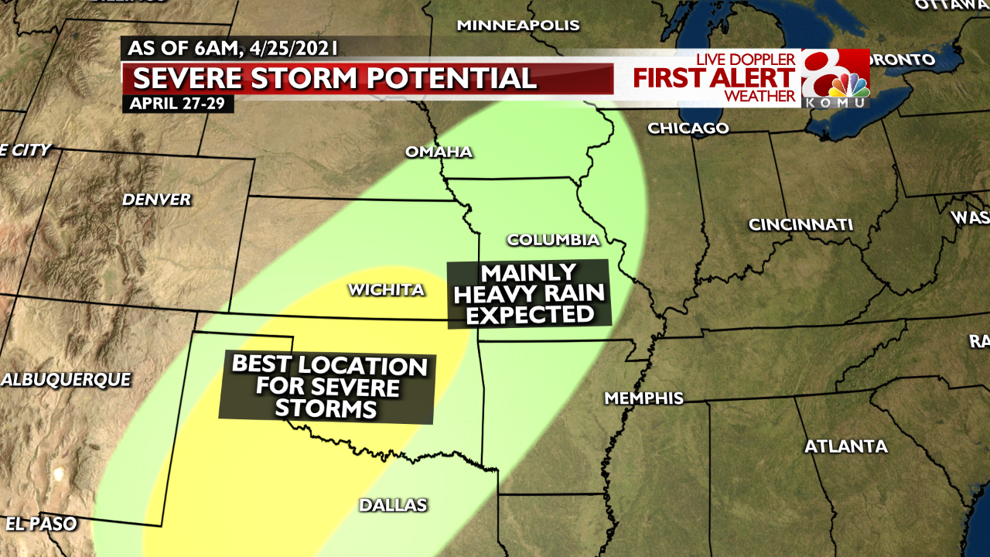 Rain and storms may continue into Thursday, though most of the activity should be winding down. After it's all said and done, widespread rainfall totals of 1-3 inches look likely for much of mid-MO. This could present a flooding threat, especially since our ground is already saturated from recent precipitation.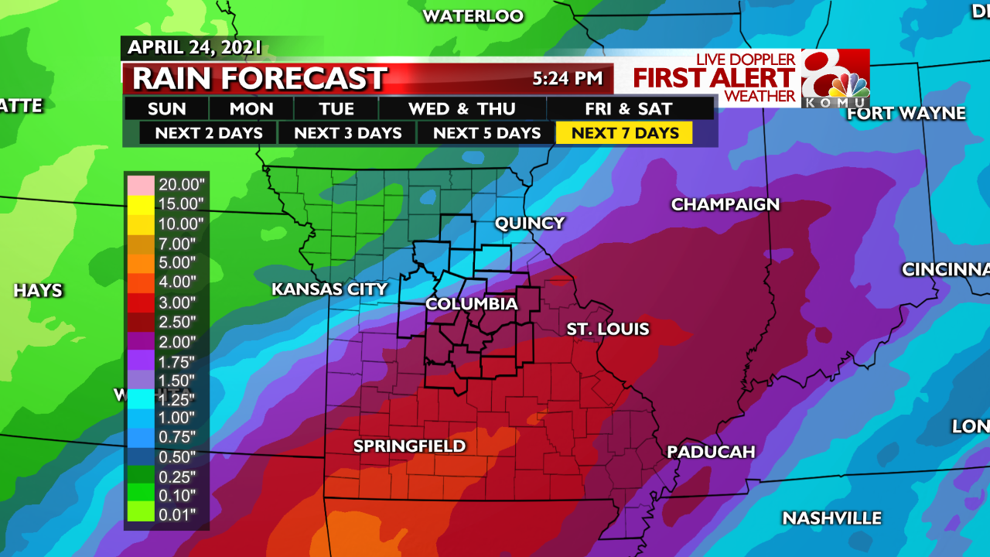 After the active period midweek, things will dry out and warm back up into next weekend, as we begin the month of May.