Chilly weather sets in today and under cloudy skies, the feels will be cold! Winds may be breezy at times out from the north at 15-25mph. While daytime temps only reach the upper 50s, winds chills through the afternoon may only reach the lower to middle 50s.
Cloudy and chilly today with breezy north windsHighs in the upper 50s with a wind chill in the lower 50s this afternoon#Brrr #mowx @KOMUnews https://t.co/lLUZxguxEU pic.twitter.com/T4VokesPN2

— Tim Schmidt (@komuTim) October 21, 2021
Expect a sunnier and warmer day Friday with temps rising back in the middle 60s. Winds will be relaxed and calmer Friday too.
WEEKEND THUNDERSTORMS
Showers and thunderstorms are likely this weekend and rain will be heavy a times. There will be multiple rounds of storms.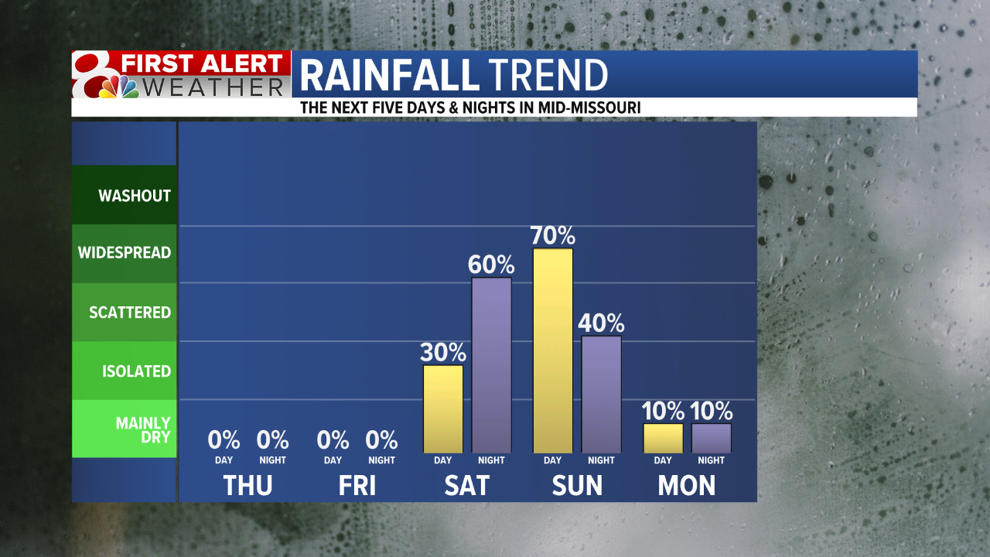 The first round of rain will be Saturday, mainly over southern Missouri near Lake of the Ozarks during the morning and early afternoon. Dry time is expected elsewhere until the evening when the second round of storms are expected to develop and move in to central Missouri.
Heavy showers and thunderstorms are expected overnight and into Sunday morning. This second round of storms will clear up sometime into Sunday morning with breezy southerly wind pushing temps into the lower 70s. Dew points will also jump in the mid-60s due to the strong winds.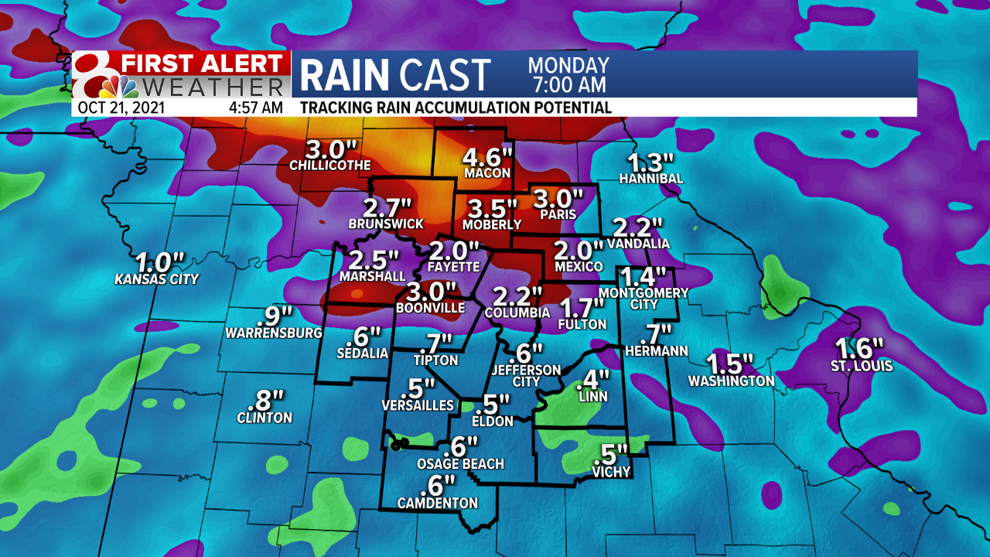 A final round of showers and thunderstorms will redevelop Sunday afternoon and will connote in to Sunday evening/night. Theses storms may be strong with heavy rain and wind gusts. We will continue to monitor this round for any potential severe weather.
In total, around 0.50 up to 3.00" rain accumulation may be possible in central Missouri this weekend. Please watch out for flooded roads, creeks and streams.