The first freeze of the season is possible in the first week of November.
Monday will kick off November with our best chance for rain in the near future. A few passing showers or sprinkles are expected on Monday from around noon until early this evening. Only a tenth of an inch is expected for rainfall accumulation. Winds will be light, so feel free to have an umbrella, worry-free!
High pressure will dig in from the northwest. This will usher in cold Canadian air for much of the week.
Temperatures will be below average with highs in the upper 40s and lows near 30º. This will bring the first widespread frost potential on Tuesday morning. A more likely chance for a widespread frost will be Wednesday morning.
The first widespread hard freeze is possible on Thursday and Friday mornings. Stay tuned for any adjustments as we track the strength of this system. In the meantime, start planning for the first hard freeze.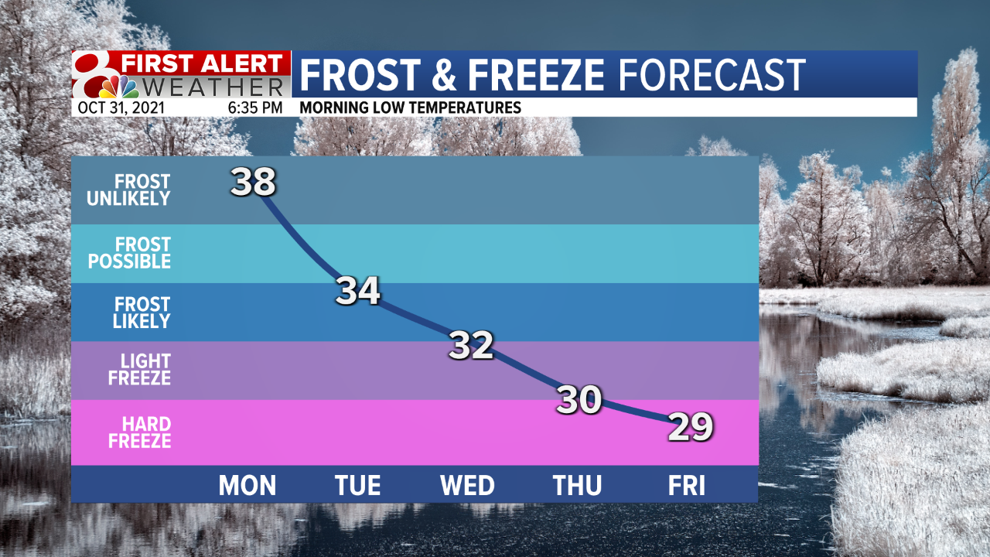 The weekend is looking warmer with highs in the 50s and lows in the lower to middle 30s.
Overall, the second week of November is looking more seasonal with highs in the 50s/60s and lows near 40º. There will be a mid-week storm system that could bring more rain. Otherwise, the pattern will remain mainly dry.