SUNDAY
Sunday will be very similar to Saturday: cloudy with temperatures in the 30s. However, the midday hours today have a better chance for a few flurries or a rain/snow mix. This is a higher possibility for areas along and east of HWY 63, as this still stems from the large low pressure system that brought us all snow on Friday. Anyone who does see this today will not see additional accumulations or impacts.
Anyone at the Chiefs game will be dry today but will need to watch wind gusts up to 25 MPH out of the northwest! This will allow wind chills to stay in the 20s all throughout Sunday.
MONDAY
A rather active weather pattern is expected to set up across the Midwest this week, providing numerous precipitation chances. The next one to watch falls on Martin Luther King, Jr. Day. A small disturbance in the upper atmosphere has the potential to provide rain or a rain/snow mix tomorrow afternoon and evening, but the uncertainty lies in the location and intensity of this small system. It would be a good idea to bring along the umbrella tomorrow, just in case.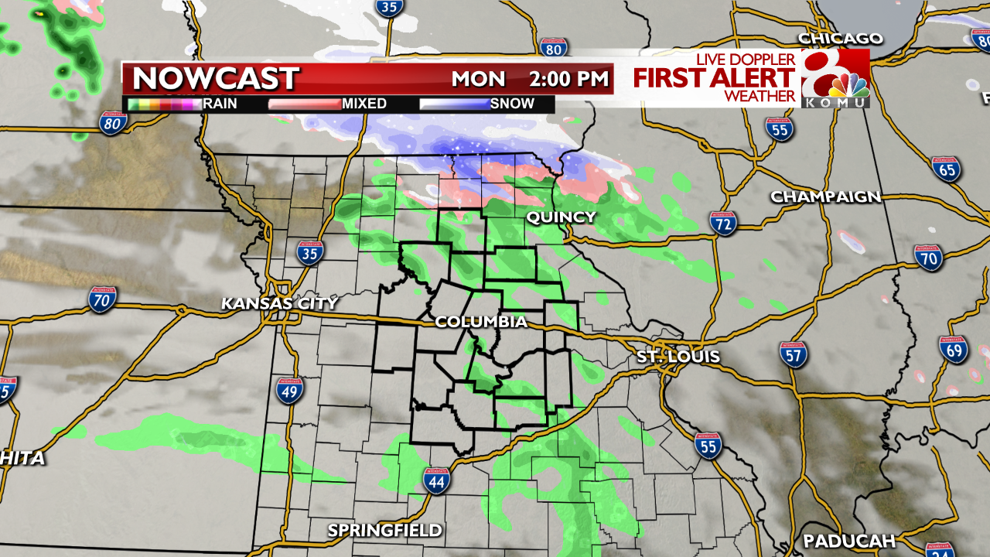 MID-WEEK WARMTH
Snow will surely melt by the middle of the week as a warm front lifts across the region. Temperatures should near 50° on Wednesday and Thursday with a good amount of sunshine. Another uncertainty that lies in the coming week is the low pressure system that is attached to the aforementioned front. Models are suggesting it will take a southerly track, keeping moisture away from Mid-MO during this time period. Whether or not we see precipitation, colder air will funnel in behind this system and provide seasonal temperatures by Friday.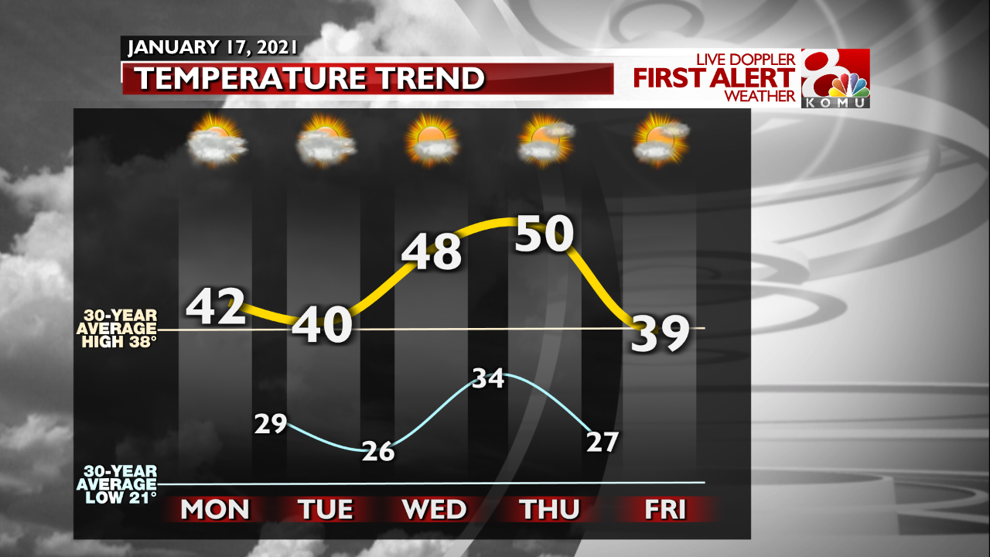 A LOOK AHEAD
Something to keep an eye on is the system expected to impact us next Sunday. Temperatures would be cold enough for snow or a rain/snow mix across the area.