We've been talking about it all week, and as the weekend gets closer rain chances remain in the forecast continuing into next week.
I hope you've enjoyed the dry time because rain chances return for the foreseeable future. Here's a quick run down at the next two days Fri: Spot afternoon and evening showers. Mostly dry day!Sat: Passing showers, but some dry time. Most likely time for this in the afternoon pic.twitter.com/Aky0DtLNBY

— Matt Beckwith (@KOMUMatt) May 13, 2021
FRIDAY'S FORECAST
Friday will feature increasing cloud cover through the day with a few spot showers possible in the evening. Most of the day will be completely dry with morning temperatures in the middle 40s and highs in the upper 60s.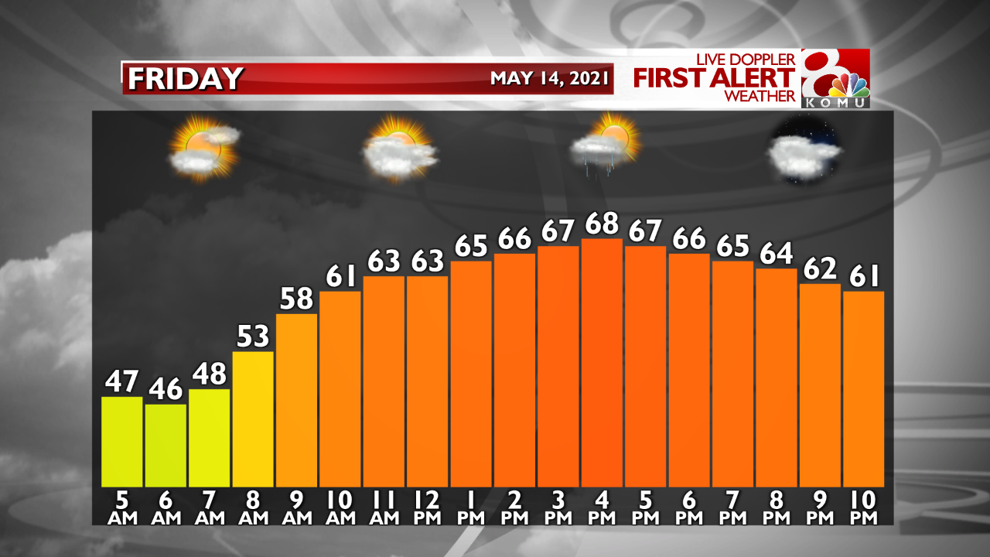 WEEKEND OUTLOOK
A warm front will lift through the region on Saturday and stall across northern Missouri. This will bring multiple chances of showers and thunderstorms through the weekend into next week.
Saturday will feature passing showers through the day, but some dry time is expected, especially in the afternoon. Highs will be in the middle to upper 60s.
Sunday will feature increased chances of showers and thunderstorms with highs in the lower 70s. Some dry time is still expected through the day, but it is looking a little more wet.
LOOKING AHEAD
Humidity will also be on the increase through the next several days and that will make it feel a little sticky starting on Sunday and that will continue as we head into next week
Chances of showers and thunderstorms are likely to continue through the week ahead. There will be rain chances each day, but everyone won't see rain every day. These will be passing showers and thunderstorms and not a wash out.
Rainfall totals by the end of the week could range from 1-3" with locally higher amounts possible where thunderstorms move through.
The severe weather potential through the week is low, but we will need to watch for an occasional strong storm or two. Highs will be closer to average in the middle 70s.