This weekend will turn rainy and stormy at times, but there will be several 'convenient' hours of dry time too.
FRIDAY
The start of the weekend is almost here and conditions will begin cool for the morning, milder by the afternoon with less of a gusty wind. We also get some sunshine with highs in the upper 60s to near 70 degrees.
As of now, looking mainly dry today with cloudier skies by the afternoon and evening.There will be some rain attempting to move in after 9pm, but should hold off until after midnight #mowx @KOMUnews https://t.co/lLUZxguxEU pic.twitter.com/trpTKEmxaA

— Tim Schmidt (@komuTim) May 7, 2021
As of now, conditions do appear dry for Friday afternoon and evening. Any rain appears to hold off until after 9-10pm Friday night with rain returning overnight into Saturday morning.
SATURDAY
Expect rainy, stormy conditions for Saturday morning with heavy downpours possible until 9am to 12pm. The afternoon is now trending dry, just cloudy with temps in the lower 60s.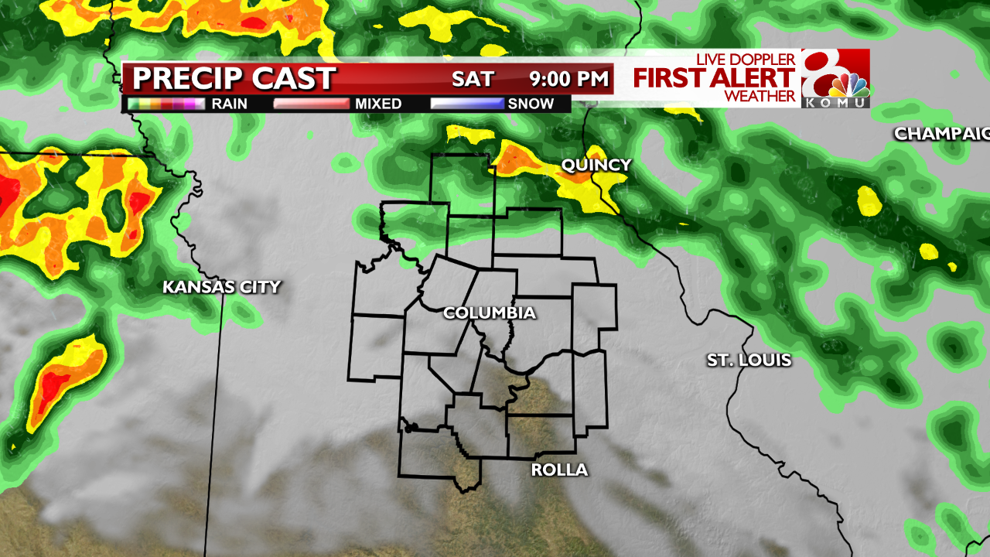 We may also be able to squeeze out more dry weather for Saturday evening with rain returning from the west between 9pm and midnight. Heavy storms are likely Saturday night through Sunday morning.
SUNDAY
Soggy, wet conditions are likely Sunday morning as the storm system continues to pass through Missouri. Rain showers are expected to slowly exit central Missouri as the day goes on, but expect rain.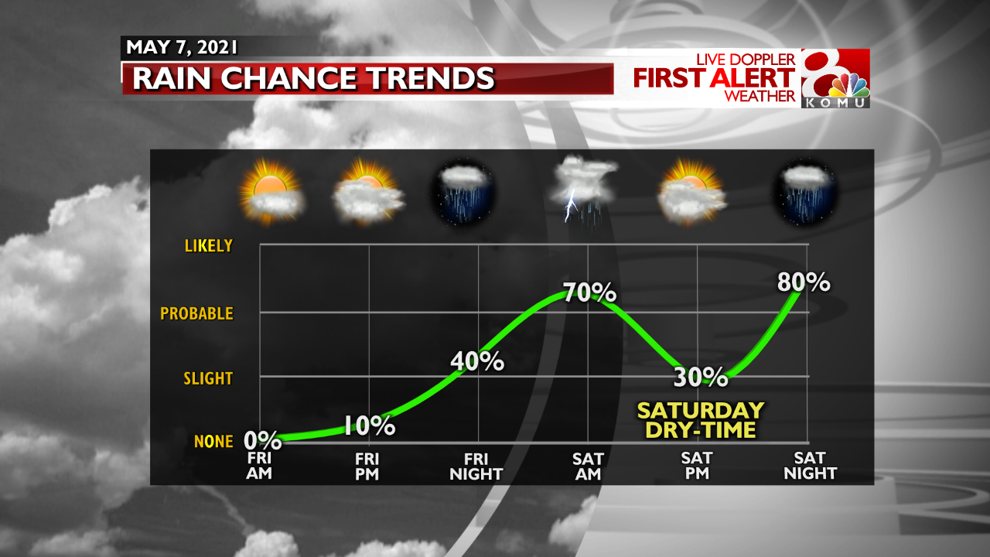 The main rain chances this weekend will be Saturday and Sunday morning.
WEEKEND RAIN AMOUNTS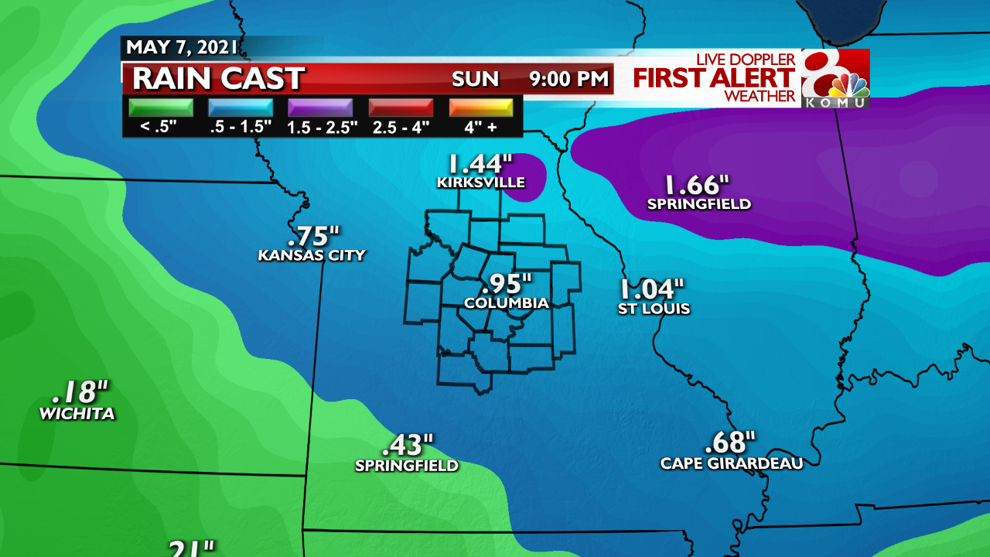 This weekend's rain could be heavy at times when you factor in Saturday morning and Sunday morning's rain chances. Thunderstorms will also be involved which often times leads to enhanced rainfall rates. Rainfall amounts on Saturday morning will be around 0.25" to 0.50". Sunday morning rainfall amounts will be around 0.50" to 1.00". In total, around 1.00" to 2.00" will be possible through Sunday evening. 
Next week does have a very uncertain precipitation timeline, but overall should be dry with the best chance for rain coming Tuesday or Wednesday at a 20% chance. Temps will remain below normal with highs in the lower 60s.