A Heat Advisory will be in effect from 12 PM TO 7 PM on Friday as temperatures warm to near 100° with heat index values ranging from 100-105°. This advisory includes the entire KOMU 8 viewing area.
The record high temperature for Friday is 100° set back in 1953.
Be sure to stay hydrated, get out of the heat when you can, and check in our those around you who may not have adequate means of cooling.
WEEKEND OUTLOOK
Saturday and Sunday are still going to be hot, but it will be slightly cooler than Friday. High temperatures are expected to reach the middle 90s with heat index values in the upper 90s.
Isolated shower and storm chances will be possible, but rain has really struggled over the last few days. This is a trend that will likely continue through the weekend. That said, a stray shower or storm can't be ruled out during this mostly dry weekend.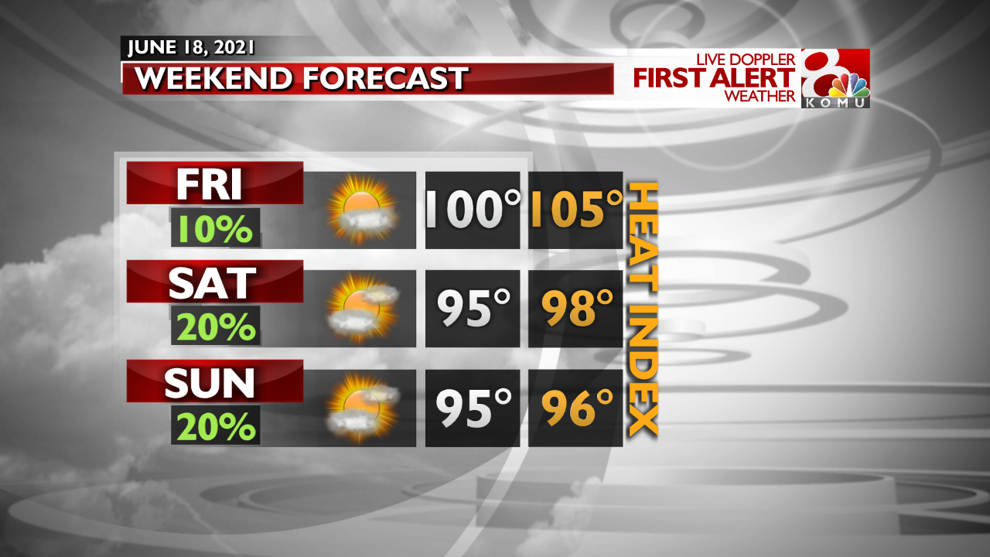 LOOKING AHEAD
The best chance of rain over the next several days will be on Monday with the passage of a cold front. Rainfall is now over 2" below average for the month of June. Rainfall totals of 0.10-0.50" are possible, so the deficit will continue.
Temperatures will be significantly cooler for the middle of the week with highs slightly below average for this time of the year.
We will slowly warm back up through the rest of the week.