Rain is possible later today, but the organization and amount of moisture in the atmosphere is limited - rain chances are limited too.
Let's first focus on Nicholas which made landfall along the Texas gulf Coast overnight as a category 1 hurricane with winds up to 75 mph.
#nicholas downgraded from a hurricane, now back to a tropical storm with max. sustained winds of 70mph, currently just south of Houston, TXFlooding rain expected from Nicholas pic.twitter.com/ZROfLzekqg

— Tim Schmidt (@komuTim) September 14, 2021
Nicholas has since been downgraded to a tropical storm and will continue to dump heavy rain over eastern Texas and Louisiana. Up to 20 inches of rain is possible over that region leading to a risk for extreme flooding.
Nicholas is not expected to impact Missouri and will remain over the gulf coast through Friday. 
RAIN IS FORECAST, BUT NOT EXPECTED...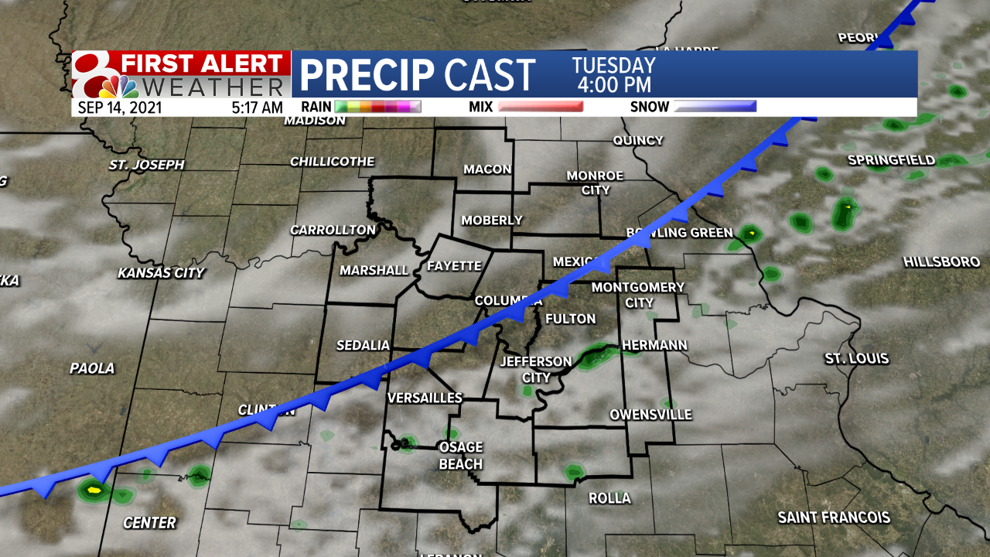 Rain will become possible as the evening approaches. The best time for rain in Columbia and Jefferson City will be around 5-6pm. After 6pm, rain will organize further south near Lake of the Ozarks and eventually southern Missouri.
All in all, there is a lot of dry air currently over Missouri and this system looks to be too dry for more than weak, isolated showers which is a bummer. The next chance for rain will be early next week.
Cooler temps are expected tomorrow where Wednesday's highs will only reach the lower 80s. Quickly, the warm air will return with weekend temps in the upper 80s, near 90.