Temperature swings all over the place this week and some chilly conditions expected for Thanksgiving weekend. There's also another chance for rain upcoming too!
Sunny and breezy today - chilly tooThat south wind will make things somewhat more mild by the afternoon. Highs in the upper 50s later todayhttps://t.co/lLUZxguxEU #mowx @KOMUnews pic.twitter.com/McH4suHGmB

— Tim Schmidt (@komuTim) November 23, 2021
Starting Tuesday there will be a developing south breezy which could become gusty at times by the afternoon. Temperatures will be much warmer by the afternoon with highs in the middle to upper 50s. Just keep an eye on those wind chills.
We will receive increasing clouds overnight which will lead to a cloudy, overcast Wednesday. Again, temperatures will be mild with highs reaching the lower to middle 60s.
Rain will become possible into Wednesday evening and overnight as a cold front begins moving through the region. This rain activity should clear up before Thanksgiving morning. There is a chance we could briefly see some mixed graupel early Thursday morning.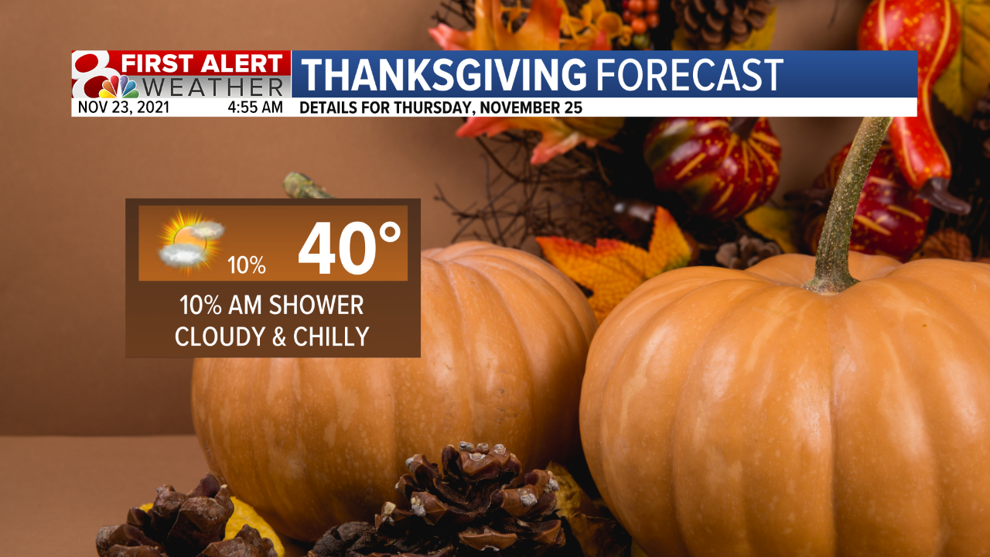 Overall, Thanksgiving Day will be cold and partly to mostly cloudy. Temps in the morning will be in the 30s, rising to near 40 degrees by the afternoon.
While there will be several passing systems over the weekend, precip chances are limited out of these system which will likely lead to mainly just a mix of clouds and sun. Temperatures will be in the lower 50s this weekend.