Mild weather will continue for a few more days and temps will remain well above normal until Wednesday evening when a passing cold front sends temps back in the 50s/60s for the rest of the week.
Take time to enjoy the sunshine and mild temps Tuesday where highs will be back in the middle 70s this afternoon. It may be a bit breezy with southwest winds around 10-20mph.
Wednesday's cold front will arrive in the afternoon, but a few spot showers will still be possible in the morning. Again, the best chance for rain will be in the afternoon when the front is actually passing by. Areas west of Columbia/HWY 63 will likely not see much rain.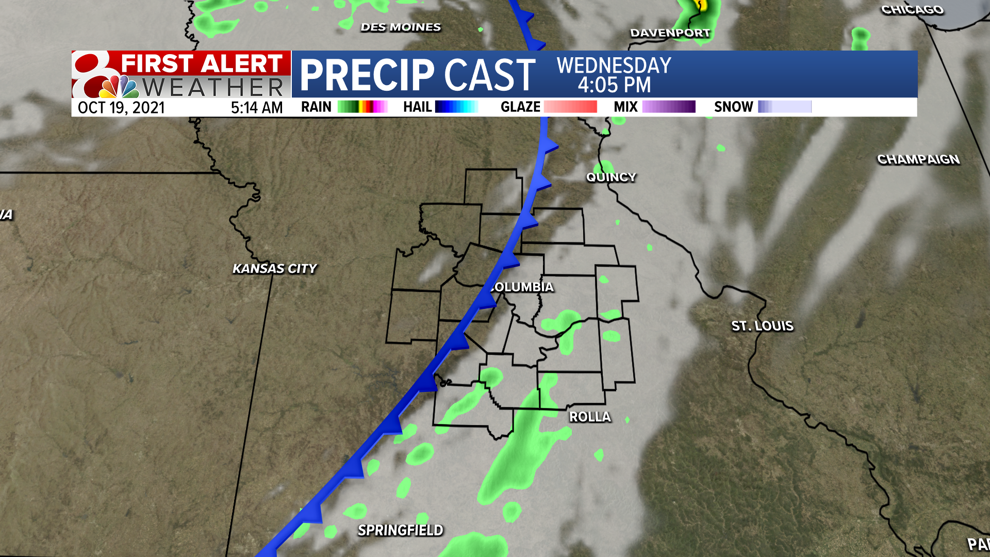 More importantly with this cold front will be the colder air will moving in Wednesday night. Temperatures for the remainder of the week will be in the lower 60s with morning temps in the middle 40s.
By this weekend, conditions will start out cool and partly cloudy with temps on Saturday in the middle 60s. Extra clouds are expected Saturday night and some scattered rain is possible. The more likely day for rain will be Sunday where widespread showers are expected. Rainfall may be heavy on Sunday too.
This rain will be part of a stalling system that will linger until a passing cold front around Wednesday of next week.