While we have reached the lower 90s over the last few afternoons, lower humidity has certainly helped! However, record highs may be possible later this week.
The average relative humidity readings have been around 25-40% in the afternoons. These numbers are typically around 55-60% during summer afternoons. This means the air is very dry!
Still warm today, but not muggy for us yet in central Missouri. Relative humidity during the afternoon will be around 40%, lower than what we typically have in the summer.Highs still reaching the lower 90s in Columbia today! #mowx @KOMUnews komu/com/weather pic.twitter.com/q4dGaO9TZw

— Tim Schmidt (@komuTim) June 16, 2021
We get one more day of tranquil, warm but temperate afternoon conditions with highs still reaching the lower 90s. Heat index values are not as much a factor today due to lower humidity.
RECORD TEMPS TO CLOSE THE WEEK?
It is certainly possible! BIG heat continues to spill off the Rocky Mountains where anomalously high temperatures have been experienced this summer.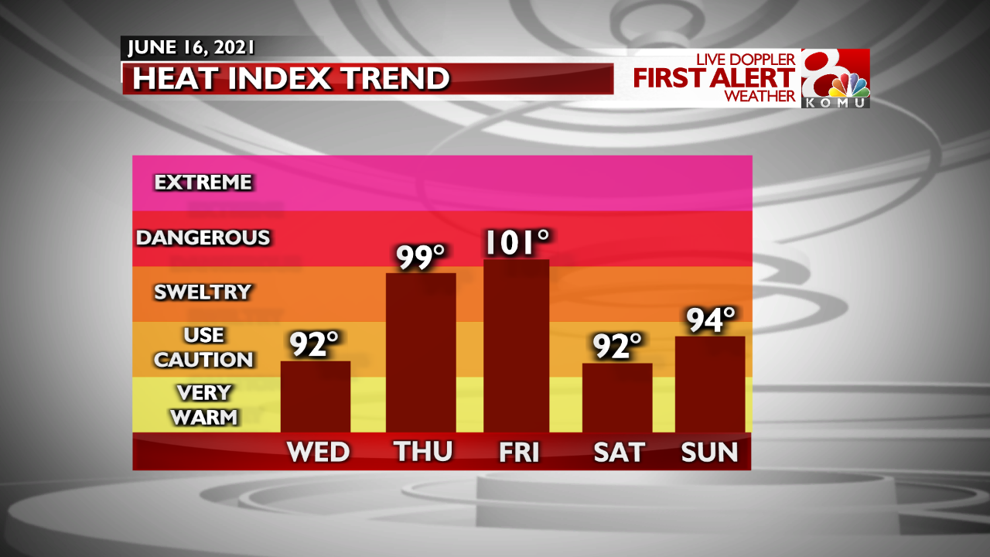 The records for Columbia on Thursday and Friday are 101 and 100 degrees, respectively. This hot air will arrive in Missouri Thursday, reaching a peak Friday. Highs are expected in the upper 90s to near 100. Heat indices will range from 99 to 102. Conditions will be cooler, but still warm for Father's Day weekend.
RAIN CHANCES NOW POSSIBLE
We had surprising storms develop along the Missouri River from Omaha, NE to Kansas City, MO this morning. Storms are now expected to develop in Iowa tonight and the directional flow in the atmosphere is from north to south. This means we may get rain Thursday morning! This is some thing we will continue to monitor.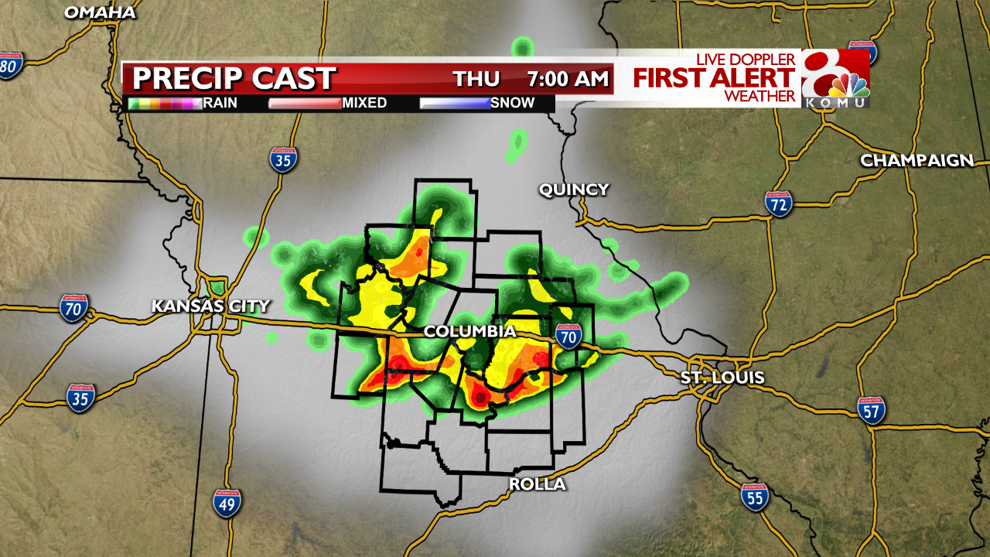 Better rain chances are expected Friday night with a passing cold front and again on Sunday and Monday. These upcoming rain chances will hopefully be part of a developing pattern where conditions are more wet in Missouri. So far, there has only been on average around 0.10" to 0.50" rainfall for the month. June averages 4.23" of rain over the last 30 years.