Happy Saturday! After an incredibly warm day this Saturday, Sunday is expected to be another relatively good day. We do get more active early in the week with rain & even the potential of stronger storms coming in two rounds. Finally, cooler and drier by late week. 
PLEASANT SUNDAY
Sunday is shaping up to be a fairly nice day with temperatures reaching the upper-70s for most of the area.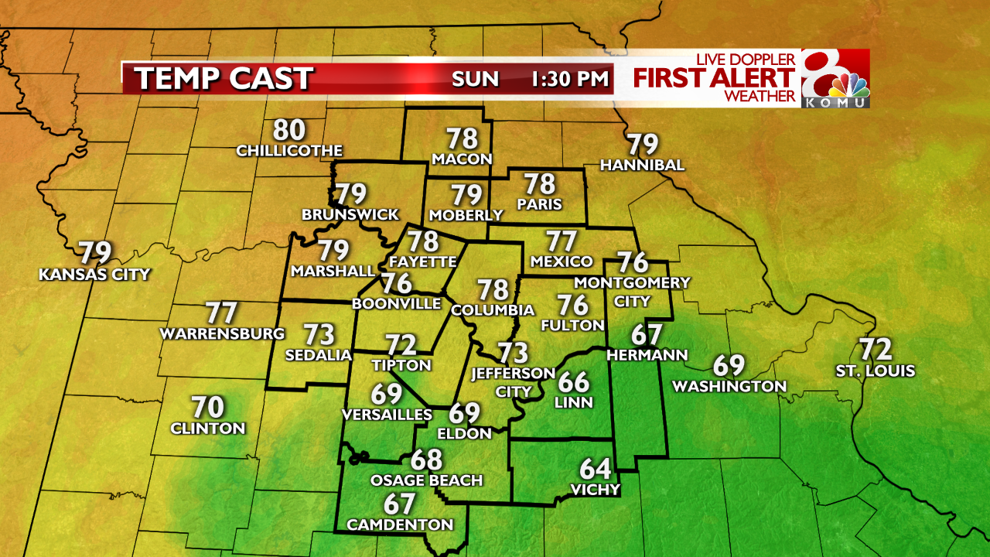 ROUND 1: SCATTERED SUNDAY SHOWERS
Now turning to the rain potential. The main thing we will have to watch for on Sunday is the chance of a rain shower or two to pass by Sunday afternoon into the evening. Not going to be a wash-out, not everyone will even see rain, but the potential is there. A rumble of thunder could be possible from any shower as well. Most of the day should remain dry. 
ROUND 2: THUNDERSTORMS ON MONDAY-TUESDAY
Most of the showers will be out by Monday morning, most of Monday morning into the afternoon should remain dry. It is when we approach Monday evening into Monday night that the rain and associated thunderstorm chances begin to rise. Highest chance for thunderstorms appear to be from Monday evening into Tuesday morning. Little too early to give exact details on timing, but there will be dry times mixed into the wetter ones.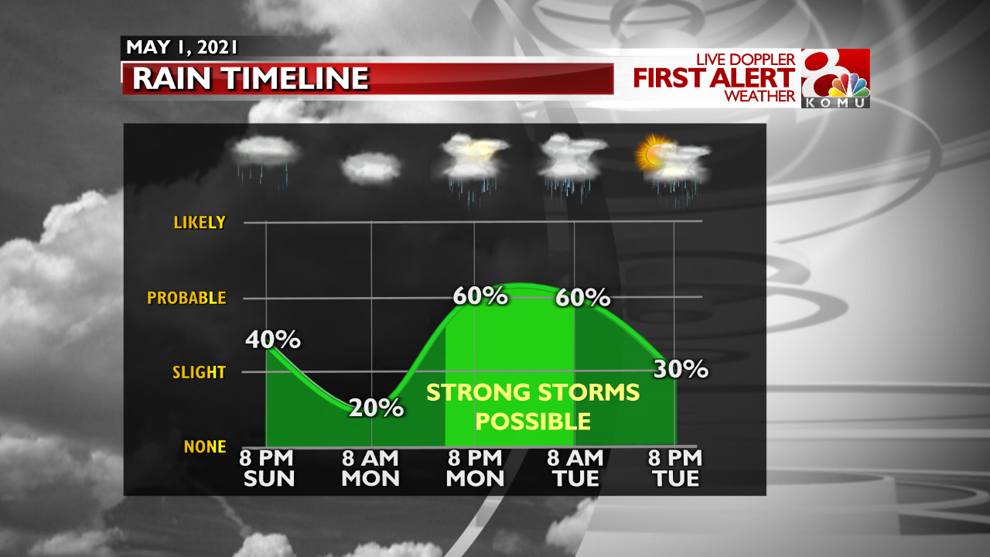 STRONG STORM POTENTIAL?
As the previous graphic states, there is a chance we could see some stronger storms Monday night into Tuesday morning. The Storm Prediction Center in Norman, Oklahoma has highlighted parts of Mid Missouri in a "Slight" and "Marginal" risk. This means that the potential for stronger storms is there, but not expected to be widespread. Right now the area with the greatest chance for stronger storms look to be over southern MO and surrounding areas. However, Mid Missouri is in that "Marginal" Risk. 
Questions still remain. In particular on how the ingredients for severe weather will come together for our area. These questions will determine exactly where the area for strongest storms will be, as well as their severity. Just something to keep an eye on.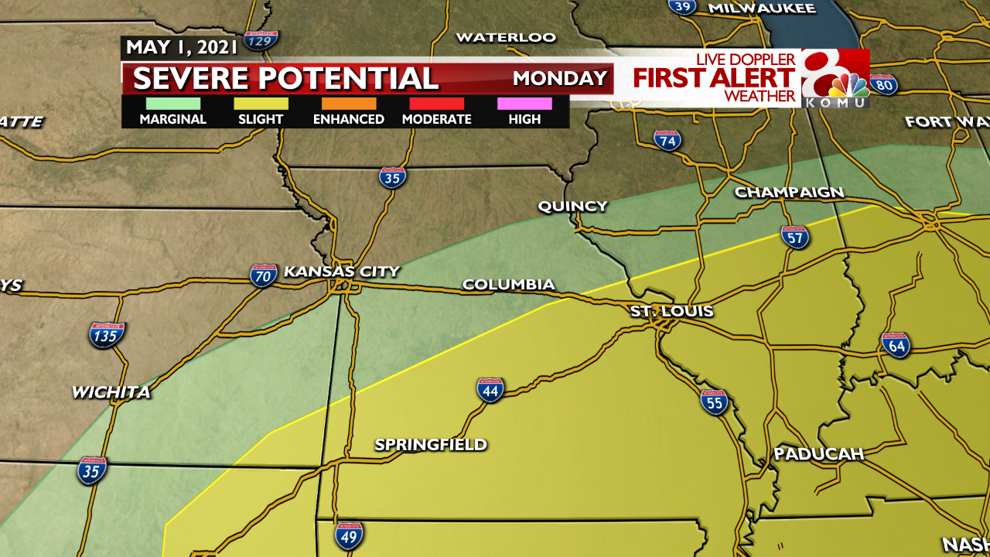 LATER WEEK "COOLDOWN"
As Columbia hosts the True/False Film Fest, the weather will cooperate for the most part. Following the cold front on Tuesday temperatures will "cool down" relative to the 70s-80s we saw this weekend. Temperatures in the 60s from Wednesday-Sunday should make any activities outdoors pleasant. 
We do have to watch for a slight chance of rain for Thursday as a ripple in the Jet Stream will pass us by. Into the weekend, expect to see dry conditions.