Yep, you read the headline right. The coldest air of the season is right around the corner. We still have seasonal temperatures on tap for Friday, Saturday and Sunday. Starting on Monday we'll be chilly as a low pressure system and cold front bring freezing Canadian air deep into the United States. 
BEFORE THE CHILL
Fog is possible on Friday morning.
You can expect high temps in the lower 50s on Friday and Saturday under sunny skies. On Sunday a cold front arrives along with cloud cover. Highs should still reach seasonal conditions for the end of November, in the middle to upper 40s.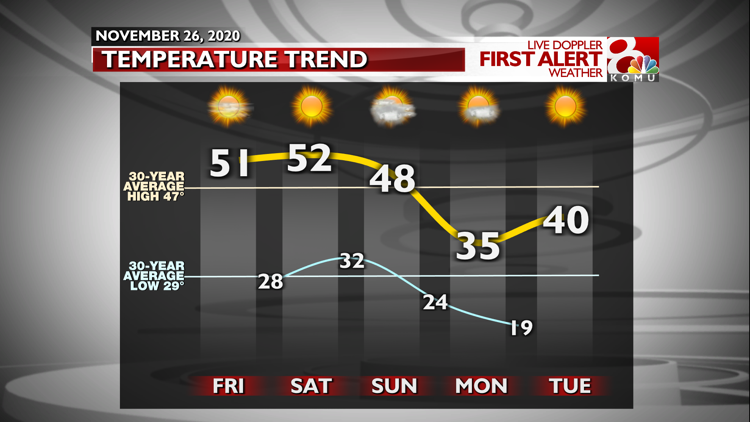 There is a slight chance for a shower south of I-70 on Sunday. We'll keep you updated.
COLD AIR ARRIVES
A deepening (strengthening) low pressure system will dig into the eastern United States on Tuesday. We will be on the western side of the system which means our winds will be from the north surging our region with cold air. Winds will potentially gust near 40 mph on Monday under mostly sunny skies.
Highs temps on Monday are only expected to reach the middle 30s.
The REAL cold will be felt on Tuesday morning (December 1) when lows may dip into the 10s. Wind chills on Tuesday morning may be around 10º.
Get a winter coat ready!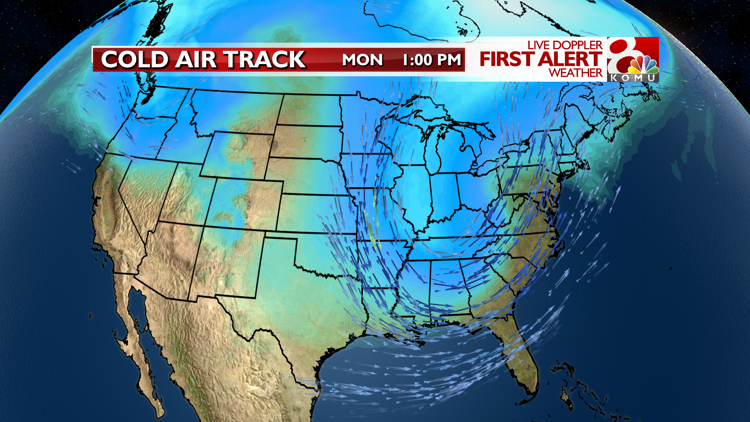 The rest of next week will warm slightly but remain just below average with highs in the lower 40s and lows in the middle 20s.
We don't expect precipitation at this time. We are watching for a potential low pressure system the first weekend of December that may bring a few showers, but for now it isn't promising. Just a heads up for what we have our eyes on. Stay tuned.