The summer feels are to the air now and with that comes heat, humidity and afternoon storms. However, not everyone has received rain this week. That is essentially the definition of 'isolated' when we use it in the forecast.
Isolated storms possible again this afternoon from 11am until 6pm. Not everyone gets rain in central Missouri today, some will stay dry!Still humid! Highs in the middle 80s, heat index nearing 90 #mowx @KOMUnews https://t.co/lLUZxguxEU pic.twitter.com/cVod5HUpjN

— Tim Schmidt (@komuTim) June 8, 2021
Another chance for rain comes today during the afternoon from 11am until 6pm, but will again be isolated in total rain coverage. Watch for lightning and heavy downpours during these storms.
After Wednesday, the trends becomes somewhat lower rain chances and higher temperatures. Highs will reach 90 degrees or greater for the first time in central Missouri this year both Thursday and Friday. Heat index values will range from 95 to 100 during the afternoon.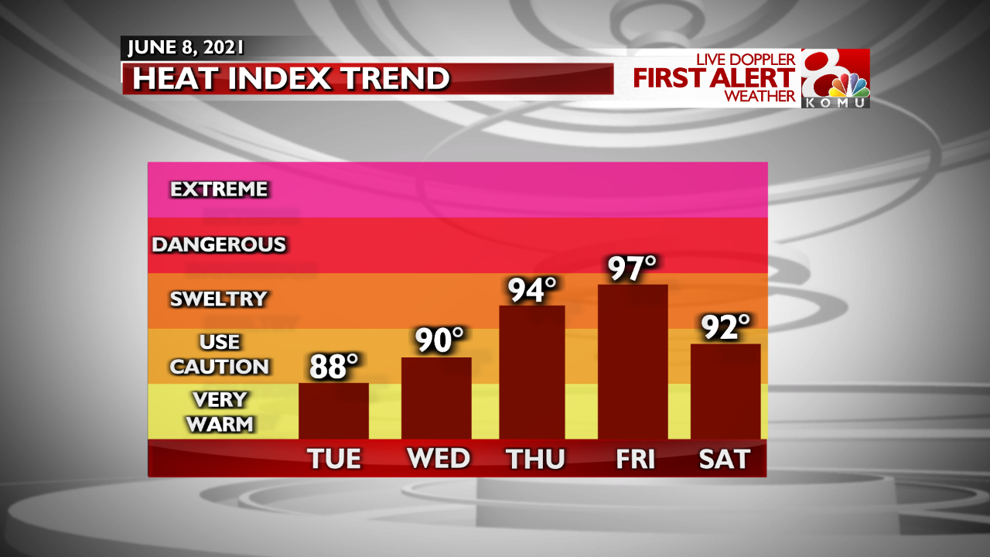 It is imperative you take steps to stay hydrated this time of year to prevent bodily exhaustion due to loss of water by perspiration. The usual recommend is 8 cups, or 64 ounces of water a day, but you may need more if you have work outside. During summer months, our body loses more than just water though Electrolyte-rich salts, such as magnesium, potassium, calcium and sodium are all lost. Non-sugary sports drinks can help replenish this loss of essential salt.
INTO THE WEEKEND
A slight break in the heat and humidity is expected over the weekend. A passing cold front either Friday night or early Saturday morning will provide sunny skies, low rain chances and highs only in the middle to upper 80s over the weekend. Afternoon heat index values will range from 85-90 degrees.