Happy Sunday! Today will be very similar to yesterday, except with completely cloudy skies and a better chance for scattered showers. The day will have plenty of dry time, but bring along the rain jackets/umbrellas if you're heading out today. These light rain showers are out ahead of a large system that is expected to drop a lot of snow across the northern Plains.
Light, scattered rain showers are possible through Sunday. Rain will become more widespread overnight and into tomorrow where Mid-Missouri will receive much needed rain fall and narrowly dodge a large snow storm. I have details on @KOMUnews Today from 7-8 a.m. pic.twitter.com/XO0NzPYRzf

— Alexis Clemons (@KOMUAlexis) January 24, 2021
SNOW STORM TO NORTH
Bad news for snow lovers: we are NARROWLY missing a large snow storm in Mid-Missouri. Instead, temperatures will be warm enough to mainly see rain across the area. In particular, I think the heaviest rain will occur between 5-8 a.m. tomorrow morning, so use caution & take extra time during the morning commute. Rain should become widespread after midnight tonight and will have very little stops within the 12 hours after that.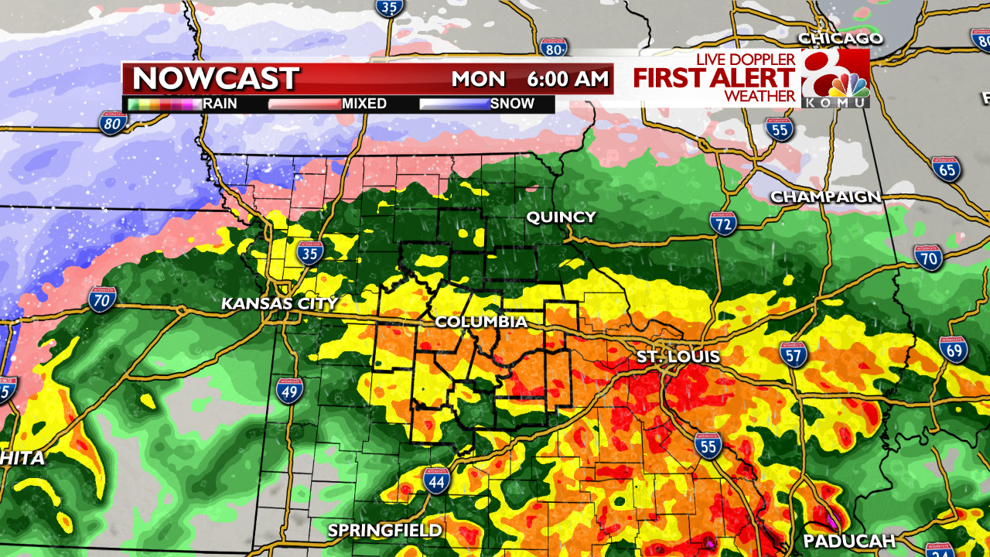 Rainfall totals will range between 1-2", the higher amounts being along HWY 50. A rain/snow mix is possible for the counties of Macon, Monroe, Randolph, Chariton & Saline Monday afternoon & evening, where those areas could see a dusting and up to an inch or two of snow. The bulk of the winter weather associated with this system will miss Mid-MO--areas across southern Iowa are preparing for over a foot of snowfall!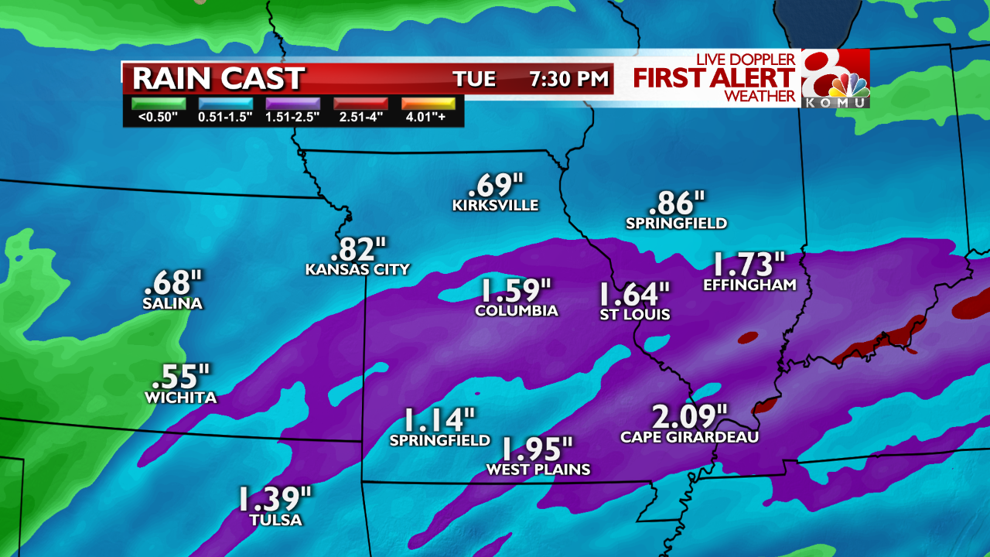 AREA BREAKDOWN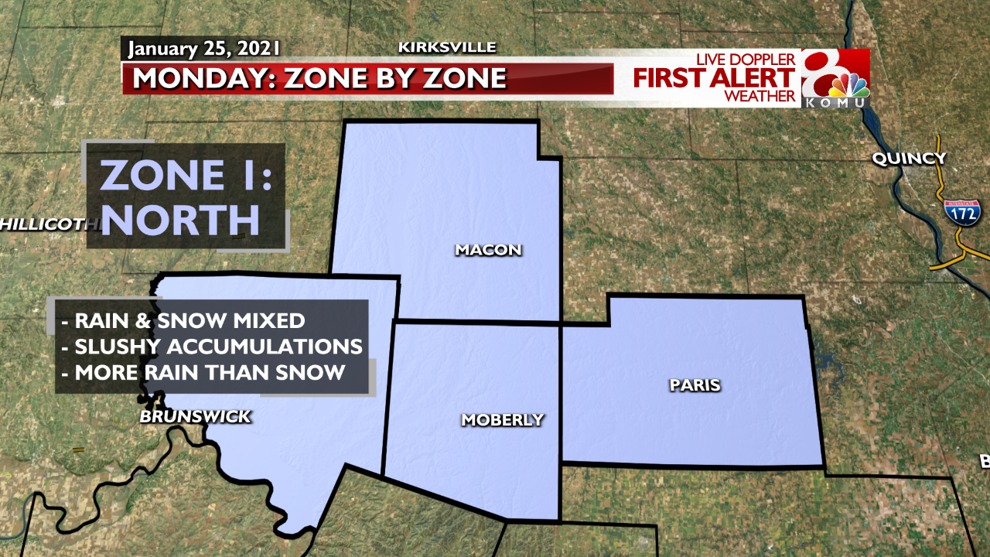 Breaking it down by each area in Missouri, the counties listed above could see slushy roadways during the afternoon hours, but this likely will not provide many impacts for tomorrow's commute. It would be important to monitor road conditions tomorrow if you plan to travel in this area.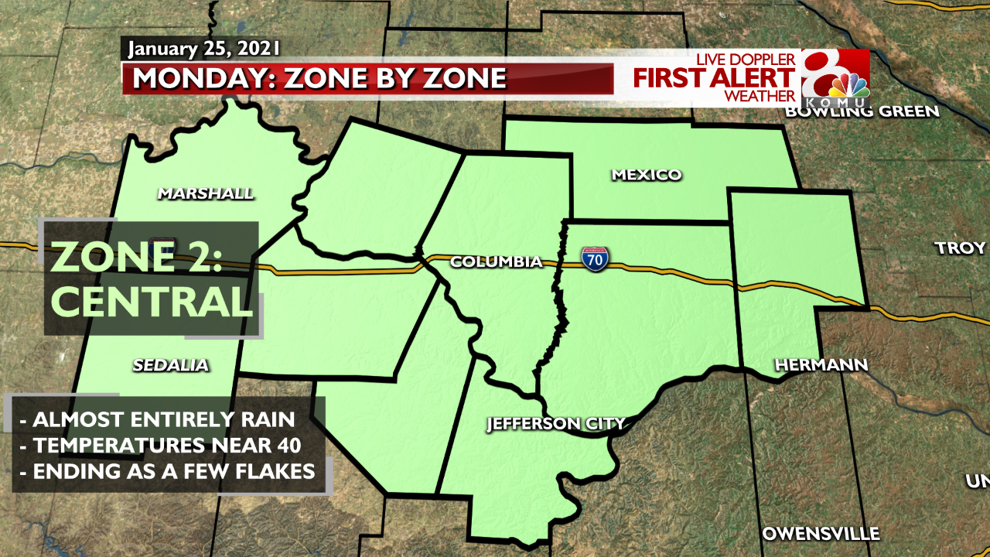 The majority of the KOMU 8 viewing area will only see rain with maybe a few flakes on the backside of this system tomorrow evening. These flakes will likely not stick or provide any issues. However, be prepared for heavy rain at times that could cause visibility issues. Flooding is not a concern at this time.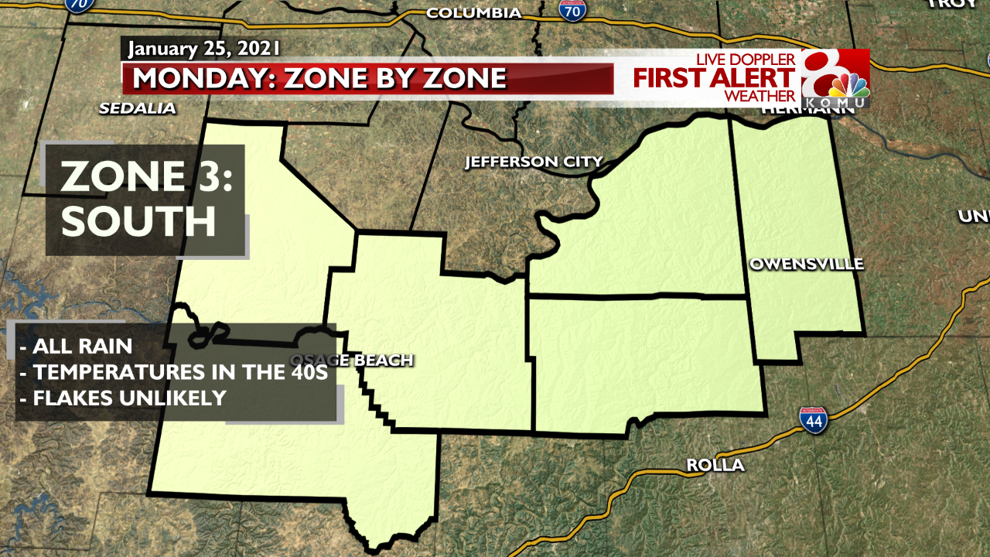 Snowflakes are most unlikely south of HWY 50 where the largest rainfall totals should occur. These areas could even hear a few rumbles of thunder through tomorrow with some areas seeing around 2" of much-needed rain when all is said and done Monday night. Mid-MO will be dry by Tuesday morning.
WATCHING WEDNESDAY
Another system to watch is the one expected to impact us on Wednesday. It is expected to be MUCH smaller than tomorrow's, but it does have a better potential to bring winter weather to all of Mid-MO. Otherwise, Tuesday should be dry with a few peeks of sunshine to the south, and the end of the week will meet a big warm-up.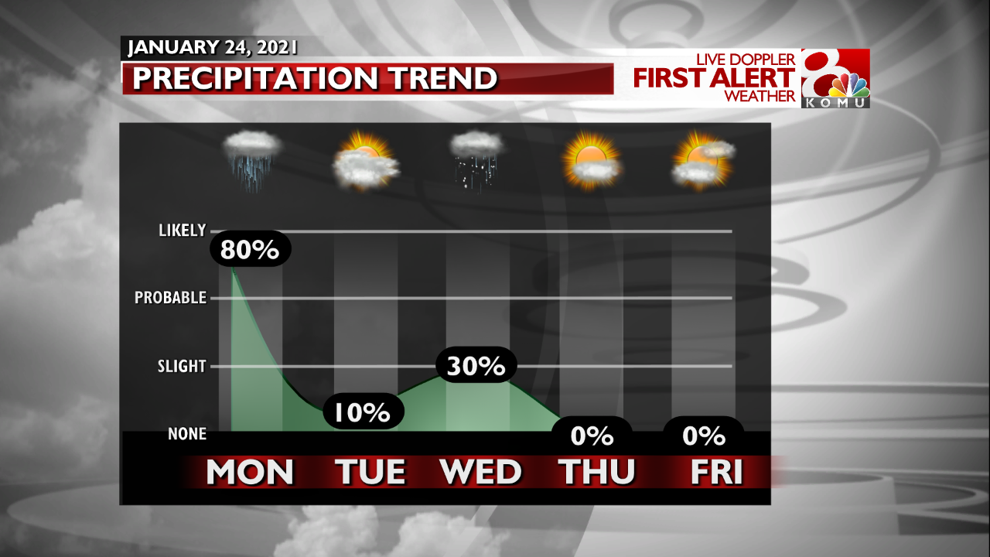 A LOOK AHEAD
Temperatures will jump into the 50s by Saturday where our next rain chance exists. With temperatures this high, only rain is expected, but certainty on location and timing will increase as we go through the week.