Happy Monday afternoon to you! There is a lot to go over in this forecast, including rain chances, rumbles of thunder, wind, and a look ahead to Thanksgiving Day. 
Now - Wednesday
This Afternoon
It's about 11:15 AM Monday as I write this. An area of light rain (and even a few mixed-in snowflakes) is approaching mid-MO from the west. Flakes of snow have been reported in KC, and while temperatures still remain fairly low across the area, I do think that most - if not all - of this afternoon's precipitation will come down as rain. Here's a look at the timeline: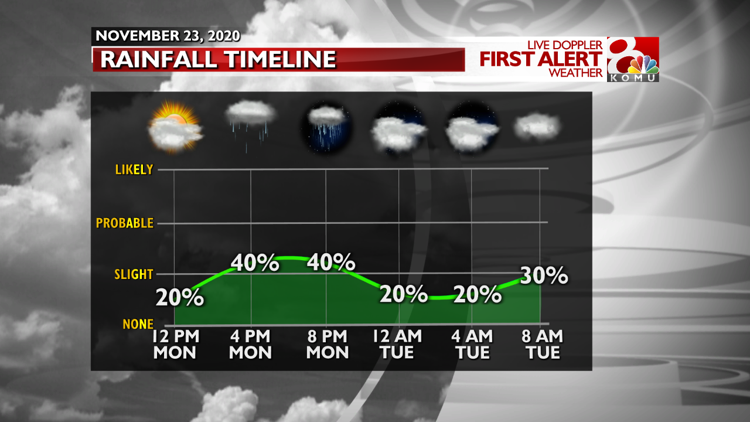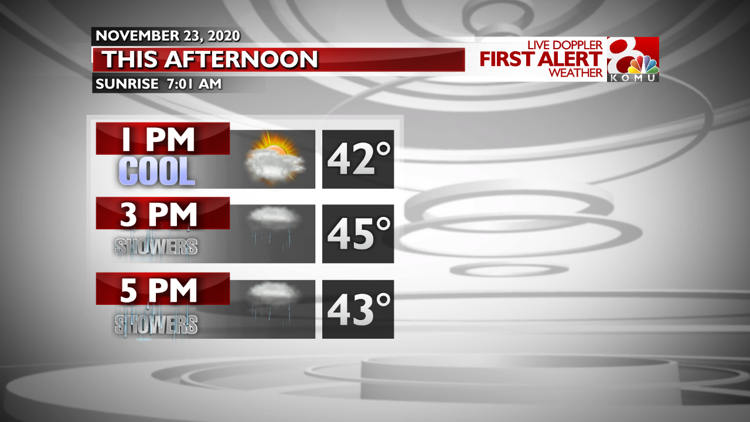 Rain chances will exist throughout the viewing area, although the best chances will likely be concentrated near and north of I-70. Overall amounts with this round of rain should remain rather light, on the order of a trace to a quarter of an inch. 
Tonight
Overnight, we should see a lull in precipitation as the wave of energy responsible for afternoon rain pushes east. A chance for spot showers still exists, but coverage will be very limited. Lows should fall into the lower 40s - a good 10 to 15 degrees warmer than Monday morning's readings. 
Tuesday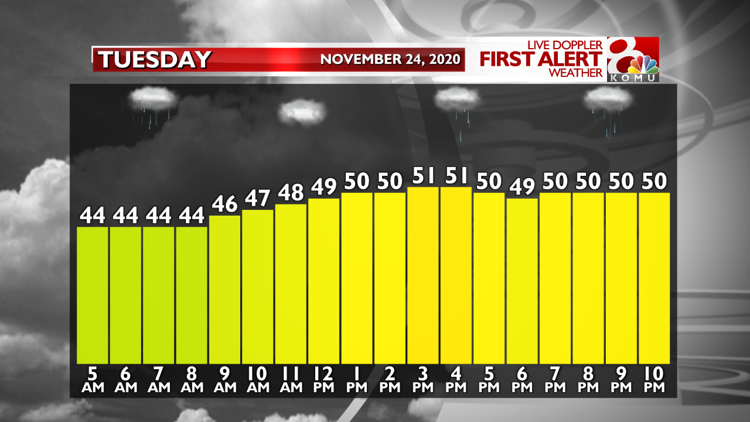 The best chance of rain in the next 8 days will arrive Tuesday. Things will probably start rather slow, with temperatures in the low to mid 40s and scattered light rain to begin your day.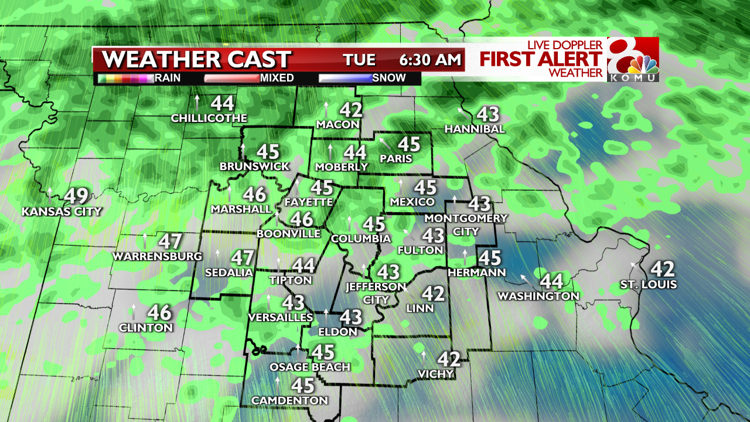 Better chances for rain will hold off until the afternoon and evening, as a well-organized low pressure system makes its way into Missouri. By 5 PM tomorrow evening, rain probabilities area-wide will be sitting at 70-80%.
It will also be breezy throughout the afternoon, with south winds gusting 25-30 mph across the area. 
It is also around this time (Tuesday evening into Wednesday morning) when we may experience a few embedded thunderstorms in parts of the area. Thunderstorms need three ingredients to form: moisture, lift, and instability. We will certainly have moisture and lift tomorrow and tomorrow night, which will give us rain.
But will we see instability? I think there will be just enough of it to allow a few isolated thunderstorms for Tuesday evening and night. Here's a look: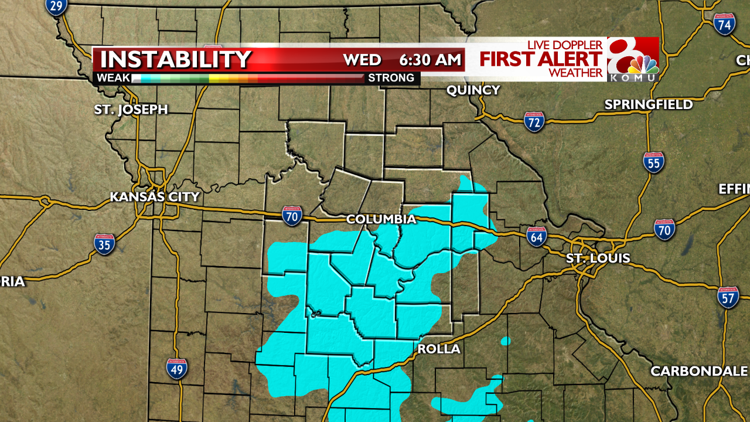 Not everyone will experience thunderstorms, but those that do may get in on some brief heavy downpours or even gusty winds. The better chance for this will be in far southern zones of our viewing area. 
Wednesday
Rain and a few rumbles are likely to be ongoing Wednesday morning. Yesterday, we thought that the afternoon hours Wednesday would be completely dry, but this storm system is moving a bit more slowly than expected. That might allow rain showers to continue on the backside of the system Wednesday afternoon, though I do expect a drying trend to be underway by then.
We will also see a cold front move through, helping to drop temperatures in the afternoon. By nightfall, the rain should be over with. 
Thanksgiving
Although the weather will be less than ideal for Tuesday and Wednesday, that trend will break for Thanksgiving. High pressure will build in from the west and create a mostly sunny environment with light winds and seasonably-mild temperatures. Here's a look ahead to the daytime forecast:
Looking beyond Thanksgiving, the pattern continues to look unsettled. However, there is quite a bit of uncertainty as to what will happen this upcoming weekend. If a storm system materializes, more rain is possible around Saturday and Sunday. But if it doesn't (and signs are pointing that way) then we may see more sunny weather. Either way, temperatures do look to cool off some as we head into the first part of next workweek.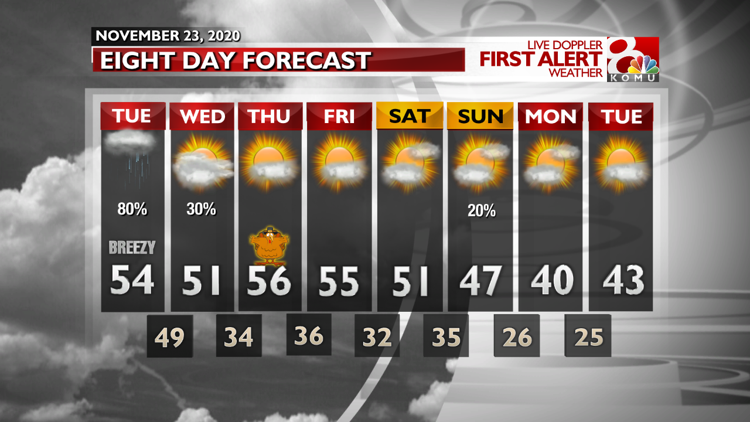 Have a great afternoon!