Here's good news for your weekend: Central Missouri will get above 32° today, for the first time in over 2 weeks! It's been 15 days since we saw temperatures above the freezing mark. Today starts a warming trend, as we slowly make our way to average end-of-February temperatures in the upper 40s.
BREAKING: Mid-Missouri will make it above freezing temperatures today, for the first time since February 5th!The only thing standing in the way between us and temps in the 50s is Sunday. I'm tracking a ~mainly~ rainy end to the weekend on @KOMUnews Today at 6 & 8:30 a.m. pic.twitter.com/miPZyonuzt

— Alexis Clemons (@KOMUAlexis) February 20, 2021
SUNDAY PRECIPITATION
However, the only thing that stands between us and warmer temperatures is tomorrow. Sunday looks to be mainly rainy, but a few flakes could mix in and cause some issues. While air temperatures in the afternoon are making it above freezing, we're still dealing with cooler morning and ground temperatures. That being said, we still need to pay attention to refreezing on the grounds in the morning.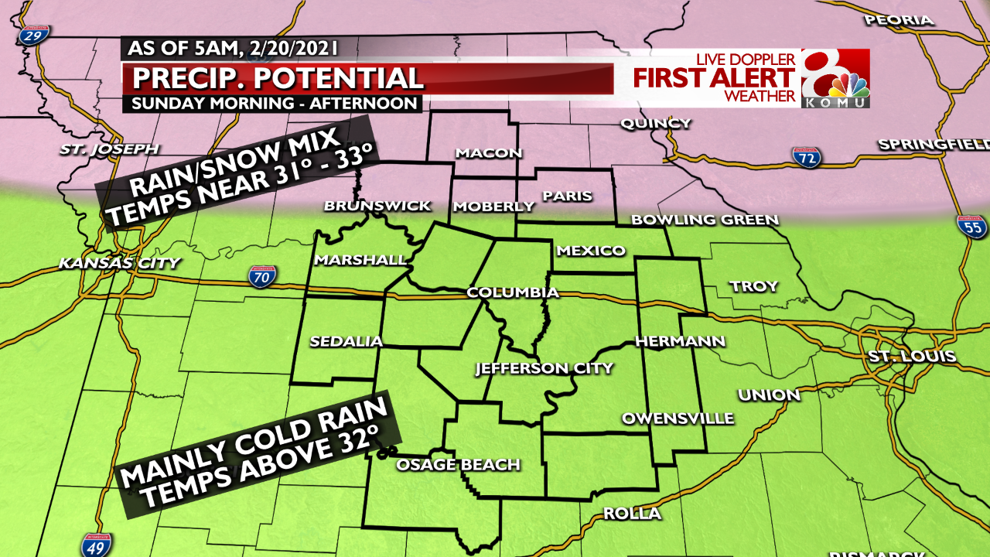 Most of Mid-MO will stay above freezing as precipitation is moving through the area, so we can expect a cold rain through Sunday. Areas along and north of HWY 24 should pay attention to any snow flakes or sleet mixing with the rain, especially in the morning hours tomorrow. This could cause slick spots on the roadways, so use caution as you're heading out the doors. The rain/snow mix should transition to all rain by midday. I also do NOT expect this to be a washout event, meaning that there should be plenty of dry time in this on-and-off rainy Sunday.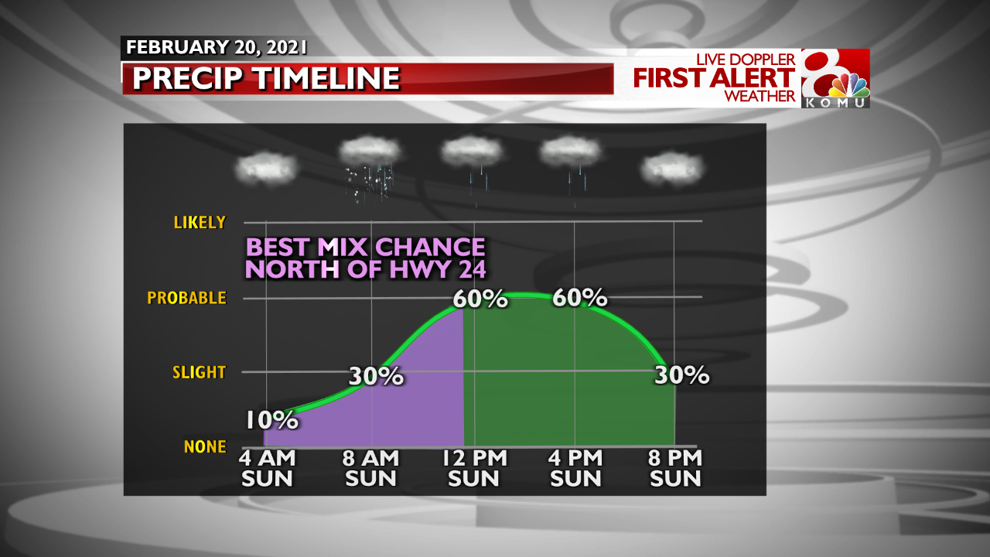 A LOOK AHEAD
After Sunday, temperatures will begin to warm. I think some areas could see highs in the lower 60s on Tuesday! That will definitely be the day to get outside and enjoy the fresh air. It may even feel warm enough to break out the t-shirts and shorts. However, you may just have to stick to the hoodie and jeans for the rest of February.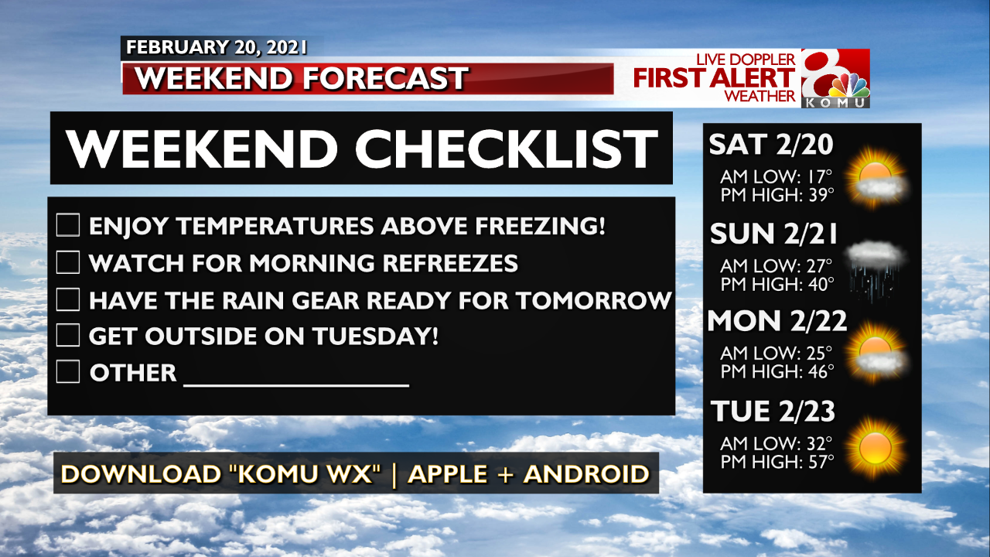 A few rain chances exist Tuesday night through Thursday, but confidence is not yet high enough to talk about timing, location and amounts, but we will keep you updated through the week. Otherwise, plan for near-average conditions to end the month. Spring begins 4 weeks from today!