As expected, rain fell consistently through the afternoon, evening, and early overnight hours yesterday. Rainfall totals were largest over southern Missouri.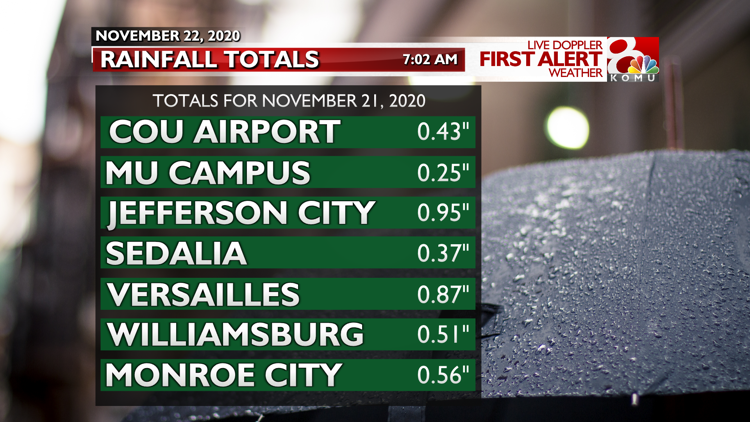 FALL-LIKE & DRY SUNDAY
A few of us could see some lingering sprinkles this morning from yesterday's system as low-level clouds will stick around. Skies will begin to clear through the afternoon where Mid-MO will see high temperatures in the upper 40s and lower 50s. We should see mostly clear skies overnight with Monday morning temperatures reaching the upper 20s in some areas.
Sunday: Some of us could see some lingering morning sprinkles from the rain last night, but most will stay dry today. We'll start with lots of clouds but end with some sunshine and highs in the upper 40s and lower 50s. pic.twitter.com/XvVym9NpvR

— Alexis Clemons (@KOMUAlexis) November 22, 2020
THE NEXT RAIN CHANCE
An occluded low pressure system wants to makes its way towards Mid-MO tomorrow afternoon. An occluded system is one that typically has a warm front leading the pack and a cold front trailing behind but eventually, the cold front catches up and overtakes the warm air mass. As of Sunday morning, the track of the low flows over northern Missouri. This will 1) cause sensitive joints to become achy on Tuesday, and 2) provide a few rain chances across the state Monday through Wednesday.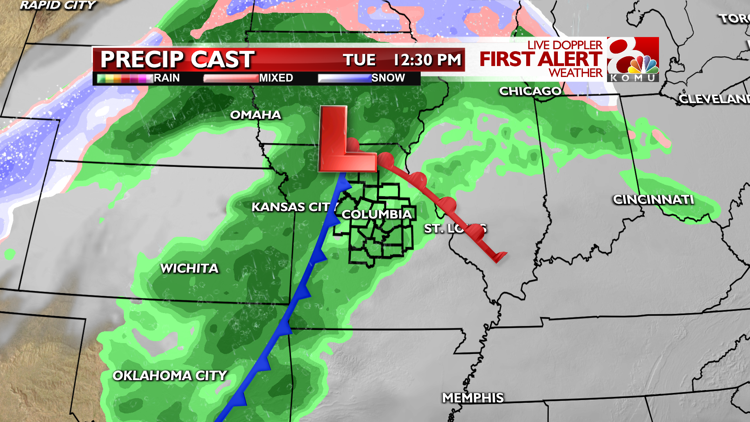 Right now, it's difficult to talk about the exact timing of rain and how much each area will see. It all depends on the track of the low pressure system, but I would bring the umbrella along with you for Monday afternoon, Tuesday, and Wednesday morning. It is also possible for us to hear a few rumbles Tuesday evening. We will keep you updated as confidence grows stronger.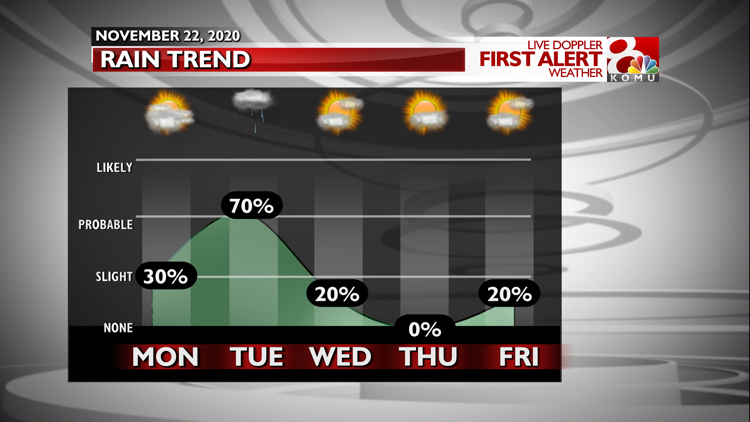 A LOOK AHEAD
The good news is that Thanksgiving Day looks dry! In fact, it's just about the only day without a rain chance in the 8-Day Forecast. A late-week system could provide rain Friday afternoon into Saturday and Sunday. This will likely be associated with a cold front that could drop temperatures a bit, but it is unsure if we will have enough moisture in the area to provide for more rainfall. We'll keep an eye on this as we near Thanksgiving. Either way, expect fall-like temperatures through the week!