If you're a fan of the chill, this is your kind of forecast. If not...just wait a couple weeks. We will warm up eventually! In this weather story, we're tracking spotty weekend showers, a spring-like Monday, and the increasing potential for a few flakes on Tuesday. 
SUNDAY: SPOT SHOWERS
Sunday will look similar to Saturday, though things will be a few degrees warmer. We should see the sun start to break through by midday to afternoon. However, any sunshine we get will help to "juice up" the atmosphere a bit. That will give us another shot at some isolated to scattered showers Sunday afternoon. One or two may even contain some rumbles.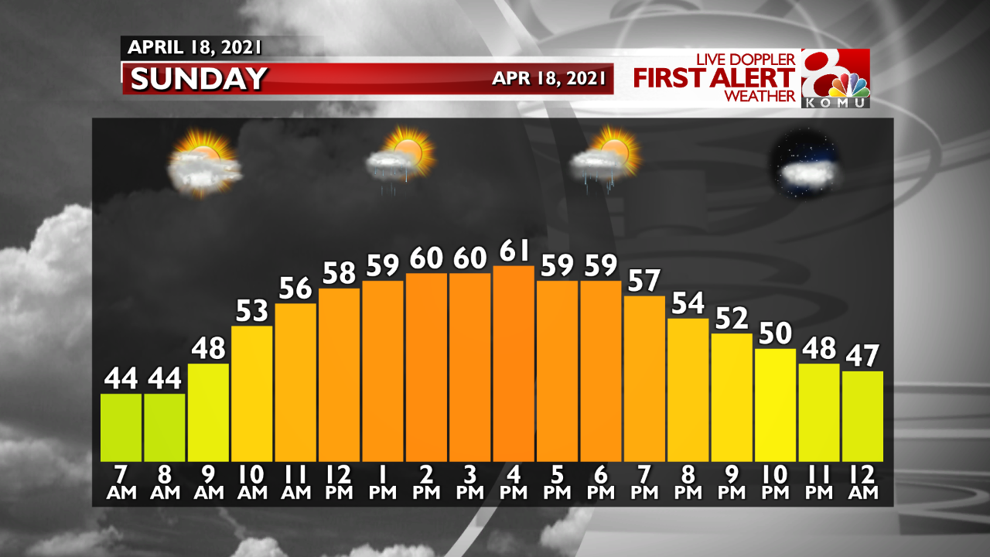 These will be hit-or-miss, and it's likely that a good chunk of us will stay dry. The best chance to see these are after 1 p.m. mainly along and east of HWY 54. Highs should hit the lower 60s area-wide.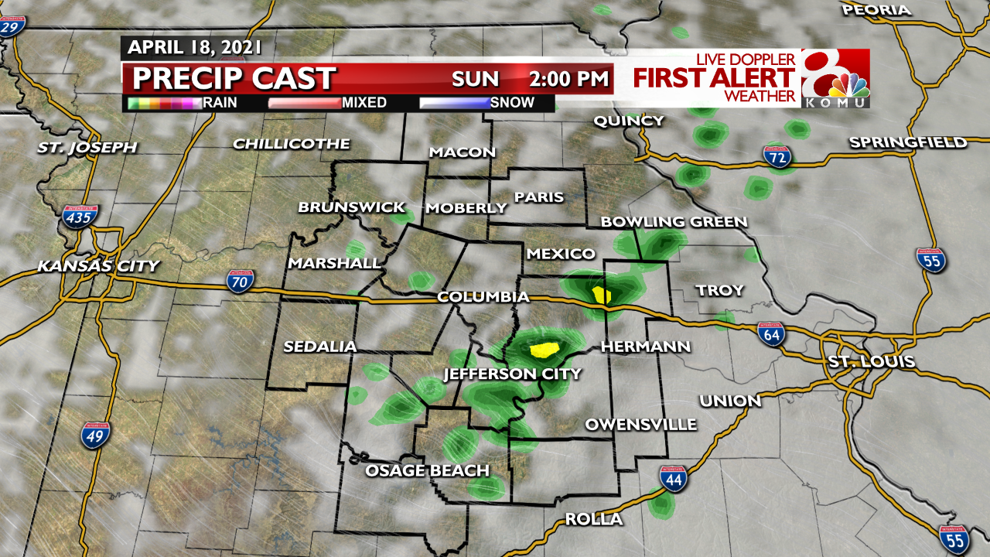 MONDAY: SPRING-LIKE
For fans of the outdoors, Monday is your day! Temperatures will get into the middle to upper 60s as sunshine helps us warm up to more average April temperatures. If you have any outdoor work to get done over the next few days, Monday will be the best day to squeeze those in.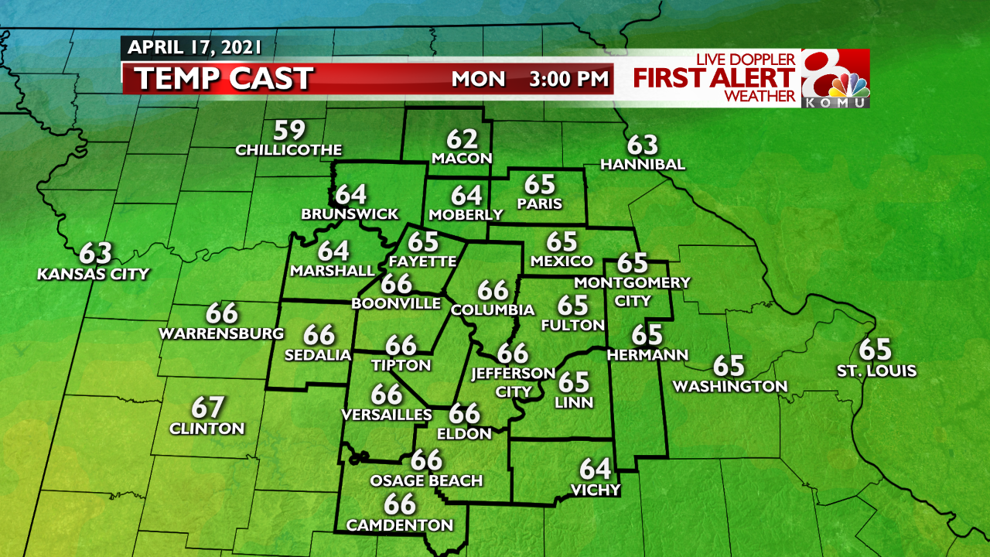 However, note that Monday would be a good day to prep any outdoor plants for the rest of the week. A large cool-down with even some snowflakes are on tap for Tuesday.
TUESDAY: RAIN & SNOW
It's not out of the ordinary to see some type of winter weather in April, but this forecast definitely throws a curveball in our direction. Here's what we're monitoring right now:
A cold front will drop temperatures Monday night into Tuesday.
Precipitation will follow this front.
Although most of it will likely be in the form of rain, we could see snow mix in.
Road accumulations look unlikely, but this cannot be ruled out for grassy/elevated surfaces.
Tuesday morning should start either dry or with light rain/snow. This system will move in from the northwest just before sunrise.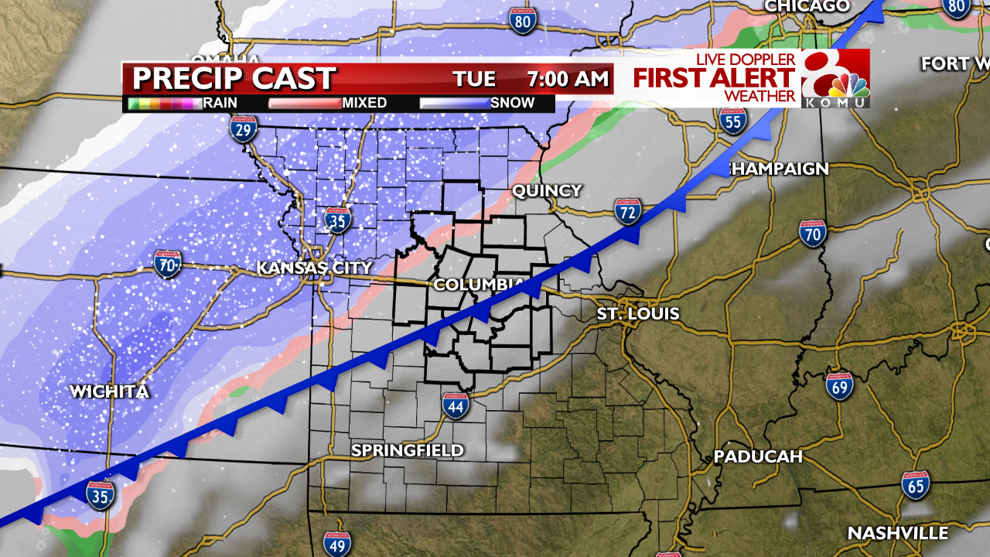 As we go throughout the morning hours, that band will shift eastward. We should see mainly rain in Mid-MO, but temperatures will be cold enough to allow some snow. The further we go through the day, however, the warmer temperatures should get, and the harder it will be for snow to fall.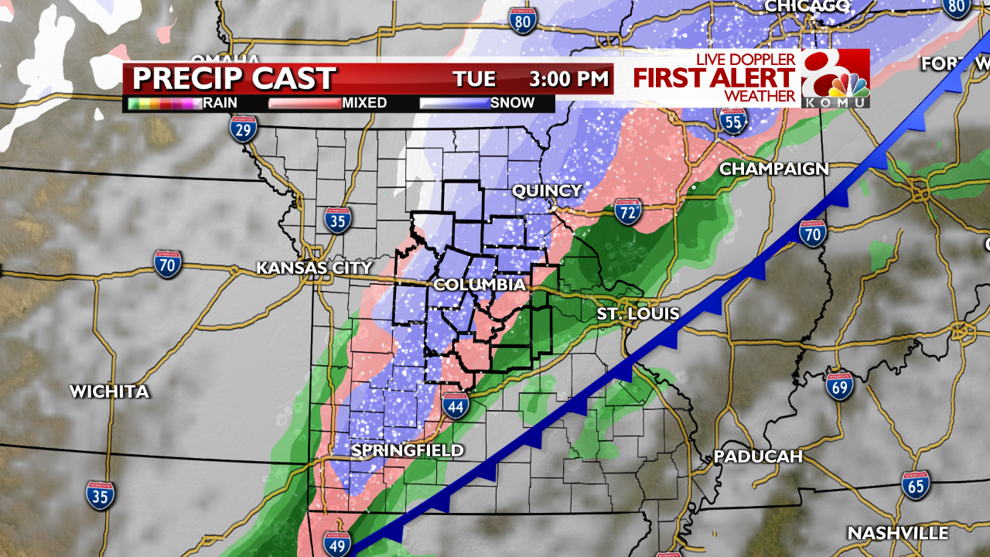 Confidence is high that we will see at least some flakes in Mid-MO. The chance for accumulating snow is less likely, but we will need to monitor areas across north and northwestern Missouri, where ground temperatures could be cool enough for snow to stick.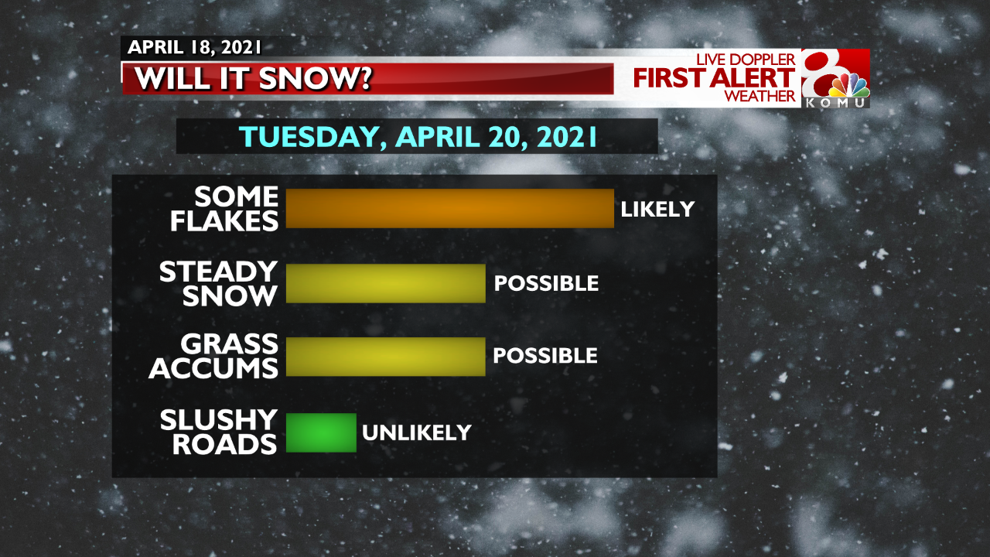 Thanks to the ground temperatures between 45-50° and the lack of significant cold air (that is, air at or below freezing), accumulations look more unlikely in central Missouri, even if we do see a period of all snow Tuesday. 
WEDNESDAY & THURSDAY: FROST/FREEZE
Although the snow Tuesday might turn a few heads, more significant impacts from this cool snap will likely come Wednesday and Thursday mornings. As clouds & moisture clear out, temperatures Tuesday night should easily drop below freezing. Widespread frost is likely--even a hard freeze is possible at this point.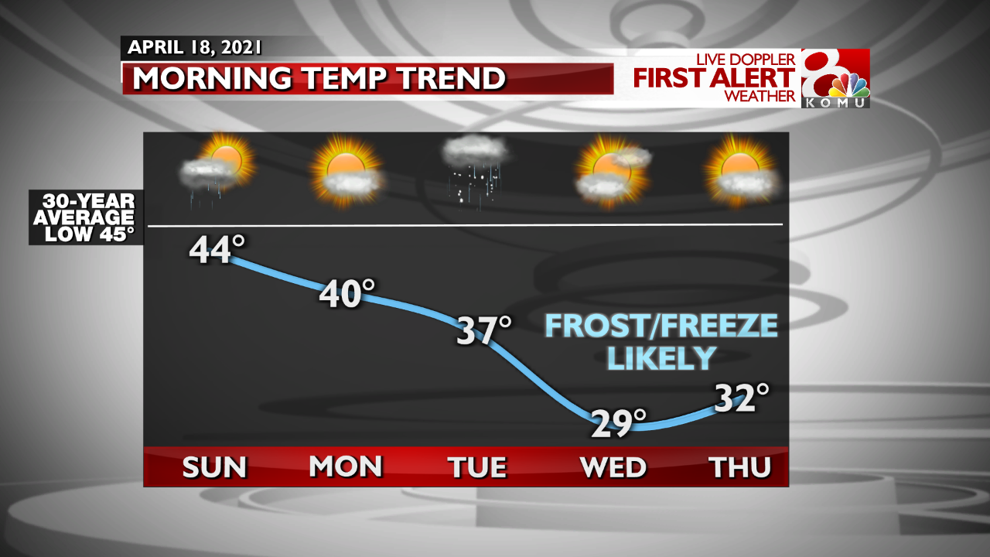 Similar conditions will likely come our way Thursday morning, though temperatures should be a few degrees warmer. Those who have sensitive plants outdoors will want to make plans now to either bring these indoors or cover them. 
FRIDAY & SATURDAY: RAIN RETURNS
Another system will head our way for Friday and next Saturday, bringing yet another rain chance to mid-MO. A warming trend is possible after this rain, with highs next Sunday in the middle to upper 60s.