Our Monday turned out fairly mild and partly cloudy, with a high of 64 at Columbia Regional. The west breeze made it feel a bit chillier, but - all things considered - it was a fine Spring day!
We'll continue to see this trend of cool temperatures and mixed sun and clouds continue over the next few days. But first... could we see rain Monday evening? 
Monday Evening & Night
After a fairly tranquil and dry day, we're monitoring the potential for a few evening/overnight showers. The most likely area to see them - if they do occur - will be south of I-70.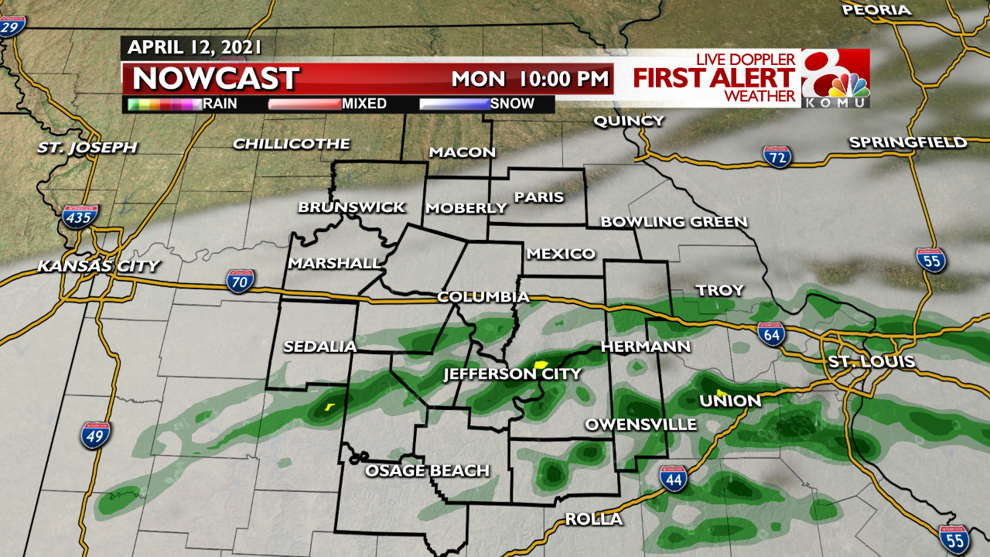 PrecipCast does a decent job of showing the spotty nature of the rain. Anything we do see will be pretty short-lived, and it'll also have a lot of dry air at the ground to fight through. Remember, when the humidity at the ground is low, rain drops will evaporate before they get to us. 
Never the less, a small percentage of us could briefly get wet this evening and overnight. 
Temperatures overnight will fall gradually into the lower 40s, making for a crisp start to our Tuesday.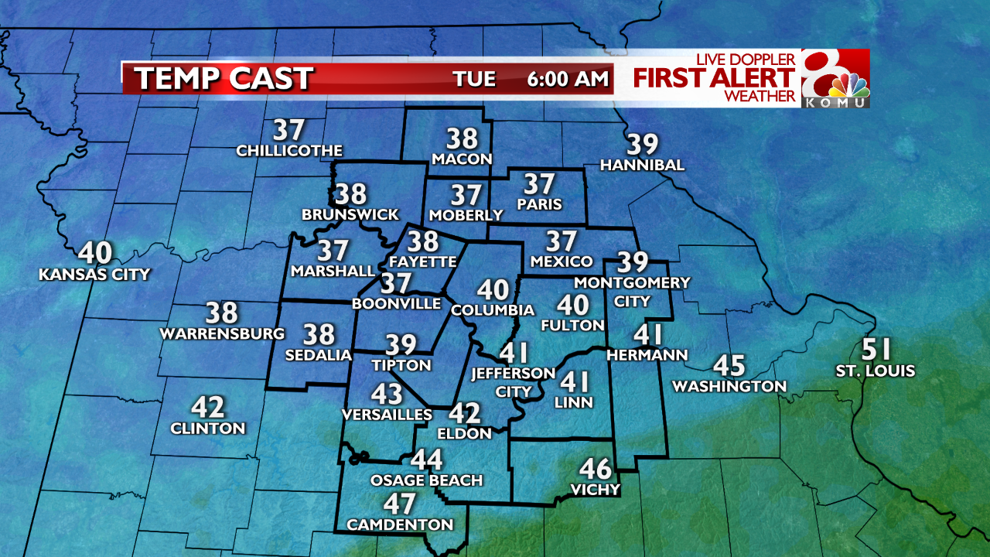 Tuesday - Thursday: Dry & Cool
If you're headed out the door early on Tuesday, you'll likely want the jackets. Temperatures across the area will be in the lower 40s. However, we will warm up quickly as the sun comes out. Afternoon highs will reach the lower 60s area-wide.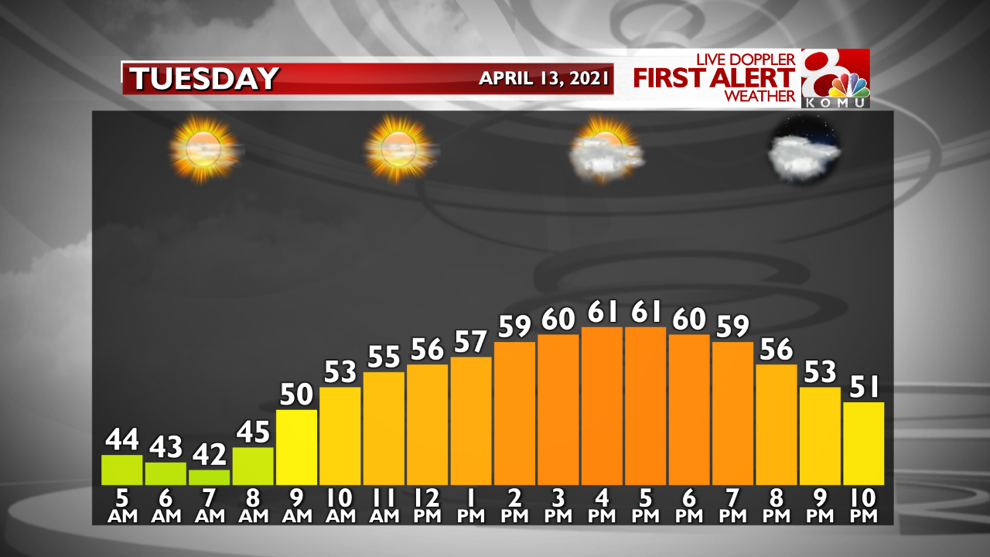 We'll see a similar pattern for Wednesday and Thursday, though things should be just a tad cooler. This will be especially noticeable Wednesday and Thursday mornings, when readings will likely start out in the upper 30s across mid-MO. There will be a decent amount of sunshine each day, which will allow afternoon highs to reach the upper 50s and lower 60s.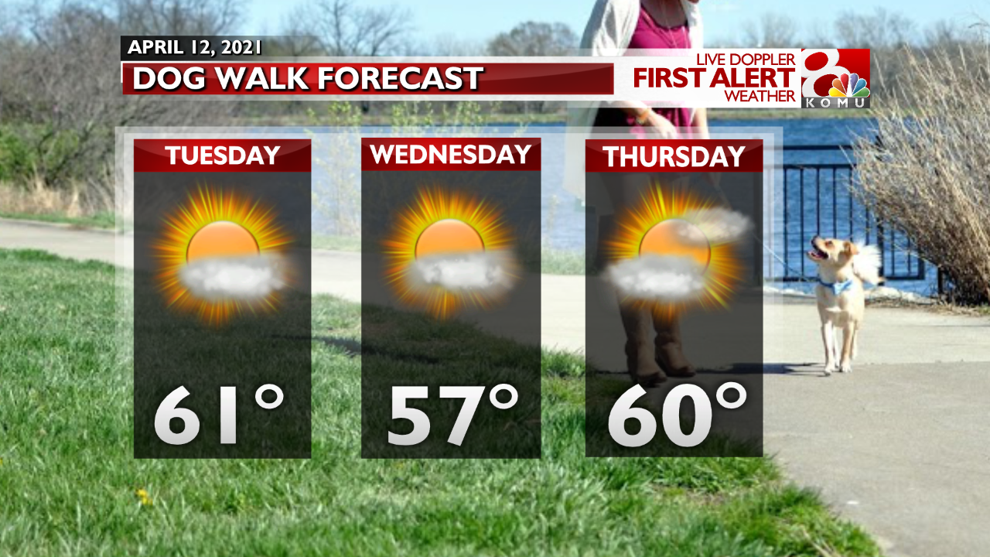 Friday & the Weekend: Rain Chances Return
After several days of mainly dry weather, rain chances look to make their return Friday. PrecipCast is picking up on the possibility of showers in the area by the afternoon and evening hours. The highest rain probabilities currently look to stretch from Friday afternoon through Saturday morning, though this is still very much up in the air.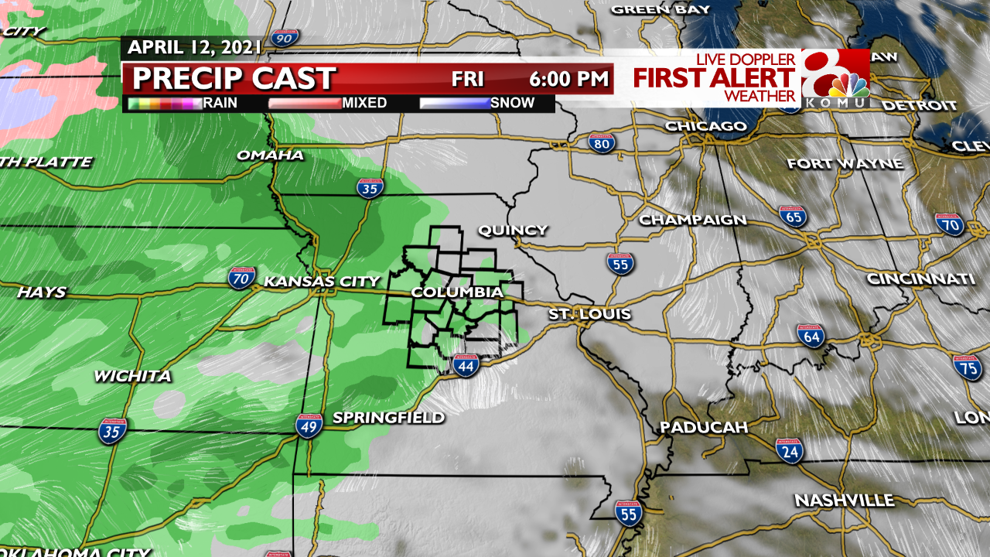 Additionally, this system is looking very disorganized. That makes it tough to pin down, especially this far in advance. Suffice it to say that there will be opportunities for rain Friday into Saturday. We'll have a better picture of how this will unfold later in the week. 
Outside of our one rain chance, the rest of the 8 day planner keeps things seasonably cool and fairly dry. 
Have a wonderful day!