After a warm stretch of weather, prolonging summer, a transition to fall-like weather arrives this week. The clash of warm and cold, of summer and fall, will create an atmosphere capable of producing showers and thunderstorms, some of which may be strong to severe.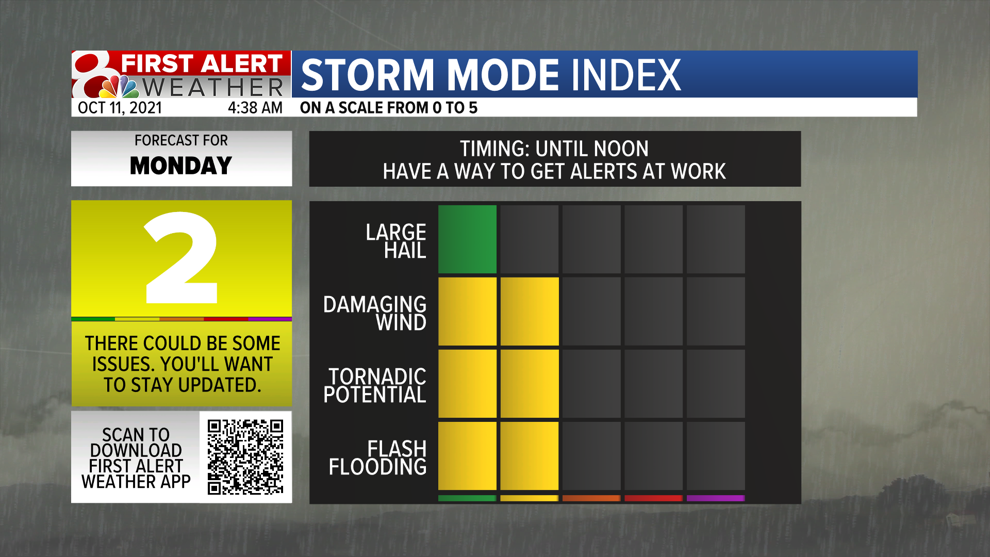 MONDAY STORMS
Thunderstorms from southwestern Missouri will arrive after midnight. The strength of these storms will be determined mainly by how strong they get when they are produced in Oklahoma and then how much energy they are able to tap into overnight as they head our direction. They should weaken, but given the atmospheric dynamics, we'll keep an eye on it.
Be sure to have a way to get alerts overnight that will wake you up, just in case. Have the KOMU 8 First Alert Weather App downloaded and your phone on loud. Have your NOAA Weather Radio set up and ready to go. 
These storms will likely have moderate to heavy downpours and lightning. It may wake you up.
These storms may also have damaging winds and enough spin to create a tornado. We may also deal with flash flooding from the heavier rainfall. 1-2" is expected, but locally higher amount are possible.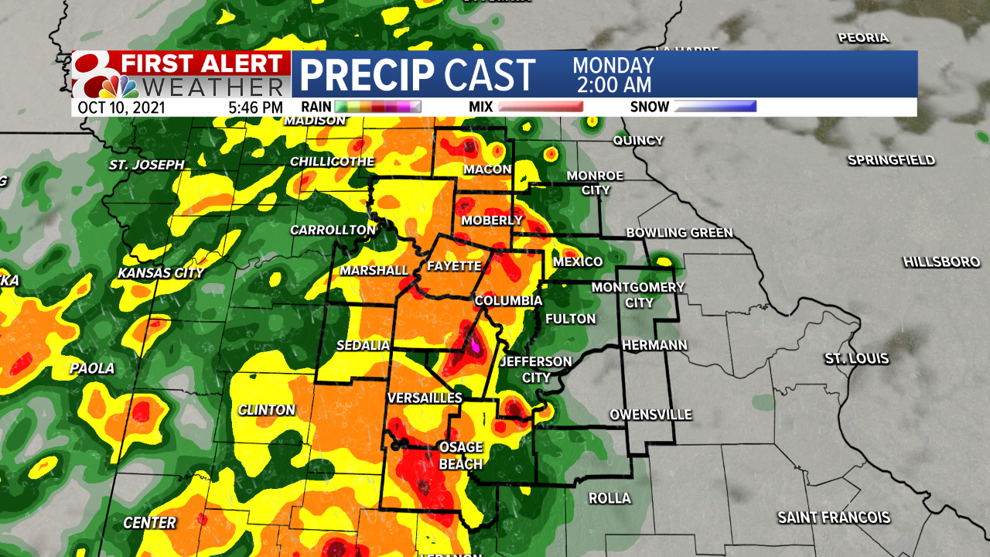 The initial line of storms should move out before sunrise and then we'll have a few subsequent waves for the remainder of the morning and midday. The strength of these will be determined by how much energy is left behind the early morning wave. We'll keep you updated. More strong to severe weather isn't out of the question through the remainder of the morning.
By the afternoon these storms should be further east of central Missouri. Winds may still gust up to 30-35 mph even when it isn't storming. We'll see clouds decrease by sunset, winds will calm, and we'll be clear overnight and dry on Tuesday.
MORE RAIN LATER IN THE WEEK
Beginning Tuesday night a warm front will approach the region and bring renewed opportunity for thunderstorms. Scattered showers and thunderstorms are looking likely on Wednesday. We will once again be watching for the chance for strong to severe storms.
This system is associated with a triple-point low pressure system which looks to move through on Wednesday. After the main part of the system moves through and to our north, lingering showers will continue our rain chances through Thursday and Friday.
We'll be breezy through this time period too with gusts between 20-30 mph.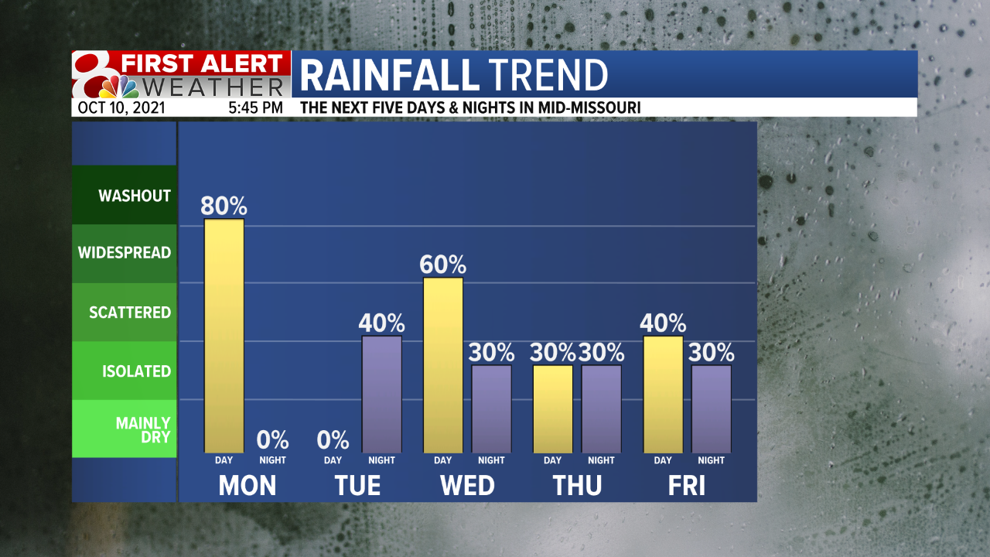 A FALL WEEKEND
Finally, after a busy week for our atmosphere, sunny and seasonal fall weather will arrive for Saturday and Sunday with highs in the 60s and lows in the 40s.