A warm front and a cold front will pass through on Wednesday and more thunderstorms are now forecast for tonight and again into early Friday morning.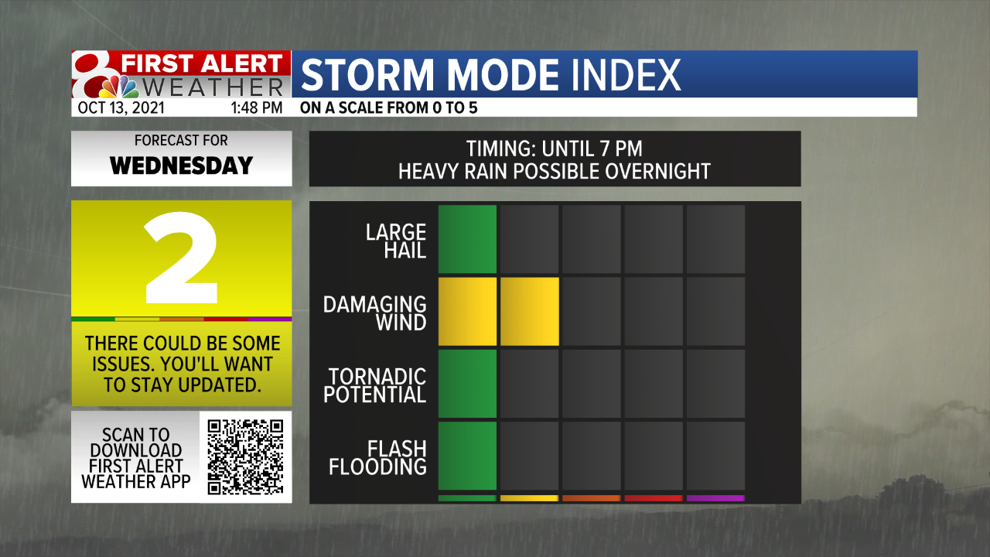 We expect a cold front to push the next round of thunderstorms through later this afternoon and into the evening hours. There will be enough afternoon sun to warm temps back in the middle 70s, creating additional instability for more late-day thunderstorms. These storms may tap into that heating and may be capable of brief 40-60mph damaging winds.
The overall threat is low to slight. We are in a Storm Mode 2 on our 0 to 5 scale and the main hazards will be strong to severe wind gusts and heavy downpours. Please have a way to get alerts, such as the KOMU 8 First Alert Weather App.
0.25 to 1" is likely on Wednesday, with locally higher amounts where storms are heaviest over southern Missouri on an axis from HWY 54 and south near I-44 in Rolla to Springfield, MO. Up to 2-4" of rain may be possible through Thursday morning and flash flood watches are in effect for the Springfield region tonight through Thursday morning.
ENDING THE WEEK
Thursday and Friday will likely have passing showers for much of central Missouri with temperatures largely in the 60s on Thursday and 50s on Friday.
Rain should push out on Friday afternoon and leave us clearing Friday evening. Winds on Friday may gust up to 25 mph. These clearer skies will allow for the coldest temperatures since May, with lows near 40º.
Additional accumulation amounts on Thursday night and Friday are expected to be near half-an-inch.
The weekend will consist of abundant sunshine, a bit of a breeze on Saturday, and temperatures ranging from the 40s to 60s. Welcome to fall!
Our next chance for rain is unknown... lots of dry time ahead.