Columbia reached 90° for this first time in 2021 earlier this afternoon. Jefferson City had their first 90° day yesterday and made it to the lower 90s today.
HEAT AND HUMIDITY
Friday will be even warmer! Temperatures will climb into the lower 90s, and heat index values will range from 95 to 100 degrees. The lack of a breeze will create 'sweltry' conditions.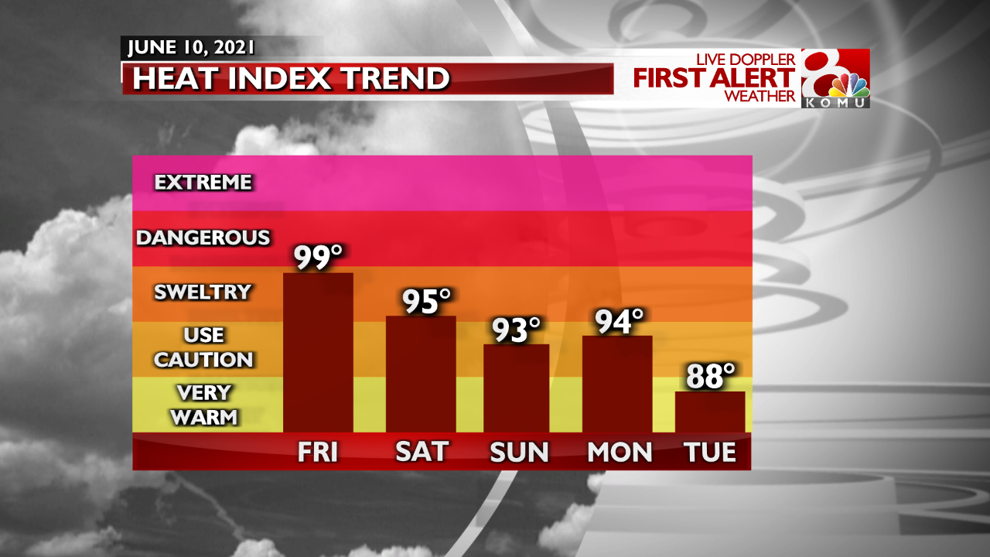 STORMS POSSIBLE FRIDAY AFTERNOON
There is a chance we could see storms Friday afternoon and evening, but the bulk of the activity should stay to our west, mainly in the Kansas City area.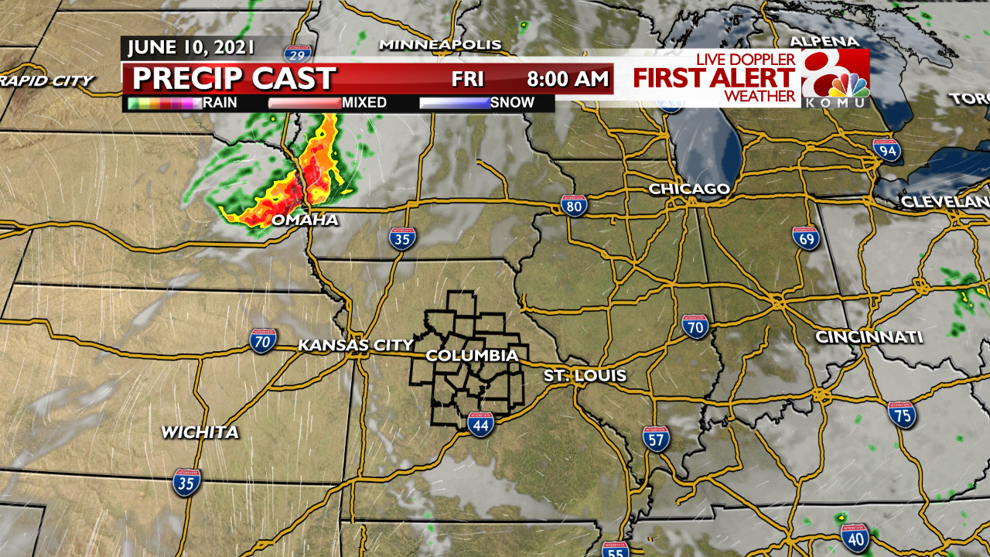 These storms will originate out from the Dakotas late Thursday night, drifting into Iowa and Nebraska on Friday morning. Where these storms form is still a little uncertain, and that will determine the track for tomorrow afternoon.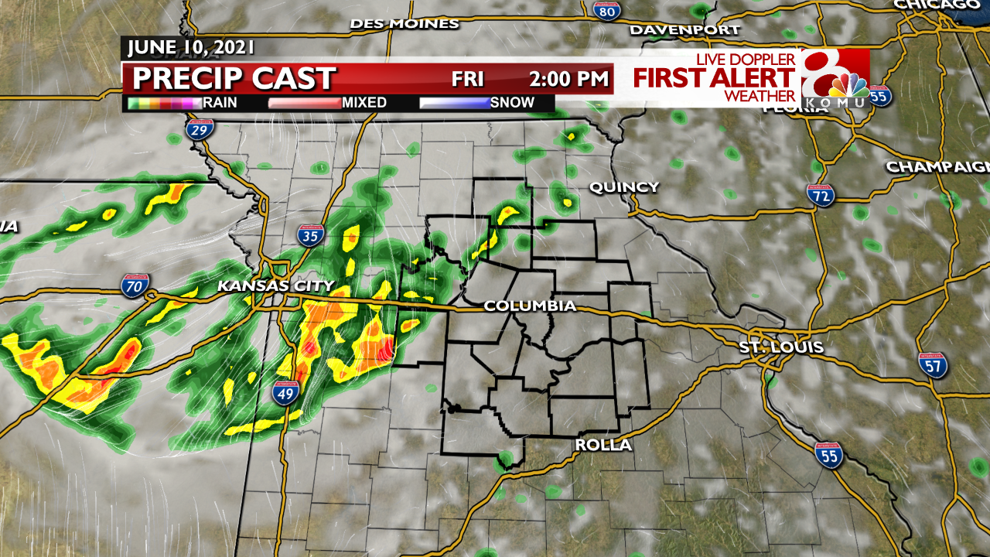 This band of storms is expected to continue to drift southeastward using the high heat and humidity to fuel storm development, mainly to our west. Areas along and east of Highway 63 have the best chance of seeing showers and thunderstorms in the KOMU 8 viewing area.
The First Alert Storm Mode Index will be at a 1 (0 to 5 scale) for Friday. This means that we don't expect issues, but you should still pay attention. Especially if you live west of Highway 63. The severe weather threat is low, but a few strong wind gusts, especially towards the Kansas City area can't be ruled out.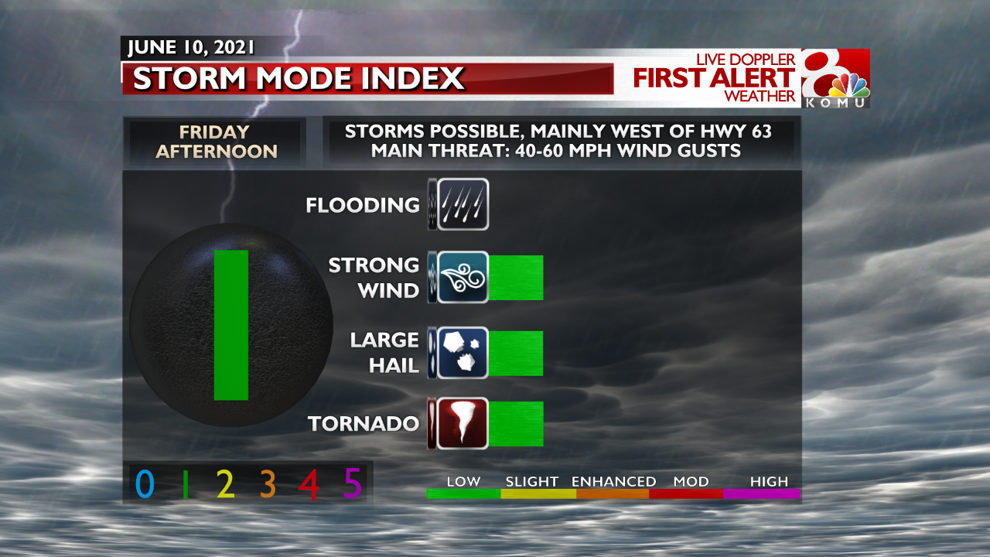 WEEKEND OUTLOOK
Saturday should be a touch cooler with highs near 90° and heat index values in the middle 90s. A spot shower is possible during the day, but it should be mostly dry.
Temperatures will warm up for Sunday with highs in the lower 90s, but much lower humidity will result in little to no heat index factor.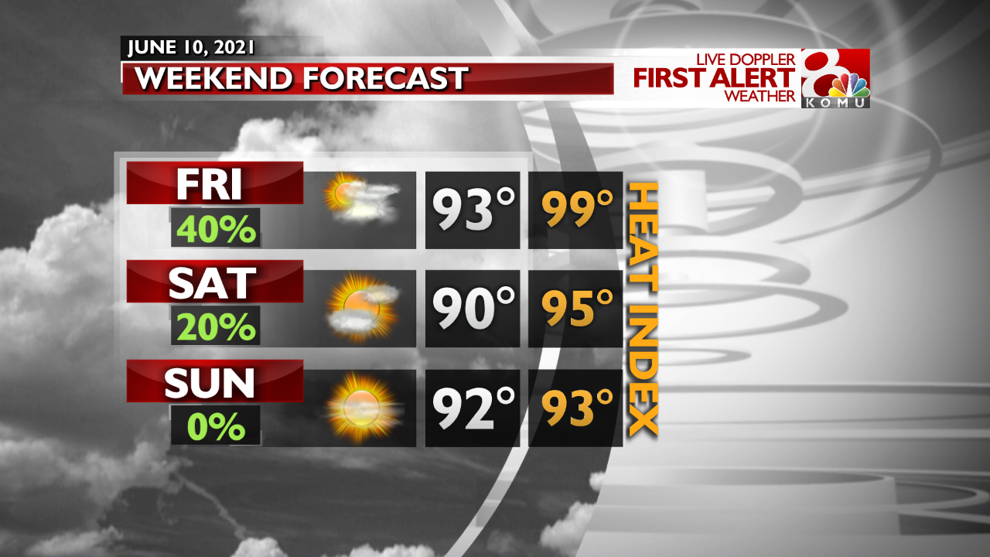 LOOKING AHEAD
Temperatures look to remain well above average for next week with highs in the 80s & 90s. Rain chances are looking very low with dry air in place, this will mean low humidity!