The rainy pattern continues this morning as scattered showers are still forecast until around 9am. Skies will slowly clear into the late morning and lunch hours. By this afternoon some sunshine is possible! Temps will start in the 50s this morning, rising in the upper 60s this afternoon. 
Still some rain to get through until late morning, then some afternoon sunshine!If you find today chilly, just wait until tomorrow...😉https://t.co/lLUZxguxEU #mowx @KOMUnews pic.twitter.com/odphWJFjPJ

— Tim Schmidt (@komuTim) October 14, 2021
Another round of showers and thunderstorms are expected to roll in late tonight through Friday morning. Again, this rain may be heavy at times and gusty winds are also possible. We are not expecting severe weather.
This Friday rain will be the final push from the jet stream to kick storms out of the region and ultimately develop high pressure over the region for this upcoming weekend. Sprinkles and drizzle may linger through Friday afternoon, clearing skies into Friday evening.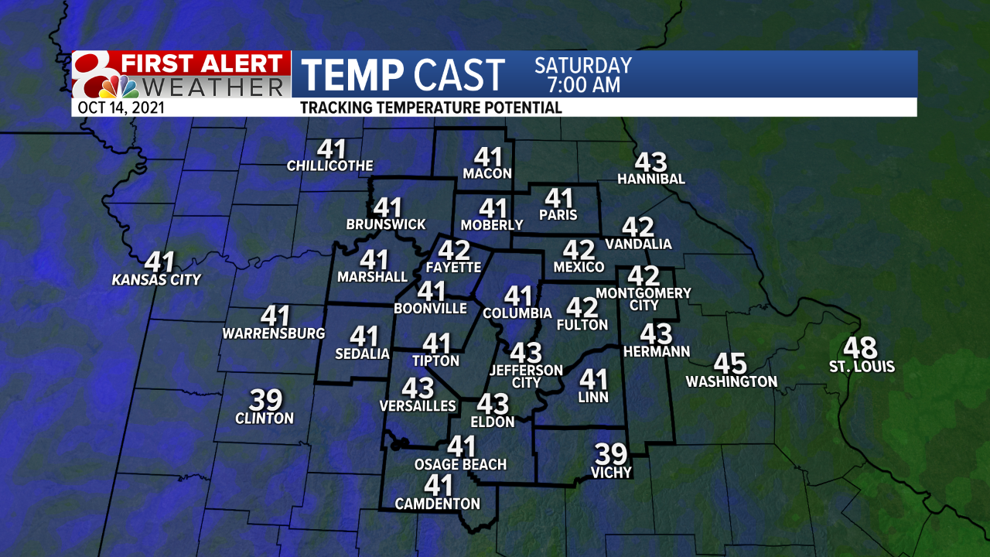 Temperatures will be much cooler only reaching highs in the upper 50s Friday afternoon, falling to lows in the lower 40s across the region Friday night. We will see lots of sunshine this weekend with daytime highs only in the middle 60s Saturday and Sunday. Expect a period of extended dry weather through next week.