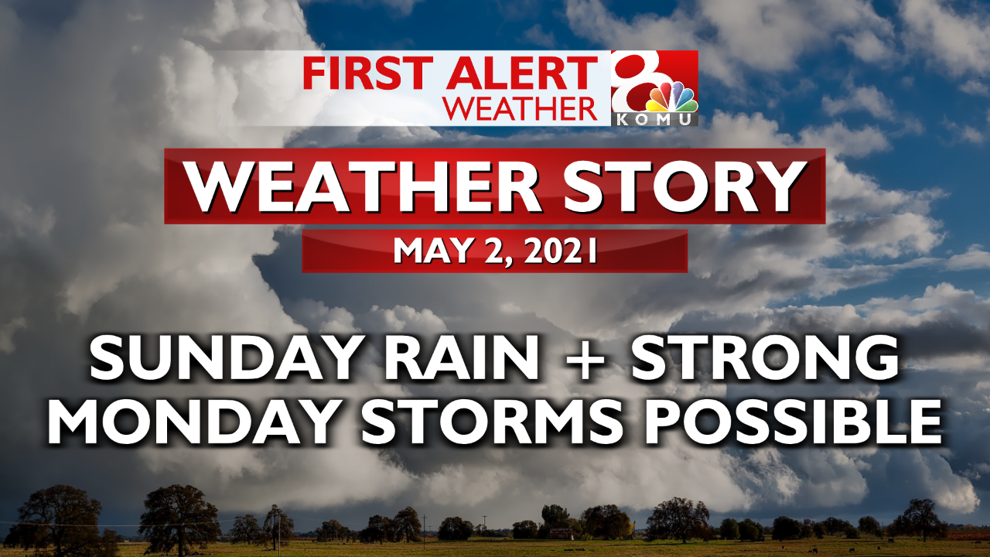 Yesterday saw a lot of sunshine and high temperatures in the middle 80s. Today, clouds will prevail and rain chances will increase after lunchtime. Temperatures this morning are in the middle 60s, before reaching the upper 70s this afternoon.
Spring returns today after summer's brief visit yesterday. Sunday begins warm & dry, but clouds will prevail and spot shower/storm chances increase after 12pm.Most of today will be dry, but remember--when thunder roars, go indoors. @KOMUnews pic.twitter.com/3WPcMWMCiN

— Alexis Clemons (@KOMUAlexis) May 2, 2021
SUNDAY SPOT SHOWERS WITH RUMBLES
The rain possible this afternoon will creep up from the south after 12pm and slowly move across the area until the early overnight hours. Note that this is only a 40% chance, and these showers are expected to be spotty, so it is possible that some of us wouldn't see any rain at all. However, most of us will, and we could hear a few rumbles of thunder with it. These will pass by very quickly with nothing to worry about this weekend.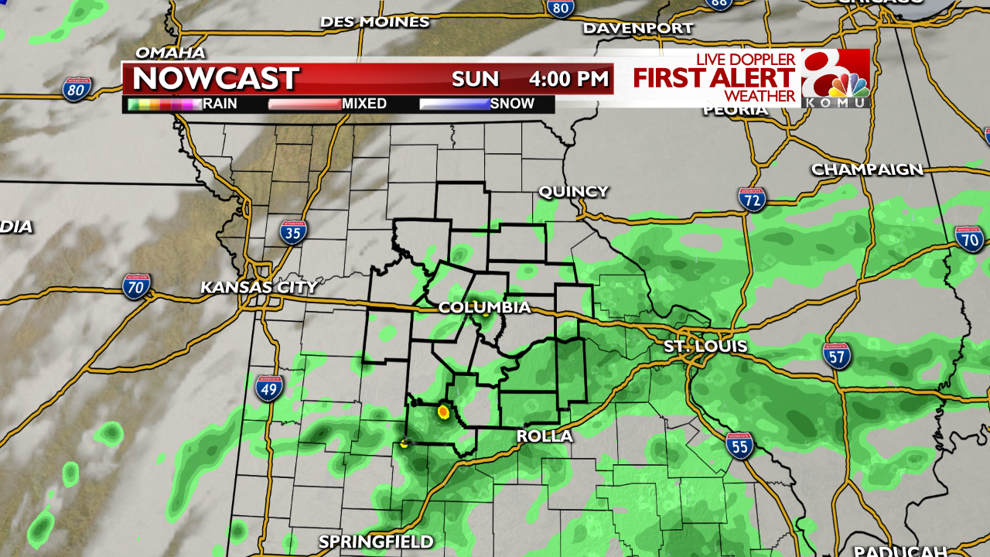 MONDAY STRONG TO SEVERE STORMS
Monday, however, is a different story. The first work week of May will begin with sunshine and temperatures in the middle 60s. Any sunshine we see tomorrow would provide energy for afternoon/evening storms.
After 3pm, storms will begin to fire up along a cold front. This system is actually apart of a larger outbreak expected, but it is beginning in Missouri. This means that the timing and location of the start of the storms will have to be monitored tomorrow afternoon. Right now, it is likely that these storms could begin to fire up near Columbia, and areas to the NE could miss this entirely. HOWEVER, all of Mid-MO should pay attention to this system.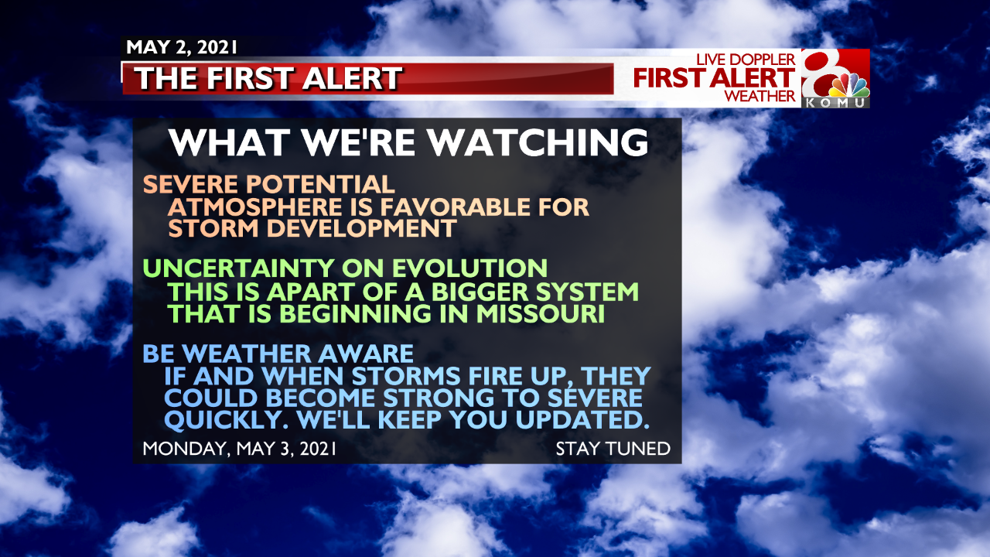 The Storm Prediction Center has most of us under a slight risk for severe weather for Monday, May 3rd, and a KOMU 8 Storm Mode will possibly be issued after looking at tonight's forecast models. We will keep you updated.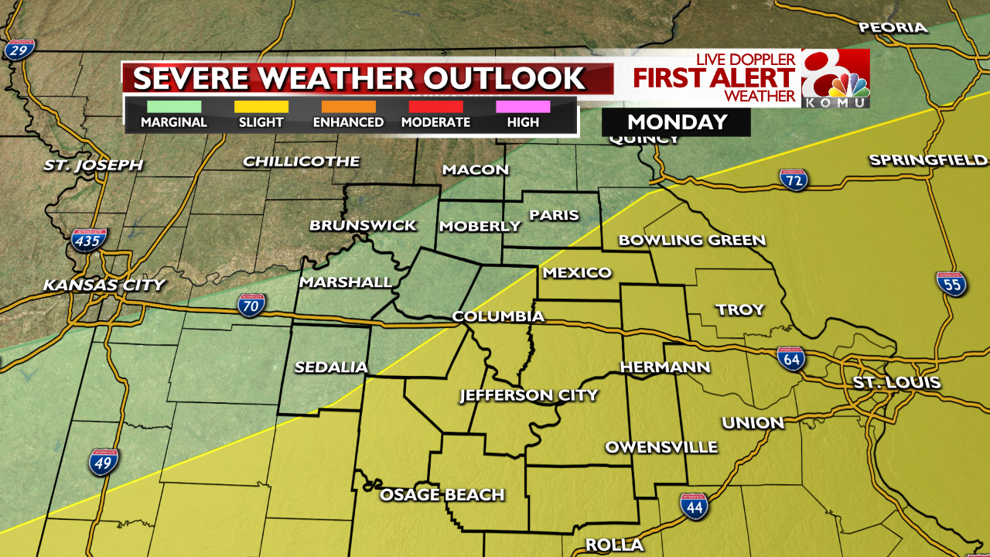 The biggest concerns with tomorrow's storms are large hail and strong wind gusts on the leading edge of the front. While flooding is not a threat at this time, a few spin-up cannot be ruled out. Like I said, we'll keep you updated through the rest of Sunday and Monday.
The best chance to see these strong to severe storms are between 3pm Monday and 12am Tuesday. While we have more chances for showers and storms on Tuesday, please note that Sunday through Tuesday will NOT be a wash-out. There will be plenty of dry time through the beginning of the week.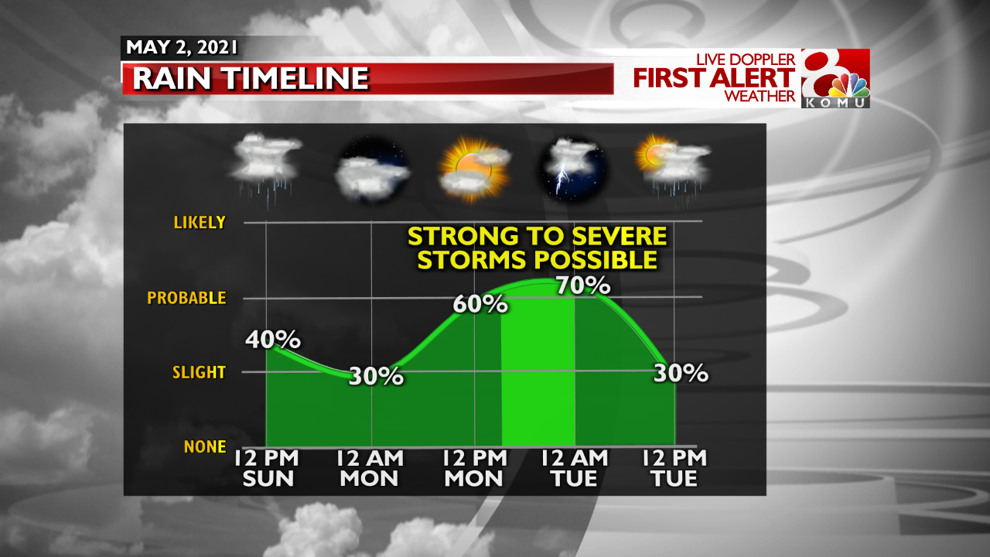 A LOOK AHEAD
The cold front finally moves to our south and east on Tuesday, allowing for highs to only reach the upper 50s and lower 60s. Sunshine will return on Cinco de Mayo (Wednesday), where temperatures should get closer to our average high of 72°. We will still stay slightly below normal into Mother's Day weekend, and we have a few more chances for rain--primarily Thursday and Saturday. We are entering an active weather pattern with many opportunities for rain, so stay tuned.