The severe weather ingredients are unlikely to come together over central Missouri on Monday. While a severe thunderstorm watch is in effect for our eastern counties until 9 p.m., the main severe threat will be to the east across eastern Missouri into Illinois.
Severe Thunderstorm Watch until 9PM for our eastern counties. The main threat for these storms will be across eastern Missouri until Illinois. We'll be watching on KOMU 8.Expecting more storms across southern Missouri, south of I-44 too. #MidMoWx #MoWx #MidMo pic.twitter.com/PZ0cVsHbX7

— Matt Beckwith (@KOMUMatt) May 3, 2021
A round of storms will move along I-44, but most, if not all of the storms, will stay south of the KOMU 8 area.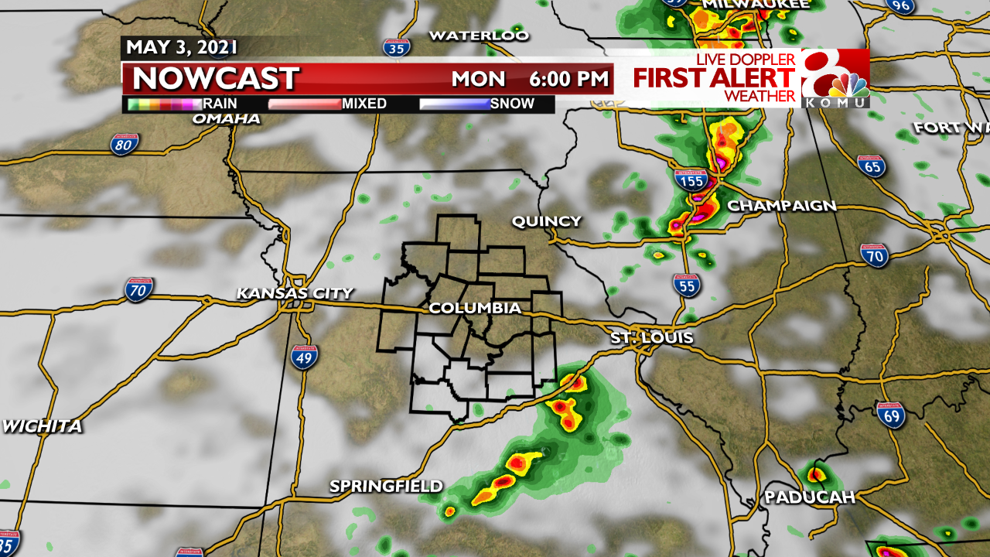 The severe weather threat should be over by 7 p.m. for the KOMU 8 viewing area.
Another batch of showers and thunderstorms is expected to lift from the south overnight into early Tuesday. By the time this moisture reaches us we will just see rain. There could also be a few rumbles.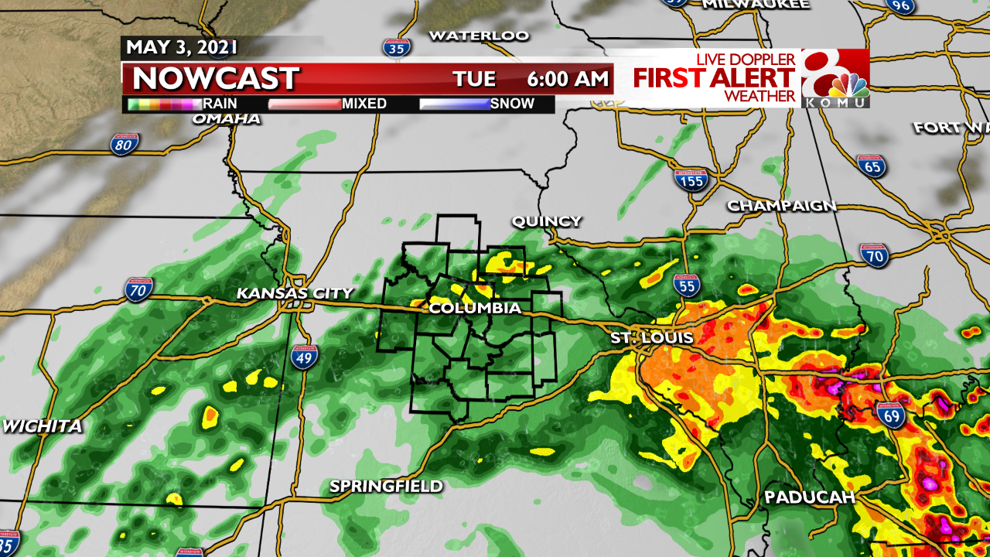 THE REST OF THE WEEK
On Tuesday we'll be behind Monday's cold front, but lingering scattered showers will likely persist so expect more showers on Tuesday. We likely won't have any thunderstorm activity.
Temperatures will also be cooler behind this early-week system leaving us with highs generally in the 60s and lows in the 40s.
Wednesday should be sunny. 
Thursday may see a quick-moving short wave create afternoon showers and potentially a thunderstorm. It looks drier on Thursday night for now (fingers crossed True/False Film Fest goers!).
Friday is looking most sunny with highs in the 60s. 
MOTHER'S DAY WEEKEND
Scattered showers and thunderstorms will be possible as a new low pressure system develops to our west. Stay tuned as we track it this week. Temperatures are expected to be warmer with highs back to the 70s.
If you're going to the True/False Film Fest be sure to download the KOMU 8 Weather App. We'll be sending exclusive updates for the outdoor festival at Stephen's Lake Park. You must have both location and KOMU 8 alerts turned on in the app to receive these updates.